This story would reveal a very important strength of Bigbasket.
It was an overcast sky during the monsoon of 2015 and there was a slight drizzle -- typical Bengaluru weather from May through September. Hari Menon and Vipul Parekh were huddled in a cramped conference room at Bigbasket's unpretentious and spartan head office in the tree-lined suburb of Indiranagar. Lee Fixel of Tiger Global was coming to meet them in five minutes.
Tiger Global was a New York-based hedge fund. Hedge funds had traditionally operated in the public markets domain, and kind of guaranteed an above market rate of return by deploying sophisticated hedging strategies. Starting in 2008, through quantitative easing and a set of other measures, the Federal Reserve Bank of New York had brought down the interest rate to near zero and funds of all kinds (hedge funds, pension funds, university endowments) were scouting for avenues with better returns and began seriously considering venture investment as an asset class.
Lee Fixel, a partner at Tiger Global, had rapidly emerged as the demigod of the nascent Indian e-commerce sector. He had made several bold bets and was touted to have the Midas touch. His combined investment in Flipkart, Ola, Delhivery, Quickr and Shopclues was in excess of $1.5 billion. In May 2018, Mint reported that in Walmart's acquisition of Flipkart, Lee could end up making more than $3.5 billion for Tiger Global on an investment of less than $1 billion and still retain a 4–5 per cent stake in Flipkart. This changed the narrative in an exit-starved market.
When Lee and Tiger Global invested in a start-up, it was a big moral—and often real—setback for every other competitor in the space. Tiger Global's bold betting strategy, deep pockets and their ability to persuade other deep- pocketed investors to participate in the subsequent rounds of funding had become legendary. Businesses that needed sustained cash for scaling could not afford to have Tiger Global in the rival camp. Tiger Global was now scouting for a grocery e-commerce start-up to invest in.
Bigbasket's founders were aware of this and were keenly awaiting the meeting with Lee to see how the conversation would go.
Lee and Kalyan Krishnamurthy, who was then a partner at Tiger Global, were on time for the meeting. The meeting lasted for 30 minutes.
Five minutes into the meeting and it was evident that Bigbasket's asset-heavy model didn't appeal to the duo. At the end of the meeting, Lee and Kalyan communicated in a very oblique way that the new asset-light models, which made a lot of sense from a scaling perspective, would prevail. The implicit message was, 'You guys are likely to see competition in this space, and you better watch out.' There was also a strong industry buzz that Tiger Global backed only young founders. By that yardstick, the Bigbasket founders were too old for them.
Soon, Tiger Global announced an investment in Grofers. Softbank soon followed Tiger. Sequoia was already an early investor in Grofers. The three were a formidable alliance and this was not the first time they had come together to back a company.
Every start-up that attempted online grocery delivery in an asset-light model either pivoted to an inventory model or shut shop. For a short while, all of them had scaled rapidly but the bad customer experience they created was their ultimate undoing. You couldn't rely on delivery boys picking up fruits and vegetables for customers from the nearest stores and doing a good job of it. Besides, stores in India were a long way from sharing their inventory with online grocery companies on a real-time basis. As a result, the online company that fulfilled a customer order had no clue as to how many items in the order they could fulfil and hence had to accept orders blindly. And finally, they delivered only a part of the order and forced the customer to visit an offline store for the balance items. The customer may have as well bought the entire basket from the offline store. And ironically, the value proposition that an online provider offered was that you needn't visit an offline store. Like most grocery start-ups that began with an asset- light model, Flipkart's initial foray, under the brand name Nearby, was short-lived. When Flipkart re-launched grocery for the second time, which they did with an inventory model, Nishant Sharma wrote an article in Bloomberg Quint (11 August 2018) titled, 'Flipkart founder's first grocery hurdle is to wean away wife from Bigbasket'. In it, he wrote, 'For Flipkart group co-founder and chief executive Officer Binny Bansal, the challenge to crack the grocery market starts at home.' He quotes Binny Bansal, 'My wife is a Bigbasket customer and I'm trying to convince her to buy groceries from Flipkart.'
The Galileo Moment
Tiger Global's decision, followed quickly by Softbank, to back a rival model was one of the toughest moments for the Bigbasket founders.
It tested their resolve and self confidence. They had a choice to defer to the popes of the investing world, change their position and accept that the sun went round the Earth or stick to what they knew for sure -- that an asset-light model would never work for grocery in India.
A board meeting was soon convened to evaluate the implications of this development. The founders stuck to their guns and explained their logic once again to the board. The board needed this reassurance and solidly backed the founders.
There was one change that Bigbasket had been contemplating making and Tiger Global's decision accelerated that change. Bigbasket had realised quite early that in India 70–75 per cent of grocery purchase was planned at the beginning of the month. Around 20 per cent was top-up purchases mid-month or mid-week. And 5 per cent of the purchases were from local specialty stores. Bigbasket had been servicing the planned monthly purchase and had been contemplating catering to the top- up requirements through an express service. And that is how Bigbasket ended up acquiring Delyver. This story is covered in greater detail in the chapter titled 'Thoughtful about Build or Buy'.
The biggest turning point in Bigbasket's journey was in sticking to what they knew worked well despite two of the biggest investors backing a rival model.
Extracted with permission from the book 'Saying No to Jugaad: The Making of Bigbasket' authored by TN Hari, head of HR, and MS Subramanian, head of analytics, at Bigbasket.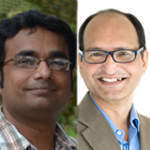 TN Hari & MS Subramanian
---