New Jersey and Chennai-based information technology (IT) services firm Cognizant has reported better than expected revenues and profits for the December quarter even as the company saw its margins drop below 15%.
The Nasdaq-listed company reported a 3.8% growth in quarterly revenue, which stood at $4.3 billion in Q4, compared to the $4.1 billion in the same quarter of the previous year.
Cognizant follows the calendar year for its earnings.
This growth, however, was the slowest in the past 12 quarters, with the company consistently growing at 8-10% in the past three years. The pace was also slower than peers in the Indian IT services industry during the quarter -- Infosys grew revenues by 8% and TCS grew 6.7%.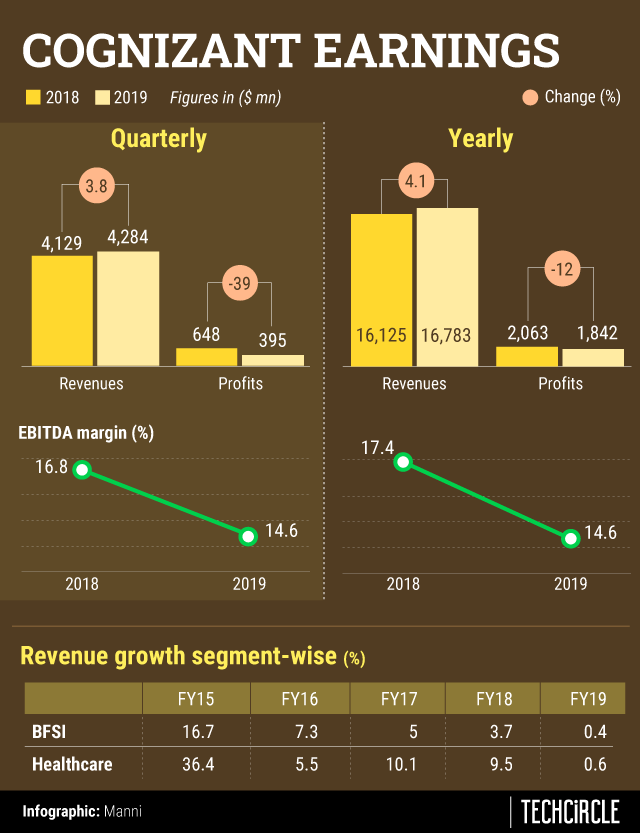 The company also projected 2-4% growth for the calendar year 2020. Growth this year will be impacted by the firm's decision to exit the content services business, which accounted for $225-255 million in annualised revenue.
The company also said its co-founder and vice-chairman Francisco D'Souza would step down from his position. Meanwhile, it appointed biscuit maker Britannia's former managing director Vinita Bali to its board.
"Our operating performance and strong free cash flows in the fourth quarter reflect the actions taken throughout 2019 to improve our cost structure and instill greater operating discipline across the company," the company's CFO Karen McLoughlin said.
Cognizant's top two verticals -- BFSI (banking, financial services and insurance) and healthcare -- that contribute to more than 60% of the company's topline saw a growth rate of only around 1.5%. The BFSI sector in general has been seeing slower client spends on technology, especially in the US market, as interest rates remain under pressure. The BFSI sector, in fact, has seen a sequential decline in revenue.
The company's core geographical market of North America, more than 75% of its revenues, saw a growth of only 3.1%, dragging down the company's overall growth.
This should be worrying for Cognizant, considering that the US economy has been healthy for the past three years, with unemployment levels at a record low. Top Indian IT services firms such as TCS and Infosys also have a relatively large dependence on the US market, though lower than Cognizant at about 50%.
Cognizant also reported an annual revenue of $16.8 billion, up 4.1% from 2018. The overall Indian IT services industry is expected to grow at around 8-9% this fiscal year ending March 2020.
"In the healthcare segment, results continue to be negatively impacted by industry consolidation and the movement of work to a captive at a large North American client. In the banking vertical, there is a continued softness at some larger clients," the company said in the statement.
Cognizant reported operating margins at 14.6% compared to 16.8% in the year-ago quarter. The company's digital revenue share stood at 38% and grew at more than 20% year-on-year, it said.
With the restructuring at the firm, it has seen its headcount increase marginally to 2.93 lakh compared to 2.9 lakh in the previous quarter.
"Our 2020 outlook reflects our commitment to further improve our cost structure to fund investments in growth. We are executing a balanced capital deployment strategy that is focused on reaccelerating top-line growth through strategic acquisitions and other investments while returning capital to shareholders," McLoughlin added.
The company has announced a 10% increase in its quarterly cash dividend and increased its share repurchase authorisation by $2.0 billion.
Cognizant also announced two acquisitions in the past two days. It had acquired six firms in 2018 and four firms in 2019.
---