Some years ago, Darryl Dias, at the time working as a product engineer in Ace Crane Systems in Sharjah, UAE, received a text message from his cousin Maxson Lewis that would go on to change both their lives as they knew it.
"I sent him an SMS about my idea and the next day I received a return SMS from him saying he has resigned and is coming to India to join me in this quest for clean energy solutions," recalls Lewis.
The idea that Lewis had was to build clean energy solutions. At the time he was stationed in Mumbai where he was practice lead, management consulting, at Accenture.
In 2017, Dias and Lewis founded Magenta Power in Mumbai to solve the acute problem of the near absence of charging grid infrastructure for electric vehicles (EV) in the country.
"The EV market in India is at a nascent stage and growing rapidly. We decided to invest in setting up the infrastructure so when EVs hit the roads, we are ready. As we like to say -- in the chicken and egg story of electric vehicles, we decided to go ahead and make the omelette," says Lewis.
To get the company off the ground, the founders bootstrapped it with more than Rs 2 crores (nearly $300,000) from their personal resources. Later, they raised seed capital from Hindustan Petroleum Corporation (HPCL).
"They have been our biggest supporter and we use this platform to send out a big thanks to Sanjay Kumar from HPCL, who has been a mentor and guide," Lewis says.
"When the Magenta team approached HPCL for the strategic investment we found merit in all yardsticks -- the cofounders, the business idea, the business plan and their ability to scale. The fact that both of them took a leap of faith and left their corporate jobs to take up this entrepreneurial journey, their passion and their vision was commendable. We are happy to back them and are sure of the success in store for them." Sanjay Kumar from HPCL said.
Lewis and Dias were at the right place at the right time.
While EVs are undoubtedly the future of mobility in India as much as anywhere else in the world, large scale adoption remains a somewhat distant dream. The cost of the batteries that power EVs, the vehicles themselves, basic incentives that would boost consumption and the absence of charging grid infrastructure are major hurdles that are yet to be addressed effectively.
Magenta Power's objective is to change the current state of affairs in the EV market by making it as easy as possible for users to discover the nearest charging spot. As simple as booking a movie ticket or hailing a cab or buying groceries through an app.
To that end, it has developed an end-to-end EV charging infrastructure under the brand name ChargeGrid and partnered with cooperative housing societies, shopping malls, parking lots, and commercial complexes where it rents space to build out charging infrastructure.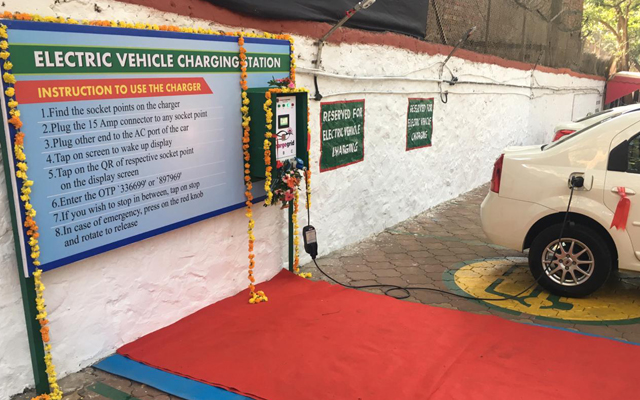 A typical Magenta Power EV charging station
Users can pay for the quantum of power consumed on a per unit basis through the app. The app helps users to locate charging stations on a map and blocks a particular charging station for a user. The chargers can charge a standard EV under 30 minutes.
"To make it seamless, we have tied up with multiple stakeholders in a participative model where these charging stations are deployed. Instead of a traditional mind-set of petrol pumps and highways, we have opted for cooperative housing society, malls, parking lots and commercial complexes for deploying our services." Lewis says.
The product has been through three iterations both from the service and product perspective. Initially the company developed basic charger requirements for India. But now it owns chargers that are more advanced in terms of technology. The new chargers are branded the 'Gulabi' chargers.
"These iterations are not the end of it. EV is an evolving industry, hence EV charging and swapping is an evolving industry. In fact, it is just the beginning." Lewis says.
Based on various estimates, the company expects investments in EV infrastructure to exceed Rs 4,000 crores by 2025.
Magenta Power adds to the barebones infrastructure planned for EVs across the country.
Under the Union government's scheme to promote the manufacture of electric and hybrid vehicles in India, a capital grant of Rs. 1,057 crore is planned to create the minimum skeleton network of 4,230 public charging stations in 53 cities with a million plus population, and on major highways.
This allocation under FAME-II only meets 1% of what is required to meet the needs of the targeted 30% of all vehicles by 2030, according to The Energy and Resources Institute (TERI).
Magenta Power hit its first major milestone three weeks into the installation of its chargers. The company ended up with a usage pattern that was three times more than the capacity they had factored in – in the first month of deployment.
With respect to standardising charging solutions, Lewis says, "OEMs and EV manufacturers should come up with a universal socket. It should be standardised and it looks like it is happening now and soon we will have a common chargers for all vehicles."
"At the moment we have common chargers for four wheelers and buses. However, two-wheelers are mostly required to bring their own charging cords and we are providing them the infrastructure to charge their EVs." he adds.
For now, Magenta Power has partnered with several companies to manufacture these chargers and the company aims to stick with 'made in India' and 'made for India' at the moment. "If we import chargers from Europe it won't work here because those chargers are made according to their climate, we need to have chargers made according to our climate conditions," he explains.
The company already has 497 paying users. The revenue model is split into two parts: service and product. It sells the chargers that it develops and manufactures and also offers charging as a service.
Recently, the company received another big leg-up when Shell India, the local unit of Netherlands-based Royal Dutch Shell chose it for the 2020 edition of Scale Track. The energy company aims to help energy-related startups confirm product-market fit and scale their business, under its incubator programme E4.
With a target of 500 charging stations within six months, the company aims to achieve an overall growth of 10X on a year-on-year basis.From a headcount perspective, it has 32 employees. The headcount increases every week given the growth strategy. Lewis claims the company has been profitable since it started but declined to break out specific numbers.
As Lewis and Dias plough on in what is still an extremely uphill entrepreneurial journey, life has certainly changed for both. "With over 20 years of experience in the corporate world with a jet set lifestyle, where you almost knew every airport in the world and had assistants to attend to you… to changing into an entrepreneur journey where having to do everything from scratch, as I call it the 'Peon to Proprietor' model. That transition was difficult for me on a personal level," Lewis signs off.
---