Fintech investments in India doubled in 2019: Accenture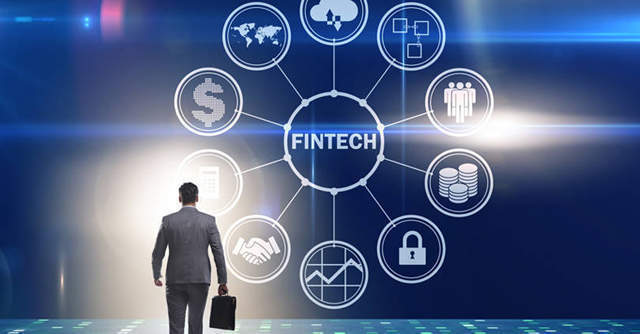 Fundraising in India's fintech companies nearly doubled to $3.7 billion in 2019 from a year ago estimate of $1.9 billion, according to a report from global IT giant Accenture.
This places the subcontinent as the world's third-largest fintech centre, behind only the United States and the United Kingdom.
The number of deals was at 198, up from 193 in 2018. Accenture based its report from the data provided by global venture-finance data and analytics firm CB Insights.

Key takeaways from the report were:
Investments in payments companies more than tripled to $2.1 billion
Investments in insurtech also up 74% to $510 million
Payment startups were 58% of the investments
Insurtech startups were about 14% of the investments
Lending startups were about 11% of the investments
"The increase both in deal value and the number of deals is a good indicator of what's to come and bodes well for the future development of cutting-edge financial technology in the country," Sonali Kulkarni, managing director at Financial Services of Accenture in India said.
Despite the domestic gains, the total value of fintech deals globally decreased by about 4% to $53.3 billion from 2018, a year which saw $14 billion pouring in from Ant Financial and three other multi-billion-dollar deals from Chinese companies, the report added.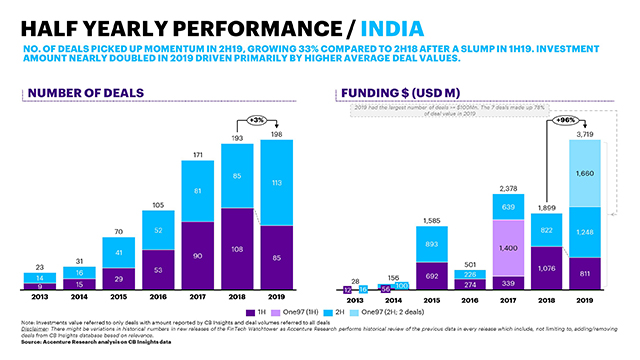 "Despite a strong demand for fintech globally, it's likely that, as startups become more mature, investments will flow to fast-growing economies, where there's still a huge, unaddressed consumer and corporate market thirsty for innovations," Julian Skan, a senior managing director at Accenture's Financial Services practice said.
There is a lot of growth, particularly for challenger banks that are expanding in their home markets and overseas, as well as for payments providers, Skan added.

In 2019, One97 Communications-owned payments solutions platform Paytm raised $1.66 billion from two separate transactions, while Flipkart-owned PhonePe tapped investors for about $210 million, also from two separate deals. Payment gateway provider Razorpay has raised $75 million.
Other large deals included a $282 million-worth fundraises at insurtech PolicyBazaar and $120 million at credit card payments company CRED.
---