India's cash-heavy economy is showing signs of moving towards a being a digital one, Reserve Bank of India (RBI) has observed.
In its report, the central bank found a lower rate of increase in the percentage comparison of cash in circulation (CIC) to gross domestic product (GDP).
This was reported despite India's strong bias for cash-based payments. It is presumed that a high CIC relative to GDP indicates that cash is highly preferred as a payment instrument, the central bank added.
"Speed, convenience and competition are shaping the future of payments. Our endeavour is to make digital (payments) a divine experience to the users – Cash is King, but Digital is Divine," RBI said.
Digital payments picked up in India after the 2016 demonetisation, which had stripped the legitimacy of Rs 500 and Rs 1,000 currency notes.
"Demonetisation and active growth in GDP brought down the cash in circulation as a percentage of GDP to 8.70% in 2016-17. This increased to 10.70% in 2017-18 and to 11.2% in 2018-19 which, however, is less than the pre-demonetisation level of 12.1% in 2015-16," RBI added in its publication report, 'Assessment of the progress of digitisation from cash to electronic.'
The central bank found no accurate measure of cash payments in the country. Digital payments in the subcontinent, however, were found to have witnessed a compound annual growth rate (CAGR) of 61% in volume and 19% in value over the past 5 years.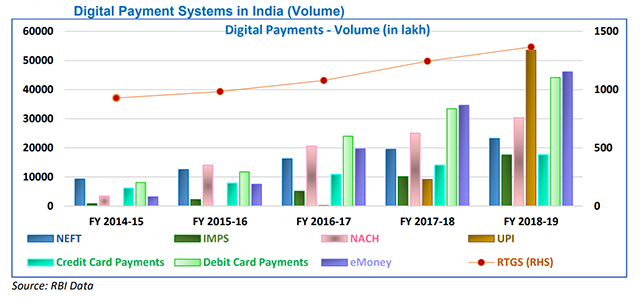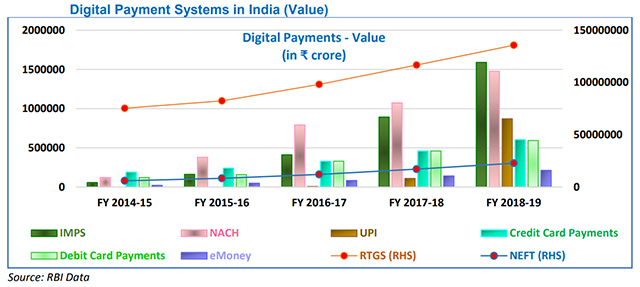 Digital payments and retail electronic payments comprise of a wide ambit of formats of transaction -- credit transfers such as RTGS (real-time gross settlement), NEFT (National Electronic Funds Transfer). Fast payments methods like IMPS (Immediate Payment Service) and UPI (Unified Payments Interface) and direct debits such as ECS (Electronic Clearance Service) and NACH (National Automated Clearing House).
These methods of payments have shown a rapid growth at a CAGR of 65% in volume and 42% in value. Stored value cash issued in the form of wallets and prepaid cards demonstrated an increased adoption with a CAGR of 96% in volume and 78% in value.
---