As India struggles with the 21-days nationwide lockdown, one segment that has seen a change in consumer behaviour is online shopping, according to a new report.
Overall online purchases continue to see a dip of 16% since lockdown, reveals a report by Cupertino headquartered online payments firm Wibmo.
The country first rolled out a one-day Janata curfew on March 22 followed by a 21-day lockdown on March 24.
Payments through RuPay reached 98% of normal volumes within a week but continued to fluctuate between 87% and 98%, the report says. Visa and MasterCard purchases are up to only 86% of their normal volumes and swing between 70-86%.
Read: Coronavirus India LIVE Updates
Online shopping fell by 30% during the one-day curfew. Although consumers returned to shop after the initial shock was over, there was a change in the way people spend money online.
Utilities, which made up for about 55% of online spend before the lockdown, account for around 72% post lockdown. Many services such as travel, online food delivery have come to a standstill due to the lockdown. Gaming and entertainment categories have remained steady.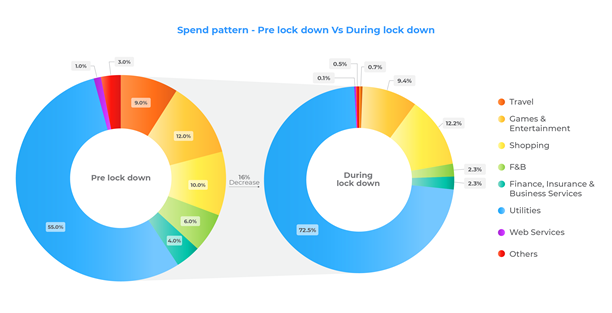 RuPay, the National Payments Corporations of India (NPCI)-owned card scheme, has seen a rise of 10%. Average ticket size dropped by 25% as consumers focused on necessities.
"This phase in our history will bring a significant shift toward online shopping with new products and services and as consumers start preferring the convenience," said Govind Setur, CEO, Wibmo.
---