After Wipro and Cognizant, Bengaluru headquartered Infosys has deferred its earnings guidance for the financial year 2020-2021 (FY21) as it takes into account the impact of the ongoing Covid-19 pandemic.
As expected, owing to the minimal impact on the company's sales in the fourth quarter of the financial year 2019-2020 (FY20) -- the global lockdown commenced in the last two weeks of March -- the information technology (IT) services company reported a 0.8% sequential revenue growth in its operations at Rs 23,267 crore. On a year-on-year basis, the topline grew by 8% during the quarter.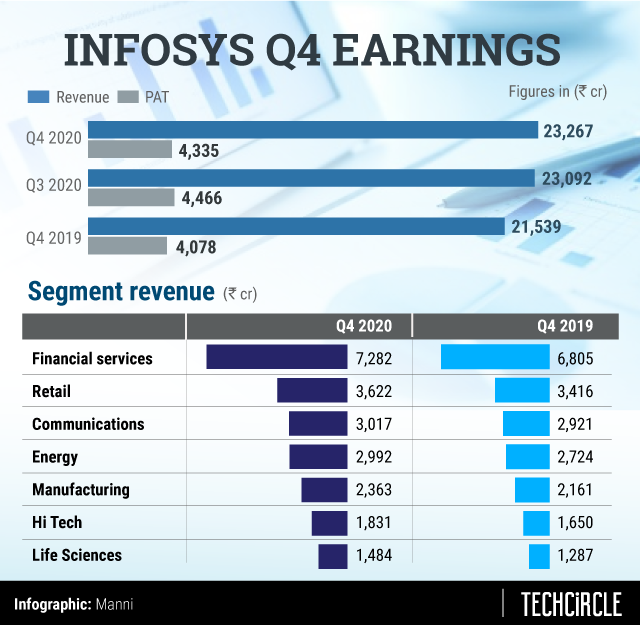 The company's flat sequential growth was on account of marginal improvements across all its verticals especially its financial services, retail and communications business, which contributed to 31.5%, 15.5% and 13% to the total revenue in Q4. In constant currency terms, Infosys' revenues grew 9.8% in FY 20 but declined 0.8% in the fourth quarter.
Net profits declined 3% on a sequential basis to Rs 4,335 crore from Rs 4,457 in the previous quarter. The company's bottom line, however, grew 8% from Rs 4,074 crore a year ago. The company's operating margin was at 21.2% during the quarter.
"Considering the business uncertainty emanating from Covid-19, the company is unable to provide guidance on revenues and margins for FY 21 at this stage. The company will provide guidance after visibility improves," Infosys said in a statement detailing its earnings for the fourth quarter of FY20.
The company has also deferred promotions and increments while it has committed to honour all offer letters and not to lay off any employees. The company has made around 35,000 offers at campuses.
With 93% of its workforce working remotely, the company's COO Pravin Rao said that Infosys is focused on completion of orders. The company managed to achieve large order wins despite the operational challenge in the tail end of the quarter.
During the quarter, the company gross added 84 clients, taking the total to 1,411. However, all additions were in the $10 million and $1 million categories, while $100 million and $50 million client numbers remained unchanged.
"While the immediate short-term will be challenging, looking ahead, we can see that there is a strong interest to consolidate with partners with high-quality and agile service delivery and strong financial resilience. I am confident we will emerge from this stronger," Salil Parekh, CEO and MD of Infosys said.
Infosys, which has a cash pile of $3.605 bn (Rs.27,276 crores) as of March 31, 2020, announced a dividend of Rs 9.50 per share.
Separately, Infosys also announced the appointment of Uri Levine as an independent director, effective April 20, replacing D N Pralhad, who stepped down from the board.
Last week, TCS reported a 5.1% rise in revenues at Rs 39,946 crore while Bengaluru-based Wipro ended the fourth quarter with a 4.7% year-on-year growth in gross revenues.
Wipro had also suspended Q1 earnings guidance on concerns of Covid-19 impact.
Teaneck, New Jersey headquartered Cognizant withdrew its earnings guidance for 2020 on account of the unpredictable and unprecedented business environment it anticipates this year due to the pandemic.
---