Reliance Jio has launched its ecommerce arm JioMart on WhatsApp in just five days after raising a mammoth $5.7 billion investment from social media giant Facebook.
In what could be a pilot run of a larger collaboration, JioMart has begun accepting orders through WhatsApp across three Mumbai suburbs -- Navi Mumbai, Kalyan and Thane.
Users need to send 'hi' to the WhatsApp number 88500 08000 to begin the shopping process. They will get a response from JioMart with a web link where they can sign up and place orders. The link will be valid for 30 mins. The orders are assigned to a kirana store in users' locality. Users will then receive an invoice, Kirana's address and location on Google Maps. Once the product is packaged, the user will receive an SMS upon which they can pay at Kirana and pick the order.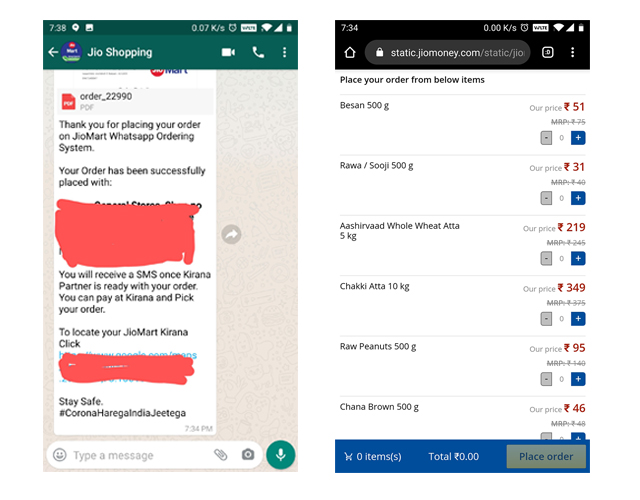 Orders placed by 7 pm every day will be available for pick up within the next two days, the message on WhatsApp said.
The partnership looks pretty basic right now. It doesn't have an integrated payment solution, nor does it currently offer home delivery. However, payment is expected once WhatsApp Pay receives regulatory approval while home delivery could be launched in the upcoming phases.
An email query sent to a Reliance Jio spokesperson did not elicit a response at the time of publishing this article.
Last week, Facebook made an investment of $5.7 billion, or Rs 43,574 crore, for a 9.99% stake in Mukesh Ambani-led Reliance Jio in a deal that is expected to strengthen the social media behemoth's position in the rapidly growing Indian internet market.
The investment, which valued Jio Platforms at $65.95 billion pre-money, will make Facebook the largest minority shareholder in the entity. Jio Platforms houses all of Reliance Industries' digital initiatives.
India is the largest market for Facebook with 328 million monthly users while its messaging app WhatsApp connects over 400 million users in the country. India is also the second-largest market for Facebook's photo-sharing social media app Instagram with 80 million active users.
The companies said WhatsApp will be leveraged to support JioMart's small businesses. "The companies will work closely to ensure that consumers are able to access the nearest kiranas who can provide products and services to their homes by transacting seamlessly with JioMart using WhatsApp," Reliance said in a statement at the time of the announcement.
The deal offers the country's kirana network a new impetus for growth, especially as they face a long road to economic recovery ahead in the wake of the global Covid-19 pandemic.
The partnership can offer a significant cost advantage to kiranas as JioMart is gearing up for an end-to-end retail play where it will be the supplier (first mile), distributor, online aggregator of demand, and the last mile delivery partner to kirana stores. With its strong network coupled with the precise business-owner data of WhatsApp, Reliance looks to build a super distributor network where it can connect the kirana stores on a digital platform.
JioMart can pick a product directly from a brand or manufacturer and deliver directly to the kirana using its own well-established physical network while optimising orders for bulk purchase with its technology infrastructure. Kirana stores can pass on that benefit to their neighbourhood users, offering discounts and other perks including free delivery, like any other ecommerce platform.
With the technology capabilities of WhatsApp and Facebook's other products, including its social media platform and photo-sharing app Instagram, kirana stores can achieve an increased hyper-local vicinity. In the long run, Facebook will leverage Instagram and its wide social media network to do targeted hyper-local advertisements which will bring in revenues for Reliance, Facebook and for the kiranas.
---