Locked down India turns to online gaming to take the edge off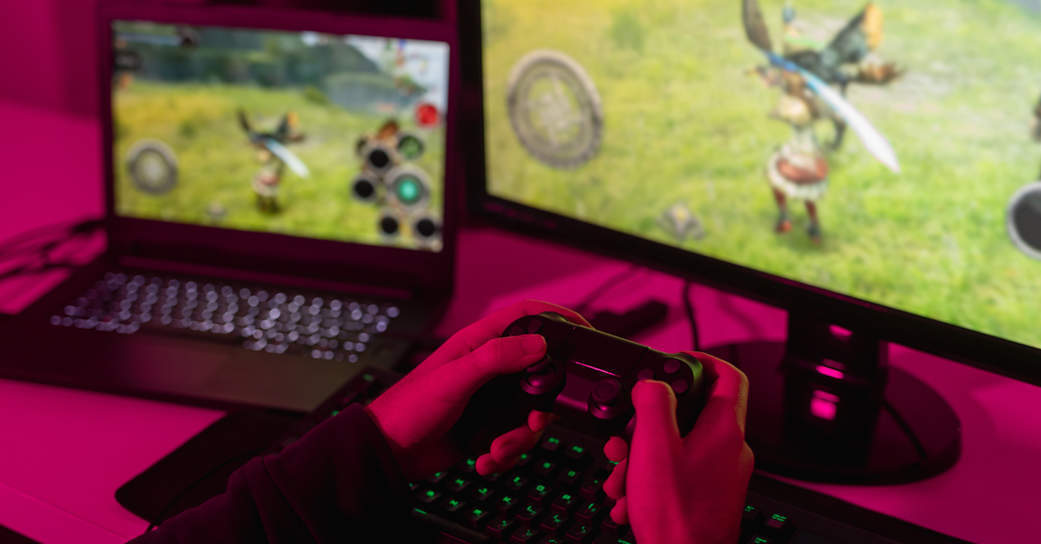 Every evening, usually after 10.00 PM, Imtiaz Pathan, a cybersecurity professional in Pune, catches up with his friends. After finishing up with household chores and tucking in the kids, he, his friends and sometimes his wife plug into a game, Call of Duty, on their mobiles. It helps that the game has an in-built voice chat option that allows them to goad each other and warn of imminent 'danger' from opponents.
This is as close as it gets to "catching up with friends," Pathan says, in these extraordinary times when most of the world has become homebound due to the raging Covid-19 pandemic.
Bengaluru based communications professional N Shashank now spends more time gaming than he used to prior to the lockdown. "I would previously play for an hour and half while commuting to and from work, but now it easily takes up six hours of my day as I am tired of watching (television) series, etc," he says. He mostly plays casual mobile games such as Ludo or Candy Crush and the racing game, Asphalt 9, all on the phone.

Pathan and Shashank aren't exceptions. The Covid-19 lockdown is propelling more and more people, especially in urban India, towards gaming and the country is seeing a surge in the number of people playing casual mobile games, often with close groups of friends or family as a way of staying connected and catching up.
Multiplayer, social games top preferences
Like Pathan and his friends, Shashank too prefers playing with his friends or colleagues. His preferred game of Ludo King allows four people to get a virtual private room to play, usually colleagues and friends who happen to be free at a given time. For Asphalt 9, it's good enough if all friends can form a team of five and play against an unknown opposing team.
"The (lockdown) phase will see the growth of social, multiplayer games. On one hand we have games which are familiar, typically played in the offline world like ludo, carrom and cricket which are seeing high number of daily active users, and the other bucket of growth will be for games like PUBG which have a sizeable audience in India and this will see more in-app purchases during the lockdown," says Manish Agarwal, CEO at Mumbai based Nazara Technologies.
It comes as no surprise then that Ludo King published by Mumbai based Gametio Technologies was among the top five free apps in India on the Google Play Store since the last week of March according to data sourced from Sensor Tower, roughly coinciding with the time when the national lockdown was announced.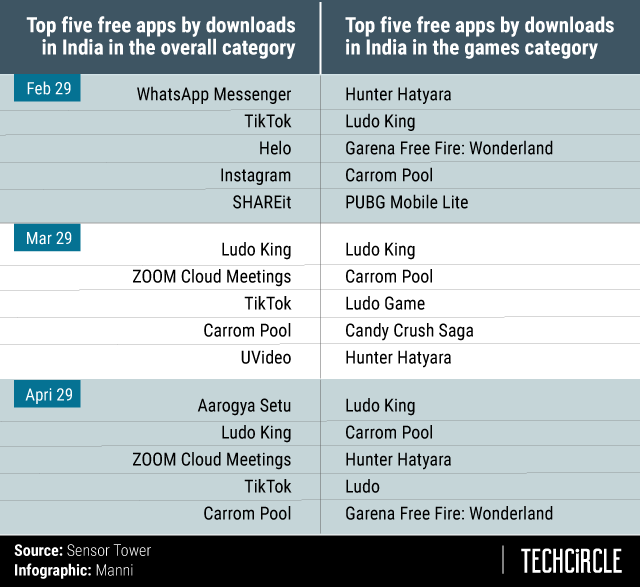 According to Agarwal of Nazara, the company's World Cricket Championship 2 (WCC2) has seen a surge in the past few days with a 25% increase in the number of daily active users (DAU) and 100% growth in in-game purchases.
The new users coming online to play games prefer multi-player games and are introduced by friends or family.
Take for instance the case of Chennai based writer Sandhya Ashok (name changed) who plays online Scrabble with her mother who lives in Australia. "My mother and I were talking about spending time together online which isn't me pestering her for a recipe or making her watch my livestream. She suggested online games and we have been playing scrabble over the last two days," said Ashok who is also a part of a quizzing circle which plays every evening.

There is also a dedicated category of players who swear by e-sports and in the absence of real-life sporting events globally owing to the pandemic, the segment has seen a surge in users coming back for more.
Agarwal of Nazara told TechCircle that this could be the opportunity for e-sports to build out a business which can build allied products to fill in the gap till sporting events resume across the world. "Given the unpredictability of a contest between players and the absence of events, gamers are living out the contest vicariously on the platform," he added.
While e-sports are seeing a spike, Daily Fantasy Sport (DFS) has taken a hard knock due to the cancellation of events. DFS which lies in a regulatory grey area is a game of skill and chance where players pay to create a virtual league and line up players with the contest results being announced and a chance to win prize money. DFS banks on the admission fee paid by the players.

For 27 year-old Akshat (not his real name), a regular on a cricket DFS platform, the cancellation of Indian Premier League was reason enough to turn to watching more content and spending less time on the platform.
Though fantasy sports grew by 100% from 2018 to 2019 according to a report 'The era of consumer A.R.T. – Acquisition Retention and Transaction,' released by the Federation of Indian Chambers of Commerce & Industry (FICCI) and consulting firm Ernst & Young (EY), the cancellation of sporting events has brought the sector to a standstill, which counts India's first gaming unicorn, Dream 11 backed by Steadview Capital among leading homegrown players.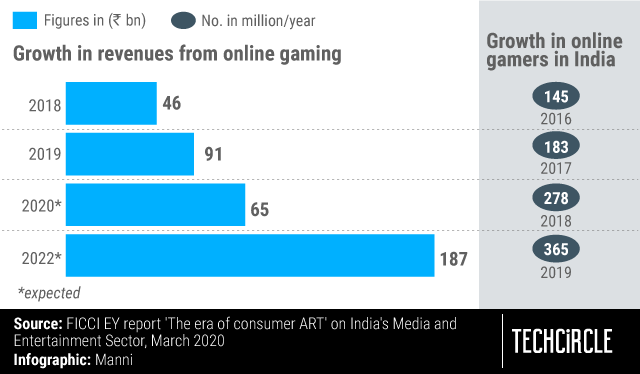 Investor interest

The surge in online gaming has been largely on smartphones in India as people look at easy set up and compatible data speeds on these devices. Due to the device limitation, India has been largely a market for mid-core and casual games.
"In India the focus is definitely mobile games. While the US was a more console driven market and China, a PC driven market, India will be mobile driven growth. Between mid core and casual gaming is where we see a lot of opportunity in India and there is scope for bringing in social gaming in this. PUBG's success in Indic languages also points to this," says Sanjot Malhi, director and lead for the consumer, media and gaming sector for Matrix Partners India.
While the spike in gaming and content consumption is backed by the surge in data usage and findings of the Broadcast Audience Research Council and Nilesen, what investors and publishers are looking for are trends which will extend to the post Covid-19 world.
"Indian gaming can be divided into two buckets -- one which is non-real money gaming monetized through in-app purchases and advertisements on the platform, the other being skill-based real money gaming (RMG). As investors, we look at, and are excited about both. RMG has a much more proven business model given there are examples of companies that have monetized and turned profitable e.g., Ace23, one of our former investments. Whereas, the business models on non-RMG are still nascent and evolving." Malhi told TechCircle. The Mumbai based venture capital firm recently announced its investment in online quizzing app Zupee.
He added that unlike India, in-app purchases drive the majority of revenues in mature markets.
According to the FICCI-EY report, of the Rs 6,500 crore online gaming industry in India in 2019, Rs 4,600 crore was contributed by transaction based gaming, including real-money games. The rest came from casual games.
However the propensity to pay has changed over time. Going by the popularity of mid-core games such as PUBG in India which relies on this mode of monetisation, the trend may be here to stay, says Saumya Singh Rathore, cofounder of WinZO Games.
"The paid conversions have increased by 20%, suggesting that the sentiment of paying is not impacted yet in the Covid-19 scenario. We also got PUBG only after the national lockdown began and the engagement is high with an average of 25 to 30 minutes being spent on it," said Rathore. Delhi based WinZo has also seen an uptick in the number of users coming from Tier 1 cities though 90% of the platform's users come from Tier 2 to Tier 5 cities and 80% users consume games in local languages.
Will the surge sustain in the post Covid-19 world?
While the spike is real, investors and publishers alike want to hold on to a trend which can be sustained in the post Covid-19 scenario.
In the case of Nazara, this has meant acceleration of projects including features on adding in-app purchases, adding more content to the kids vertical, as well as creating IPs with different brands and publishers. "These were lined up as part of our strategy anyway and have been fast-forwarded in the current scenario," said Agarwal.
On its platform, WinZO has scaled its server to accommodate the 3X spike in multi-player games and organic users coming in.
According to Malhi the growth is here to stay, in a post Covid-19 scenario. "We are looking to back long term investment ideas. Going by the data before the lockdown, India now has over 250 million gamers with usage of almost 60 minutes per person who has upto 6 apps on the phone. The user and usage growth trend which has been coming for a year or more has got us excited," he added.
According to the FICCI report, the number of gamers in India stands at 356 million though revenues which primarily came from fantasy sports might be hit. With streaming fatigue setting in, gaming stands are a strong chance at remaining a popular channel for entertainment with sustained consumer interest in the post Covid-19 world.
---