Of the 504 million active internet users in India, 71 million are aged between five and 11, according to a report from the Internet and Mobile Association of India (IAMAI).
Active users are people who have used the internet in the past one month.
Nearly 70% of the active population consisted of daily users, according to the Digital in India report. Nearly one-third of them accessed the service one hour longer on Sundays and holidays, compared to a regular working day.
The time spent on the internet continues to be higher in urban areas than rural areas, it said. Nine out of 10 users in the former region accessed the service at least once a week, it added.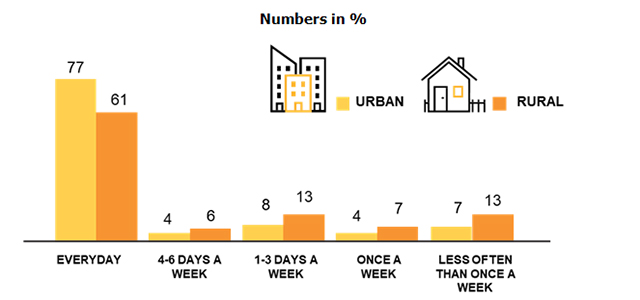 Internet usage in rural and urban India
New Delhi had the highest internet penetration, followed by Kerala, the IAMAI said in a separate statement. While Mumbai and New Delhi had the highest number of users at 13 million and 11.3 million, respectively, Bengaluru was a distant third, with about 6.6 million users.
Eastern states together accounted for a 24% increase in internet population in November 2019, compared to March the same year, it said.
Since March last year, rural India has added 30 million new users who access the internet daily.
Additionally, at 26 million, the rate of increase in women who began to use the internet in November 2019 was higher at 21% than male users at 9%. Although the proportion of male users in rural India is more than double compared to females, the women are catching up. By November 2019, 31% more women were using the service, compared to the numbers in March the same year.
Mobile continues to be the device of choice to access the service in both urban and rural areas due to the affordability of handsets and cheaper data plans, it said.
In September 2019, the IAMAI had placed India in the second spot globally, with about 451 million monthly active internet users.
---