Ration card portability, affordable housing for migrants in economic stimulus package 2.0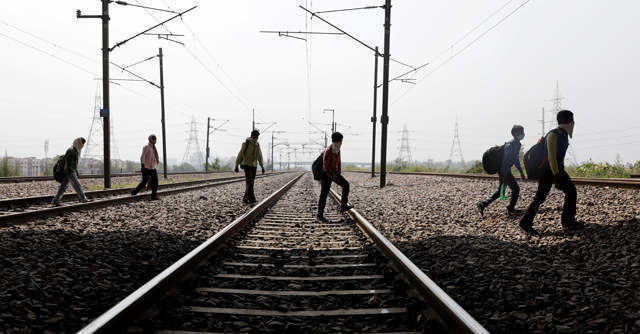 As part of the Atma Nirbhar Bharat Abhiyan, finance minister Nirmala Sitharaman on Thursday announced relief measures targeted at migrant workers and street vendors.
Middle-income group housing, agricultural loans as well as employment generation for tribals are among the key announcements made as part of the package.
This is the second such rollout under the economic stimulus package 2.0, which was launched to deal with the Covid-19 pandemic.

The overall economic stimulus, including the one made in March and liquidity measures outlined by the Reserve Bank of India, is expected to touch Rs 20 lakh crore or close to 10% of India's GDP, according to a speech by Prime Minister Narendra Modi on Tuesday.
During her address today, Sitharaman also said that the central government had released Rs 11,002 crore towards State Disaster Relief Fund on April 3 in advance to be used for setting up and running shelter homes for migrant workers.
The salient features of today's announcements are as follows:
For migrant workers:
Free food grain supply to migrant workers for two months will include five kilograms of grain per person per month and one kilogram of chana per month. This will be for the non-card holders and those who do not come under the provision of the National Food Security Act (2013). This is likely to benefit eight crore migrants at a cost of Rs 3500 crore for the next two months to be borne by the centre. The implementation will be done by state governments.
National portability of public distribution system (ration) cards will be implemented for usage across all states. This will benefit 67 crore people across 23 states by August 2020. It will cover all PDS beneficiaries by March 2021.
For migrant labourers and urban poor, affordable rental housing complexes (ARHCs) will be made available under PM Awas Yojana on a public-private-partnership model.

Interest subvention of MUDRA-Shishu Loans:
Shishu loans of up to Rs 50,000 will be provided with an interest subvention of 2% for a period of 12 months for prompt payees after the three-month moratorium ends. This will cost the government around Rs 1500 crore.
For street vendors:
Around 50 lakh street vendors across the country to benefit from a Rs 5000 crore special credit facility to be launched within a month by the government. Initial working capital of Rs 10,000 will be provided to beneficiaries.
For Middle Income Group (MIG):
Credit linked subsidy scheme (CLSS) for the middle-income group has been extended from May 2017 to March 2021. This will lead to an investment of Rs 70,000 crore in housing and will benefit 2.5 lakh families.

For tribals and adivasis:
States have come up with proposals under the Compensatory Afforestation Management and Planning Authority (CAMPA) under which Rs 6000 crore of funds will be approved shortly. This aims to employ tribals and adivasis in afforestation and plantation work.
For farmers:
An additional fund of Rs 30,000 crore will be immediately released as part of Additional Emergency Working Capital Funding through NABARD (National Bank for Agriculture and Rural Development) for post harvest work of rabi crops. This is expected to help 3 crore small and marginal farmers. This is over and above the Rs 90,000 crore funding done by NABARD on an annual basis.
Around 2.5 crore farmers will be covered by a concessional credit of Rs 2 lakh crore through Kisan Credit Card. The concessional access to institutional credit through the scheme will also cover fishermen and animal husbandry farmers.
---