Agri-focussed lender Jai Kisan raises $3.9 mn from Arkam Ventures, others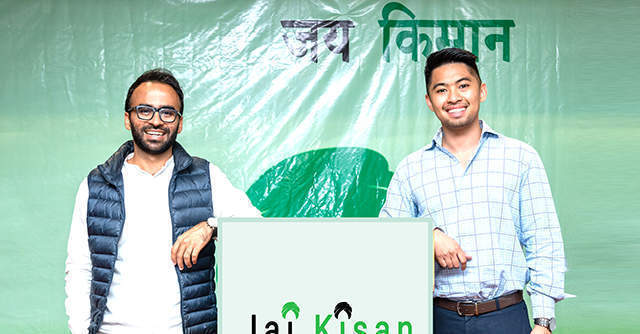 Greenizon Agritech Consultancy, which operates agri-focussed lending platform Jai Kisan, on Tuesday said it has raised $3.9 million in a bridge funding round, dubbed pre-series A, led by early stage venture capital firm Arkam Ventures.
Other new investors in the round include National Bank for Agriculture and Rural Development's (NABARD) impact investment fund, the Chatterjee Group conglomerate and New Vernon Capital managing director Rajiv Sahney, according to a statement.
Returning investors Blume Ventures, Prophetic Ventures, Better Capital and Sanjay Mariwala, managing director at health and lifestyle services provider OmniActive Health Technologies, also funded the company in this round, the statement added.

This is the first investment made by NABVENTURES, the impact investment fund run by NABARD. According to its website, it is a venture growth equity fund that invests in agriculture, food, rural businesses and agri-rural financial businesses.
The startup plans to use the fresh capital to hire people across roles in operations and technology teams, strengthen its technology, offer new financial services and scale up operations, a company spokesperson told TechCircle.
Texas A&M University graduates Arjun Ahluwalia and Adriel Maniego quit their corporate jobs to set up the Mumbai-based startup in 2017, with a mission to change the way finance is delivered to the rural customer, according to the statement.

"Jai Kisan is charting a new course in agri/rural digital lending. Even in a Covid scenario, it has delivered stellar growth. NABVENTURES would continue to back such tech-driven agri/rural startups that are at the forefront of agri/rural transformation in India," Rajesh Ranjan, CEO of NABVENTURES, said.
In the past six months, the startup claims to have disbursed over $6.6 million in loans to over 5,500 borrowers from various income groups across 10 states.
"Adriel and I started Jai Kisan to facilitate rightly priced credit (and other financial services) to rural borrowers. It didn't make sense to us that a poor woman borrower in the middle of nowhere is expected to generate over 24% IRR on a small 50K type loan – (and that too from a formal lender!), while in our previous jobs (private equity) we were expected to generate a meagre 12% IRR for our LPs armed with billions of dollars in capital," CEO Ahluwalia said.

The B2B2C platform partners with banks as well as businesses that sell or procure farm equipment. The company claims to provide financing options for equipment, input and invoice financing for rural borrowers.
The startup last raised capital in a seed funding round in March 2019 when Blume Ventures and three other investors put in $1.5 million in the company. It was also a part of the Financial Inclusion Lab's maiden cohort in 2018.
---