The overall server market revenue in India has witnessed a 22.1% year-on-year decline to $232.1 million in the first quarter of 2020 from $298 million, according to a study.
The situation is set to worsen, with the second quarter of the year expected to see a 41.3% drop in revenue compared to the same period a year ago, along with a 22.3% decline in value, a report by market intelligence firm IDC said.
"The market sentiment is pessimistic, and we anticipate a sharp decline for the server market revenue in 2Q 2020. As the lockdown continues to negatively impact working capital across businesses, buyers are now employing capital preservation strategies for future usage, resulting in low spending on current IT requirements. In such a scenario, IDC expects the server market in 2020 to decline by 22.3% in terms of value," Harshal Udatewar, analyst for the server market at IDC India, said.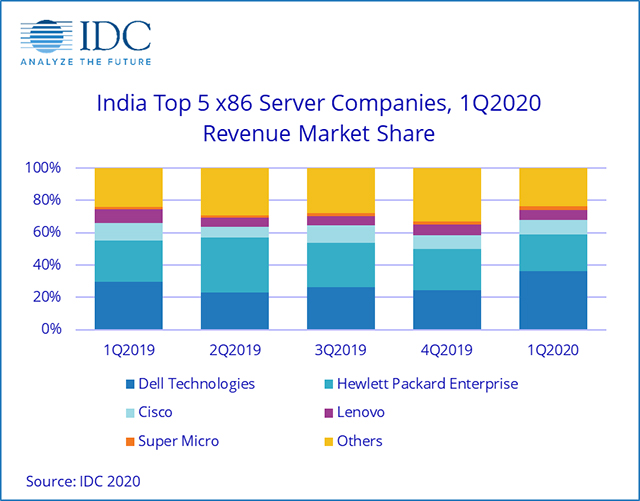 Additionally, two of India's largest telecom vendors will focus their expenditure on network modernisation, VoLTE and cloud infrastructure projects, while banks will spend on refreshes, the Worldwide Quarterly Server Tracker report said.
The revenue of x86 servers, which account for 85.2% of the entire server market revenue, dipped 25.3% to $197.9 million from $264.9 million in the first quarter of 2019. IDC attributed the decline to the lack of spending from global hyperscalers and spill over from the previous quarter.
These servers are used most by professional services and telecommunications segments, followed by banking and manufacturing verticals, the report said.
Dell Technologies, with a $71.3 million revenue, emerged as the top vendor in the India x86 server market in Q1, with a revenue share of 36%. At 23.1% share and a revenue of $45.7 million, Hewlett Packard Enterprise took the second spot, followed by Cisco with an 8.5% revenue share at $17.4 million.
On the other hand, revenue for the non x86 server market grew 3.6% year-on-year to $34.2 for the aforementioned period.
IBM continues to dominate the market accounting with 74.1% revenue share at $25.4 million -- 79.4% of its revenue came from banks, followed by the manufacturing sector. Oracle came in at second position, followed by HPE with a revenue share of 14.6% and 11.3%, respectively.
The market intelligence firm expects the sector to recover in the second half of the year on the back of federal government agency spends, bank refreshes and network modernisation projects from telecommunication vendors.
---