The revenue potential of electric vehicles (EV) in India stands at about $6.7 billion by 2025, according to a report by financial services firm Avendus Capital.
Avendus Capital expects the current Covid-19 pandemic to accelerate the adoption of EVs in the medium term. It says customers are now on the look for environment friendly and cost-effective personal mobility solutions.
"India represents the fourth largest automobile market in the world and the second-largest two-wheeler market with about 20 million units. It is also a country with massive dependency on oil imports, with a $112 billion oil import bill in FY19. Pollution in many Indian cities has reached alarming levels. All these factors combined make a strong case for EV adoption in India," Koushik Bhattacharyya, head of Industrials at Avendus Capital said in a statement.
The drivers for EV adoption in India are policy, battery price, charging infrastructure and supply chain localization, according to a statement.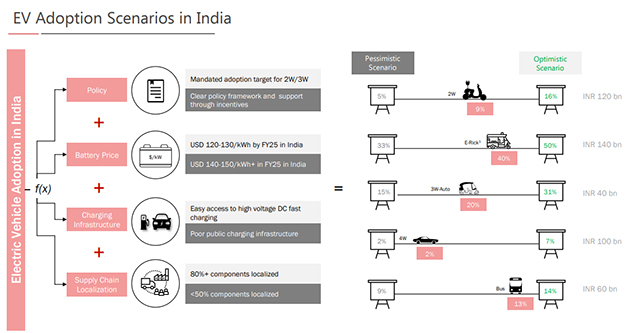 EV Adoption Scenarios in India (Source: Electric Vehicles - Charging towards a bright future, Avendus Capital, July 2020)
The report "Electric Vehicles: Charging towards a bright future" discusses technical aspects of EVs vis-à-vis internal combustion-engines (ICE), battery technology and analyses key global markets.
It also maps the EV opportunity in the Indian context and presents the current state of the industry, with a total cost of ownership analysis and penetration rates for different use cases of EVs in India.
The total cost of ownership (TCO) in case of low and medium speed electric two wheelers, e-autos or e-ricks and commercial applications of 4Ws, is lower than their counterpart ICE vehicles, according to the report.
Other highlights from the report:
For high-speed 2W EVs and other use cases such as retail 4Ws, CVs, the TCO will become favourable as the battery prices drop further.
Two and three-wheelers will lead the electrification movement in India in the medium term. Avendus expects 9% penetration by FY25 in the two-wheeler segment. With the right macro environment, the number can further go up to 16%.
E-rick has also emerged as a large market in India in a very short time frame. A large part of this market is still unorganized and based on Lead Acid batteries. However, this market is expected to rapidly shift to Li-ion and by FY25, 40% of the e-Rick market is expected to be Li-ion based.
On the commercial vehicle side, E-buses are expected to lead the category. Regulatory push will drive this category, rather than TCO.
---