Agritech needs fresh entry funds to build on investment momentum: Report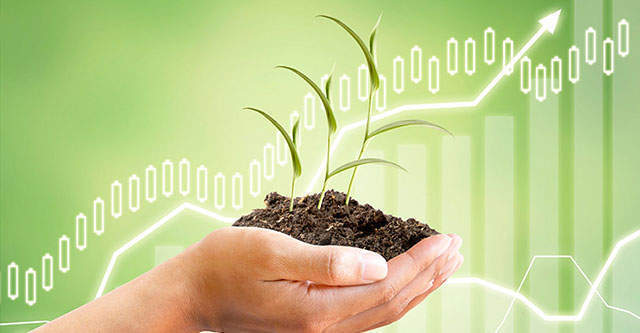 Indian agritech sector has seen significant growth in investments in the past few years. Between 2014 and 2019, startups pulled in $1.7 billion compared to $0.2 billion raised in the previous five-year period, according to a report by ThinkAg.
The report, "Ag-Tech in India, Investment Landscape Report 2020," shows that increased capital deployment underscores investor interest in the sector. Founded in 2018, ThinkAg is a not-for-profit organisation for food and agriculture.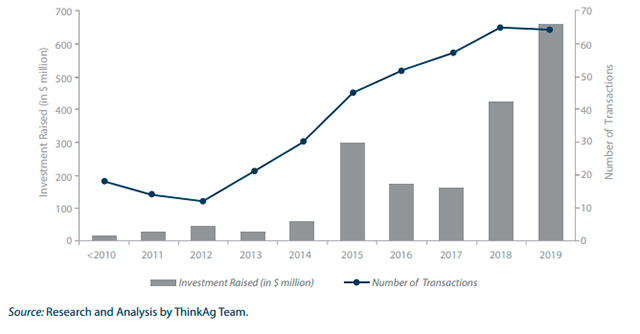 Agritech Investment Trends in India, 2010-2019
The nascent sector, however, is not without challenges. The report pointed out that Indian agritech funnel is weak in early stage investments and wide in the middle. This is in contrast to the markets in the United States or Israel, where the funding funnel is wide in at the entry stage and narrows further down.
Of a total of 64 investments that were finalised in 2019 in India, only nine were new transactions and a few were late-stage deals. Most other investments were intermediate bridge funding of business models that are probably going to take longer to prove themselves and are now running out of resources, the report said.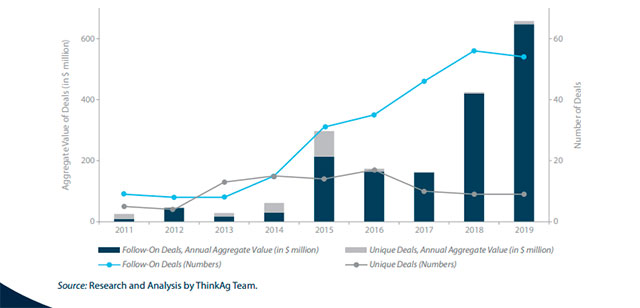 Follow-on and Unique Deals in Indian Agritech, Number of Deals, and Annual Aggregate Value (in $ million)
India has about 600 active agritech startups, with cumulative capital flow into the sector at $1.9 billion in the last decade spanning 2010-2019. Also, of the 105 companies that made it to the report, four had raised more than $100 million, with the largest ticket size being $550 million.
The average value of the first cheque received by an agritech startup in its first institutional fund raiser has doubled over the last five years at $1.1 million.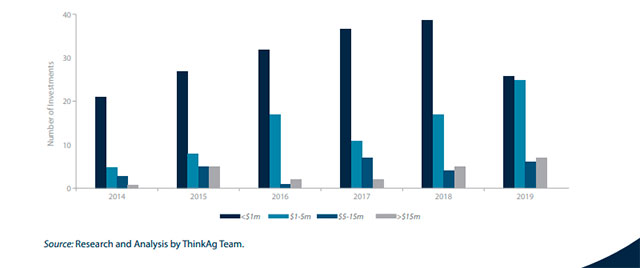 Agritech Investments in India (by deal size)
The report also added that although cumulative transactions have grown over the past five years, 40% of these transactions were below $1 million.
"The agritech sector has attracted about $75 million in this year across 10 deals. My guess is that we may end the year with about 20 deals with a capital infusion of $150 - 200 million in Indian agritech, which will be lower than last year but it is not bad for a Covid year," Hemendra Mathur, co-founder of ThinkAg and Venture Partner - Bharat Innovation Fund told TechCircle.
"Covid times have proved the reslice of Indian agriculture as well as untapped opportunity for digitisation and value addition in the supply chain," Mathur added.

While the Covid-19 pandemic has stressed certain sectors such as logistics and delivery, it has also led to adoption of digital solutions.
Mathur believes that a pragmatic response to the pandemic could accelerate the adoption of technology in favour of the sector.
About 80% of the capital flowing into the sector in 2019 was international. The total capital stood at $657.5 million for the year, which is a mere 6.6% of the global aggregate. This, Mathur emphasised, leaves much scope for growth.

"We are going to see the multiplier effect of government reforms in the agriculture sector announced in the last few months, from 2021 onwards. Farm-level processing and storage, digitisation of pre and post-harvest supply chain; mechanisation, controlled farming and agri-fintech will pick up more steam and attract more investment in next 3-5 years," Mathur said.
---