In Brief: Dream11 to be IPL title sponsor; SoftBank to help OYO stabilise business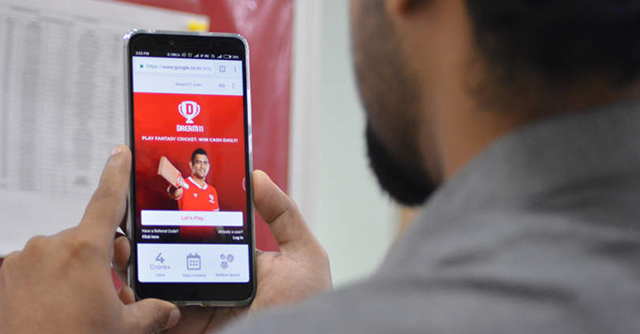 Fantasy sports platform Dream11 has won the bid to be the title sponsor for the 13th edition of the Indian Premier League (IPL) at Rs 222 crore, The Economic Times reported, citing IPL governing council chairman Brijesh Patel. The competing bids were from edtech platforms Byju's and Unacademy at Rs 201 crore and Rs 171 crore, respectively, the report said. The two-month series will begin on September 19 and will be played in the UAE.
SoftBank, OYO set up panel to deal with pandemic impact
Tokyo headquartered SoftBank has dispatched two executives to help hospitality major OYO right its virus-stricken business in Japan, financial newspaper Mint reported, citing sources. OYO Japan, a joint venture between the hospitality major and SoftBank, will set up a six-member management oversight committee to resolve the issues, the report said. The panel will include SoftBank executive vice president Eric Gan, SoftBank Vision Fund investor Lucio Di Ciaccio and OYO Japan CEO Ryoma Yamamoto, it added.
Read: OYO India to reverse pay cuts in phases, reinstate full pay by December
Navi Technologies eyes stake buy in private life insurance firms

Flipkart co-founder Sachin Bansal's investment vehicle Navi Technologies has held discussions with private life insurance companies to acquire a stake, a Times of India report said. The firm has held talks with promoters of Future Generali Life Insurance for an acquisition, and may buy DHFL Pramarica Life Insurance as well, it said. The company acquired DHFL General Insurance for Rs 100 crore in January.
Read: Sachin Bansal pumps $383.8 mn into his investment vehicle Navi Technologies
Khatabook gets legal notice for logo, interface duplication
Sequoia-backed Khatabook and its parent company Kyte Technologies have received legal notices for allegedly copying the logo and interface of Growthpond Technology, a company that enables digital storefront for small merchants through an app called dukaan, Entrackr reported.

The development comes a week after Khatabook launched a new app, called Dukaan by Khatabook, which is allegedly a copy of Growthpond's app that was rolled out over two months ago. Khatabook denied the allegation, the report said.
Video platform Chingari raises capital from angel investors
Homegrown short video app Chingari on Wednesday said that it has raised an undisclosed amount of capital from Tinder chief product officer Brian Norgard, and French entrepreneur and OLX founder Fabrice Grinda. The startup will deploy the funds to develop products, and hire engineers to enhance camera features and employees proficient in machine learning and artificial intelligence, a statement said.
Read: Homegrown short video app Chingari raises $1.3 mn in seed round
Tech Mahindra to use AI platform to upskill employees

Information technology (IT) services firm Tech Mahindra on Wednesday said that it will leverage an artificial intelligence-based learning platform to upskill its workforce. The platform, which aims to boost employee competencies across technologies such as 5G, cloud, big data and robotic process automation, will benefit over 60,000 employees globally, a statement said.
Mphasis, Ashoka University set up lab for ML and computational thinking
IT services firm Mphasis has partnered with Ashoka University to set up a laboratory for machine learning (ML) and computational thinking, using a Rs 10 crore grant from CSR unit Mphasis F1 Foundation. The laboratory will apply ML and design thinking to produce papers and proofs of concept of systems or prototypes that will have a large societal impact, a joint statement said.
Nutrition-tech platform Habbit scores fresh funds
Nutrition technology company Habbit Health and Nutrition has scored an undisclosed amount in what the company dubs as a pre-seed funding round. Venture capital firm 3one4 Capital, AngelList India partner Utsav Somani, Singapore-based RB Investments and early-stage investors Better Capital and First Cheque infused capital in the round, along with other undisclosed angel investors, a statement said.
SirionLabs launches patent-pending AI apps

Gurugram based contract management startup on Tuesday rolled out multiple patent-pending applications to help businesses improve decision making processes. The patents that were filed over the past two years will deal with the automated extraction of performance segments and metadata values within contract documents, along with the method and system for determining risk scores post-analysis, a statement said.
Read: Software firm SirionLabs rolls out analytics solution
---