Food delivery and restaurant aggregation platform Zomato said that India's food delivery industry has largely recovered from the impact of Covid-19, registering 75-80% of pre-covid gross merchandise value (GMV).
The Gurugram based company has delivered seven crore food orders since the lockdown began on March 25, a statement said.
"We estimate that between other food aggregators and direct restaurant channels, Indians have ordered 20 crore times since the lockdown. There have been zero reported cases of Covid-19 transmission due to food delivery," the company said.
The results are part of a survey conducted by the company in the "last few days", reaching out to "thousands of restaurants and customers across various cities in India to understand the current state and future outlook of the industry".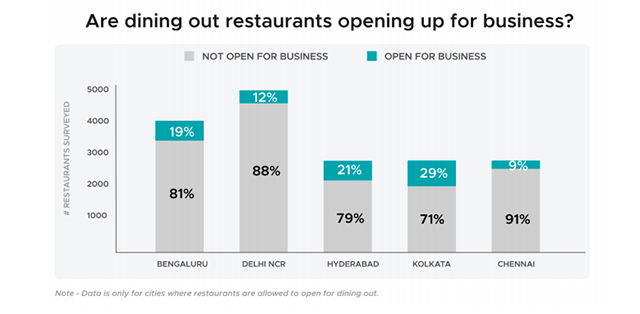 Dining out business activity in major cities of India
Restaurants that rely heavily on dine-in are expected to take longer to recover as they are operating at 8-10% of pre-Covid levels, the Indian Restaurant Industry – Mid Covid-19 report, said.
According to the report, 40% of the dine-in restaurants may not reopen at all owing to the disruption caused by the pandemic -- 10% of them have already shut down permanently.
Even in cities where restrictions have been lifted, only 17% dining out restaurants are open for business at the moment -- they too are running at low capacity. Once the situation gets better, an additional 43% are expected to reopen.
Among cities that have allowed restaurants to service dine-in customers, Kolkata leads the pack with 29% of restaurants open, followed by Hyderabad at 21%.
As many as 60% of restaurateurs surveyed said they expect to retain less than half of their original business volumes for a few months, even in the post-Covid phase.
Zomato's primary competitor Swiggy recently laid off 350 employees in addition to the 1,100 employees fired earlier during the lockdown. The food delivery industry, according to Swiggy, had only recovered about 50% of its peak in July.
---