India is at an inflection point in its digital journey. Its open digital ecosystems are expected to create economic value equivalent to 5.5% of India's projected GDP (gross domestic product) by 2030, according to a report by Redwood City, California based philanthropic early-stage technology investment firm Omidyar Network India.
Open digital ecosystems (ODE) can be described as open and secure digital platforms that enable communities to build solutions for society with the help of a robust government based technology framework.
According to the report, prepared in partnership with management consulting company Boston Consulting Group, ten high potential National ODEs (NODEs) in sectors such as health, agriculture, and justice can collectively create a new economic value of $500 billion or about 5.5% of the projected GDP in 2030.
Over the last decade, India has undergone a digital revolution. The report says that ODEs can help the country build on this momentum. Digital infrastructure created in the past ten years can be used by both government and private sector players to enhance citizen experiences.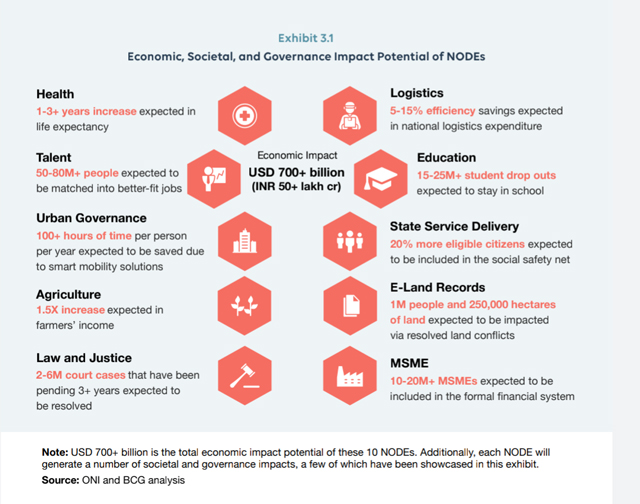 These NODEs can also help the country generate more than $200 billion in savings, according to a statement.
"It will be critical to get the governance right to ensure these are built sustainably and responsibly. We have written this report to provide some insights on key questions surrounding ODEs, including the nature of the accountable institution, the type of talent and sustainable financing mechanisms," Saibal Chakraborty, Managing Director and Partner, BCG, said.
BCG and Omidyar built on the ideas laid out in a whitepaper titled "National Open Digital Ecosystems (NODEs)" which was released earlier this year for public consultation by the Ministry of Electronics & Information Technology (MEITY), Government of India.
The report identified three layers that are integral to building efficient infrastructure.
The topmost layer will consist of digital platforms comprising technology infrastructure, the middle layer comprises builders, facilitators and end-users, while the third layer will be governance which encompasses laws, rules and the accountable institutions that uphold them.
The report urged the government to create 'digital commons', which are systems that are equipped with interoperability between siloed systems, through the use of technologies such as open-source, analytics, latest tech standards, up-to-date licenses and application programming interface.
An example of the ODE and digital commons approach is the National Digital Health Mission, which aims to create an integrated digital health platform for all health-related services.
Other government-based efforts such as India Stack, DIKSHA and the National Urban Innovation Stack have also adopted a similar approach in other sectors.
However, there could also be potential risks that could arise from the ODEs, the biggest of them all being the risk of data centralization, which can be addressed through a good governance framework and rules that safeguard citizen's data.
"We(India) were one of the first developing countries to have a population scale Digital ID initiative, and have built digital payments infrastructure such as UPI (unified payments interface). At the same time, we must take care of critical issues like privacy and agency of individuals over their personal data," Roopa Kudva, MD of Omidyar Network India, said.
---