How Amit Ramani realigned co-working space provider Awfis to match the new normal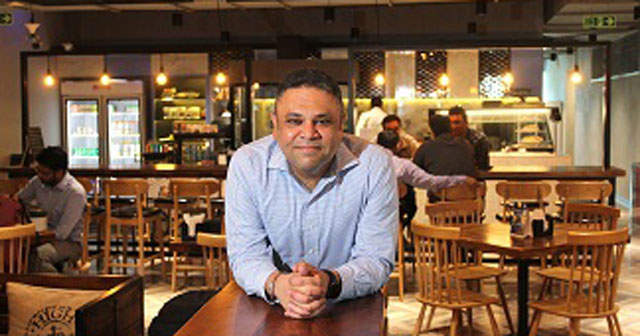 The Covid-19 pandemic has forced employers to rethink the concept of the physical workspace. For Amit Ramani, this has also meant changing his business model to keep up with the change. Ramani, founder of co-working space provider Awfis, decided to pivot to a software-as-a-service (SaaS) model when the nationwide lockdown led to the shuttering of most offices across the country.
The idea for Awfis@Home struck Ramani in April and it took 30 days of strategising, logistics, and partnership conversations for it to be ready for launch by June.
"It is not a new idea to work from home but now people are working 8-10 hours, seven days a week (from home) instead. We wanted to ensure people working from home were empowered for this, for example, the availability of ergonomic chairs which were offered on a subscription basis as part of the offering," says Ramani.

Awfis@Home is an integrated platform enabling distributed work experience through its three-pronged approach -- the a@h Assessment Tool, the a@h Toolkit, and the a@h Tech-enablement.
This product provides the flexibility to efficiently work from the comfort of one's home while replicating the setting of a productive office work environment.
The new solution also includes access to the vast network of Awfis centres, complementary meeting room credits, day pass, printing, scanning, and delivery services at the nearest Awfis center. Additionally, it will offer exclusive entry to Awfis events, held virtually or as per social distancing norms.

Along with from Awfis@Home, the pivot also includes businesses such as Awfis Flex Workplaces, Awfis Remote Working Solutions, Awfis Enterprise Solutions, Awfis Care and Awfis Transform.
Ramani, a graduate from Cornell University set up Awfis when he saw the dire state of the majority of commercial work spaces. "Extremely disorganized, a complete lack of transparency and the absence of a conducive environment for employees to work in, it led me to believe that co-working was the perfect solution for India's market," Ramani told TechCircle.
Ramani started with an initial investment of Rs 4 crore and a team of just 11 members. Over the last five years, the New Delhi-headquartered company has managed to onboard 300 employees across multiple centres. The company currently has 67 centres across 10 cities including Mumbai, Delhi NCR, Bengaluru, Hyderabad, Kolkata, Chennai, Pune, and Chandigarh, with plans of expanding to tier-II cities such as Ahmedabad, Kochi, and Indore.

The company counts Dun & Bradstreet, Duff & Phelps, Syngenta, and Blazeclan, among others as enterprise clients, apart from startups and individuals renting space.
In a space that is dominated by well-funded competitors including OYO's Innov8 and Delhi headquartered 91Springboard, Awfis differentiates itself by following a managed aggregation model where the landlords take on risk on-par with Awfis to mitigate risk. Under this model, Awfis gives higher returns to space-owners, ruling out long term rental and minimum guarantee.
The primary risks cited for all co-working players, including the large global companies is their rental commitments to space owners, which are long term (over nine years). Clients are typically short to medium term (between one month and three years). So, with such a skewed portfolio, players are finding it difficult to survive the economic downturn, and Awfis's managed aggregation model has helped Awfis to stay afloat amid the current economic headwinds, Ramani claims.

Managed aggregation model enables risk-averse supply (no rental, no minimum guarantee) and an asset-light business model.
"Capital efficiency is the other advantage of this model. Within the amount of capital that a global player spends to set up one seat, we are able to set up 4-5 seats. Currently, 60% of the seats are under the managed aggregation model, and Awfis intends to increase this number to 70% in the next 12 months," he said.
"The managed aggregation model has ensured that our business survived the pandemic. The landlord takes the risk with you under this model," says Ramani. The company last raised equity capital in July 2018 at $20 million in its Series C round of funding from Sequoia India, TTS: IO, and Innoven Capital.

Awfis has been almost tripling its revenues year-on-year. From Rs 18 crore in financial year 2016-2017, its revenues grew to Rs 230 crore in financial year 2019-2020.
"Awfis has been profitable at company level since October 2018, within three years of its operations," Ramani added.
Ramani also said that the company aims to grow by 20-30% in the next six months.

While Covid-19 prompted a business rethink, it has also had a sizable impact on the co-working and co-living sectors.
The rising demand for flexible workspaces may lead to an increase in its share to 6% - 7% in the future. The companies will be expected to consider decentralising office spaces to ensure business continuity, according to a study by real estate service company Anarock on emerging trends in real estate in 2020.
The study revealed that due to the social distancing norms, space allocation per capita may rise. However, the allocation of space per capita has reduced from 100 square feet – 125 square feet in the last decade to 75 square feet – 100 square feet currently.
The coworking spaces account for nearly 3% - 4% of the occupied office space, as of now.
Last but not the least, the safety and hygiene of the employees will emerge as a top priority, post-Covid-19.
"We saw an impact on the business coming from sub-10 seater kind of startups, due to downsizing or exits and nonrenewal. This did not have a large impact on our business as the majority of our revenues come from large enterprises that have long-term contracts with us," Ramani told TechCircle.
However, the sector is seeing a revival, he added.
"Right now the occupancies range from 10% in cities like Mumbai, which is stipulated by government guidelines to as high as 50% in cities like NCR and Kolkata. There will be companies that will come back because there are tasks which include data security, Internet speed, privacy logs, and house environment might not be conducive. These are mostly large enterprises," he said.
Awfis App has also updated its features for touch-free smart scan option, booking of F&B for desk delivery, geo-tagged attendance management, and customer-first desk for easy reporting and tracking of issues, keeping in mind the new system of work.
Ramani says that now more than ever, people will look closely at flexible options for work.
---