Online job classifieds Naukri on Thursday said hiring activity on its platform had declined by 35% in the month of August 2020 as compared to a year ago, even as a 12% improvement was recorded month-on-month.
The month-over-month (m-o-m) improvement, Naukri said, indicates that hiring activities are in sync with the unlock measures that are aimed at reviving the economic activity.
"While the pharma/medical, IT and BPO/ITES sectors continue to spearhead hiring, other key sectors like telecom, retail and real estate are also signaling strong recovery in August 2020 as compared to July 2020. We are hopeful that the recoveries will become more robust in the coming months," Pawan Goyal, chief business officer at Naukri said in a statement.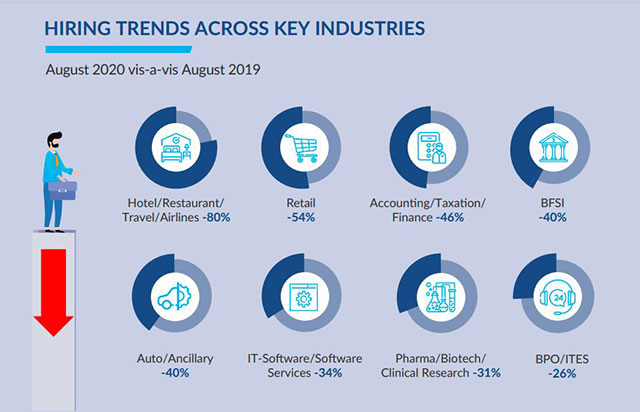 Source: Naukri JobSpeak (August 2020)
On a year-over-year basis, however, Naukri said there seemed no respite for the hospitality and travel industries hiring activity as it saw an 80% decline. The other high impact industries that saw decline were oil and gas/power at 59%, retail at 54%, and accounting/taxation/finance at 46%, the report said.
Hiring activity in metros declined by 38%, as against the national average of 35%, owing to the pandemic's playout in the metro cities, the report said.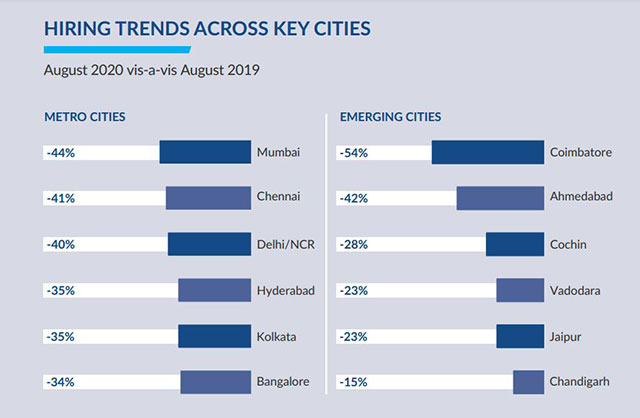 Source: Naukri JobSpeak (August 2020)
Recruitment across the board dropped at varied experience levels with the entry-level experience bands, zero to three years of experience, witnessing the sharpest reduction of 38% in August 2020, from a year ago, the report added.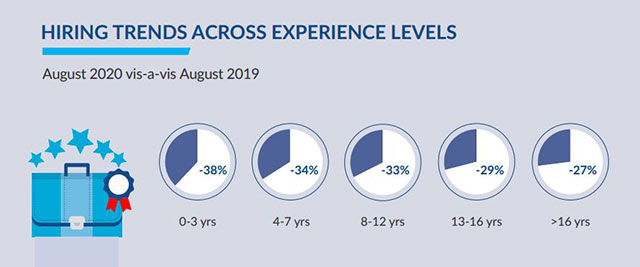 Source: Naukri JobSpeak (August 2020)
Read: Hiring up 35% from April to June; competition for jobs doubles in 6 months: LinkedIn
Naukri JobSpeak Index, a monthly compilation on data of jobs posted by clients on the Info Edge owned placement portal, shows hiring trends across industry sectors, geography, experience level, and functional areas, the statement added.
Over 76,000 clients use Naukri.com, the statement said, adding that the report does not cover gig employment, hyperlocal hiring or campus placement.
---