In a year fraught with uncertainty due to the Covid-19 pandemic, several startups in India, notably from the consumer internet sector, have lined up for initial public offerings (IPO), all within about the next 12-24 months. What gives?
If the recent Happiest Minds IPO is any indicator of the appetite among public market investors, retail and institutional, for next generation companies, the beeline for the bourses appears well timed.
At the start of this year, the homegrown startup quarter was brimming with optimism. A survey by the Reserve Bank of India (RBI) in early January showed that over half (58%) of startups surveyed had plans to get listed on the Indian bourse within the next five years. Most of these startups, from a pool of 1,240 firms, were in the health, software development, information technology (IT), consulting/solution sectors and were less than three years old.
However, by late March, the once booming startup space found itself grappling with low cash reserves due to the economic crisis caused by the Covid-19 pandemic. News reports coming in by late April indicated that companies such as insurance aggregator PolicyBazaar and ride hailing platform Ola, which were earlier looking at an IPO in 8-18 months, had put their public listing plans on hold.
Now, however, startups are reportedly dusting off those IPO plans. E-grocery platforms Milkbasket, Grofers and BigBasket, Ola, SaaS firm Freshworks, ecommerce major Flipkart, foodtech Zomato, payments company MobiKwik, and logistics company Delhivery are among some of the high profile startups looking at a public listing in the next two years, according to multiple media reports.
It is pertinent to note that not all of the mentioned startups intend to list in India.
Incidentally, on Sunday, the Lok Sabha passed the Companies (Amendment) Bill, 2020, amending the Companies Act 2013, to pave the way for homegrown companies to list on foreign bourses before having to do so here.
"Among all of these, one which seems to have genuine prospects to list, in India, within the timelines stated is Delhivery because it's a predictable business that has been growing. It's like inherently profitable. PolicyBazaar is another company that can potentially go public, because they are fundamentally profitable. About the others I doubt," managing partner at a mid-sized investment bank in Mumbai told TechCircle on the condition of anonymity.
Having earlier approached consultants for a public listing, Gurugram-based logistics unicorn Delhivery is reportedly planning an IPO in 12-18 months, as it waits for clarity on rules of foreign listing even as it would prefer to list in India. Insurance aggregator PolicyBazaar, also based in Gurugram, is set to go public in September 2021, at a valuation of over $3.5 billion, as per a Bloomberg report in July.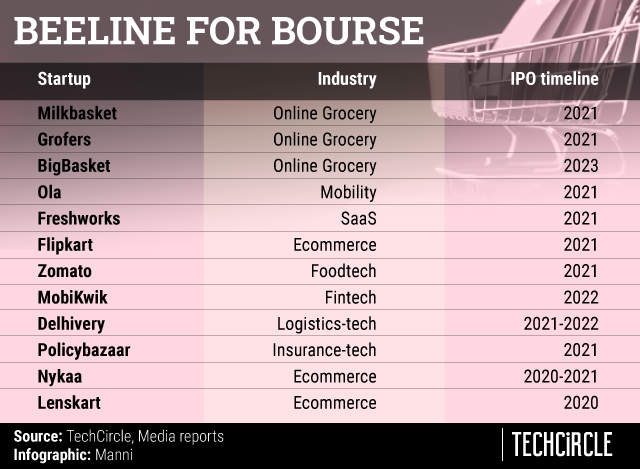 More recently, Walmart-controlled Flipkart is planning a public offering overseas as early as 2021, which could value the firm up to $50 billion, as per a Reuters report.
Last week, Gurugram-based MobiKwik said it had kickstarted its public listing 2022 'campaign' after elevating senior vice president Chandan Joshi to CEO of its payments business and co-founder of the company. Bengaluru based online grocery firm BigBasket aims to go for an IPO by 2023, according to a Business Standard story citing co-founder and CEO Hari Menon.
According to a Press Trust of India (PTI) report late August, daily grocery delivery platform Milkbasket said it had advanced its plan to launch an IPO by the second half of 2021, buoyed by strong growth in business in recent months amid the pandemic.
"Milkbasket has a near-perfect record of reaching growth targets since being founded in 2015. The rapid adoption of at-home grocery delivery amongst consumers due to the pandemic has provided us with an impetus to target IPO in just a year, which we had initially planned for the year 2023," co-founder and CEO Anant Goel told PTI.
MilkBasket, incidentally, has been in the news lately as an acquisition target. TechCircle reported in July that Reliance Industries backed JioMart was acquiring the Gurugram-based company as part of its push into online grocery delivery services.
"Flipkart can IPO overseas because it's a Singapore company, plus its performance is followed given the Walmart connection. Zomato, as well, people in the public markets track, because it has a consequence on what the Info Edge's share price should be. Now who tracks MobiKwik? Why would they track it? Is it even relevant? Who tracks Milkbasket?" the investment banker cited earlier said.
Delhivery, he added, had almost filed for an IPO and appointed merchant bankers and carried out market checks to assess the feasibility of a listing. "It's a business that people understand with peer companies like BlueDart," he said.
Among many of India's brokerage houses that track Zomato's performance with reference to Info Edge, is BNP Paribas' Sharekhan. When asked about the sudden interest amongst these consumer internet companies to want to list, Sanjeev Hota, vice president and head of research at the firm had a few points to make, apart from how investors would want to liquidate their long-term bets through the IPOs.
"It's easier for these types of companies to hit the market right now, because they, Zomato and all, have good market share… Earlier, investors were skeptical about the whole cash burn strategy. But now they've seen that these companies delivered during the Covid-19 crisis times. Only a few companies, such as Flipkart, Zomato and Swiggy, operated during these times. It has changed consumer behaviour," Hota told TechCircle.
Late July, SoftBank-backed Grofers said it advanced a plan to launch an initial public offer by the end of 2021 after its profitability path zoomed during the lockdown period, as per a PTI report. Grofers co-founder and CEO Albinder Dhindsa had told the press agency that Grofers started making operational profits in January and it expected to become cash positive by 2020 end, as per the report.
Responding to email queries from TechCircle, Dhindsa said, "Our path to profitability has accelerated during the lockdown, and after achieving operational profitability in January, we are on track to become EBITDA and cash positive by the end of this year. We are observing market sentiments and aim to hit the capital market by the end of 2021."
In July 2019, San Mateo, California based SaaS firm Freshworks was also reported to be preparing for a NASDAQ listing in 2021. Terming it "speculation" a spokesperson in response to TechCircle's query, said, "We are actively focusing on building the business, driving growth in new markets, and strengthening our position in existing markets. We will aim for an IPO if and when a public offering proves opportune for the business."
While Flipkart, Zomato, Ola, Milkbasket and MobiKwik did not respond to TechCircle's request for comment on the story, BigBasket declined to comment.
---