Binance-owned cryptocurrency exchange WazirX on Tuesday said that it introduced a staking facility on its platform earlier this month to provide users additional income on their cryptocurrency holdings.
The new feature allows users of the Mumbai-based platform to earn annualised returns of 2-16% per annum on their investments, a statement from the company said.
Comparable to banking account interests, staking, in cryptocurrency terms, is a profitable means to buy and hold a certain amount of coins to get added to the mining pool -- a user earns the profit or reward on the basis of how much and for how long they hold on to the transaction.
WazirX does not charge a fee for staking, co-founder and CEO Nischal Shetty told TechCircle on Wednesday.
In terms of eligibility, Shetty added that every token has a different limit. "For example, for TRON, the minimum holding amount is 500 TRX. For Tezos, the minimum amount is 3 XTZ," he said.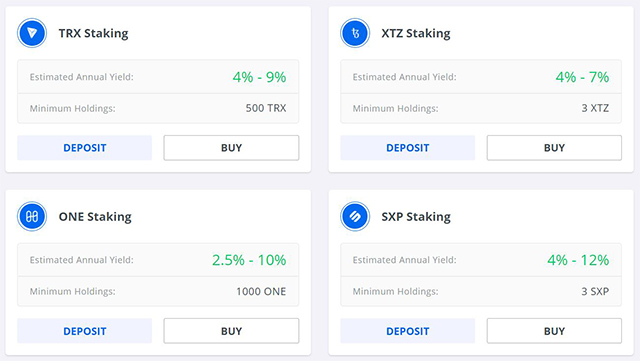 A screenshot of the staking section from WazirX's website on September 24, 2020.
As per its website, WazirX's staking is currently live with TRON (TRX) and Tezos (XTZ), Harmony (ONE), and Swipe (SXP). It plans to further expand support to other cryptocurrencies such as Cosmos (ATOM).
In order to stake, a user is required to buy or deposit any of the supported tokens and hold a minimum balance. "We don't lock user tokens. When their funds are idle, they get staking rewards. Users can sell or withdraw their tokens any time they want, and their staking rewards will be calculated accordingly," Shetty told TechCircle.
The rewards are calculated based on the user's holding ratio and the total amount of that token staked by WazirX. "If users want to stake on their own, they would have to stake the entire token. This means they would not be able to trade, and if they wanted to trade, they would not be able to stake it. Our approach allows people to earn the benefit of staking while trading on WazirX," Shetty said.
Other cryptocurrency exchanges such as Binance and Coinbase have popularised staking as a service across the globe. "Even though staking has been around since last year, one of the reasons we didn't jump into staking immediately is that we wanted to understand from a user perspective how safe these initiatives are. We took time to test and try it out," Shetty said.
The company expects the new service to add millions of new users to its platform in the coming months.
Separately, the 2017-founded firm said it is also developing an Automated Market Maker (AMM) protocol -- its first decentralized finance (DeFi) product. It is set to be launched in a testnet version by September end, in partnership with Matic network.
A DeFi product such as AMM, Shetty said, helps offer any possible financial service, from loans and micro-transactions to insurance and trading, to anyone with a smartphone and an internet connection.
"AMMs have transformed the process of exchanging tokens without an order book. AMM are smart contracts that create a liquidity pool to trade instead of using limit order books. What makes AMM's so special is the fact that it enables a decentralised exchange of tokens," Shetty said.
Read: Regulation and education to drive crypto adoption in India
Blockchain, as an interest area, has been picking pace with the traditional and digital information technology (IT) firms in India as well.
On Wednesday, Mumbai-based IT major Tata Consultancy Services said it partnered with Yale University to launch a new blockchain framework to ensure privacy and trust in peer-to-peer digital networks.
---