The startup ecosystem, which received a blow amid the Covid-19 lockdown both in terms of business and investments, is recovering faster than expected, according to a study.
Buoyed by the digital shift stemming from the pandemic, sectors such as online life and health insurance, OTT, electronic ecommerce, online gaming, D2C, digital payments, online stock brokerages, online grocery, edtech, online fitness and teleconsultations have already surpassed pre-Covid levels, the study said.
Conducted by TiE Delhi and Zinnov, a global management and strategy consulting firm, the firms recorded responses from 300 firms till September 2020 for the study.
Segments such as travel, hospitality, and mobility, which were negatively impacted by the lockdown, have begun to recover but remain below pre-Covid levels, the study, titled Covid-19 and Antifragility of Indian Startup Ecosystem, showed.
About 75% of startups in the country are steadily recovering post lockdown, while 30% have pivoted to newer markets for alternative revenue streams, and 55% are focusing on profitability and reducing cash burn, the report said.
"We have been amazed to witness how quickly Indian founders have acted to reimagine their businesses. What has been most impressive is how many startups have reduced burn and improved their unit economics very rapidly," Rajan Anandan, president of TiE Delhi, said. "Digitally-led segments have recovered much faster than anyone expected and in many spaces, demand is well ahead of pre-Covid levels."
At the beginning of this year, India had 26 unicorns and 38,000+ startups, of which more than 100 had raised funding of over $50 million. Amid the lockdown, 15% of the startups ceased operations, 41% were negatively impacted, while 44% were left with a cash runway for less than six months, it said.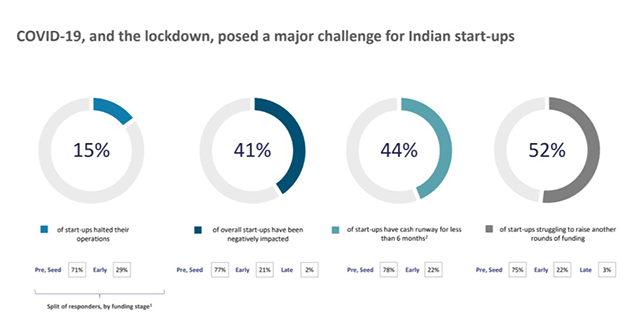 Overall startup funding too saw a 48% year-on-year decline in the April-June period. Seed and early-stage startups were affected the most, the report said, with more than 55% year-on-year decline in capital infusion for the same period.
Now, the total investment in Indian startups and the number of unique funded companies have also returned to pre-Covid levels since the lockdown lifted, the report showed. Four startups became unicorns in the past few months -- the country is on track to see eight new unicorns in 2020, the same as last year, it said.
"Investor sentiment has also recovered quickly and we expect the Indian unicorn club to steadily expand through 2020 and 2021," Anandan said. "Although Covid-19 has been a major setback for the ecosystem, we believe that the changes that the pandemic has brought on will make our ecosystem much stronger, across every dimension. India is on a path to have 100 unicorns by 2025."
---