About 70% respondents in a survey said they expect to recover income or savings lost during Covid-19 lockdown and are waiting for the festive season to shop online, according to a Festive Playbook from social networking giant Facebook.
The Covid-19 pandemic and the resultant lockdown have led to several businesses adopting digital solutions and consumers changing their spending behaviours. The upcoming festive season is expected to test the resiliency of the economy as well as the ecommerce sector.
The playbook from Facebook comes on the back of the company reportedly launching a $4.3 million grant for small businesses in India. The grant is part of a larger $100 million commitment that the company made for small businesses worldwide.
"Diwali and the weeks leading up to it are critical to businesses in India and consequently to the economy. More than half the purchases in key festival spends of fashion and tech devices are now influenced by what consumers see on their mobile phones," Sandeep Bhushan, director and head of global marketing solutions (GMS) by Facebook India, said in a statement.
The report highlights current consumer trends, curated from research conducted by BCG, YouGov, and Nielsen.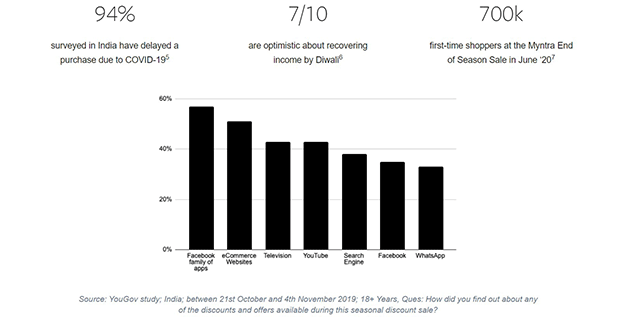 About 94% of Indians delayed a purchase due to Covid-19. Now, 7 in 10 expect to recover the lost income by Diwali and are waiting for festive sales to shop.
With the increase in demand and the rise of digitization due to the pandemic, the company says, sellers should start their campaigns early to build consideration for products and services in the mind of consumers. It emphasizes that 74% of people start shopping at least two weeks before Diwali and early shoppers also tend to spend 17% more than those who shop a day or two before the festival.
Virtual experiences, influencer authenticity, and regional language content crucial
Thanks to the digital tailwinds, virtual experiences have also started playing a major role in influencing the purchase decisions of consumers. The report says that 49% of overall festive shoppers and 56% of apparel and beauty shoppers prefer virtual demonstrations of products they are interested in buying.
Beyond that, social network ads should focus on building authenticity with influencers and promoting campaigns in regional languages. About 40% of festive shoppers say they seek authenticity and 68% say they connect well with ads appearing in their local language.
Businesses should also look into enabling conversational commerce where customers could use messaging services to interact with businesses and shop or inquire about products. About 45% of people used this way to buy products last year, Facebook's Festive playbook notes.
"A significant digital acceleration has happened on the back of social media, and with 400M+ Indians connected on the Facebook family of apps in India, we will play a consequential role this festive season in both brand discovery and delivering truly incremental business outcomes," Bhushan added.
India currently has 500 million monthly active internet users.
---