The solar energy sector in India has witnessed massive growth in the past decade. As of September 2020, the country had an installed solar capacity of 36 GW, compared to a mere 11.35 MW in 2010, with an aim to touch 100 GW by 2022.
While fast growing, the sector is one of the least digitised in terms of adoption of software and digital tools, according to Saratoga, California-based startup SenseHawk. The firm, which offers software for solar energy plants, targets problem areas of development, construction and operation of solar sites to reduce costs and increase overall efficiency of companies producing the renewable source of energy.
The firm was set up in 2018 by Rahul Sankhe and Swarup Mavanoor, who have spent a better part of their professional careers in the solar energy industry. Prior to SenseHawk, they worked at SunEdison, which develops and operates solar power and wind energy plants.
While the parent company is incorporated in the US, it operates a subsidiary in India that looks after the development centre in Bengaluru, its largest office in terms of employee headcount.
"Every year, the number of installed megawatts of solar has exceeded expectations. I think, if you look at the track record over the last decade, every year, the actual installation number ends up being more than what was forecasted by experts and analysts. Except maybe this year, because I'm sure there's some impact on the pace," Sankhe, also the president of SenseHawk, told TechCircle in an interview.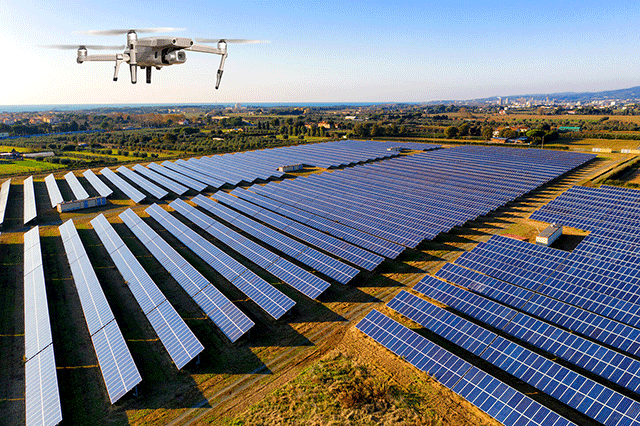 Caption: Infrared scan of solar power panels with a drone (Photo Credit: Sensehawk)
The increase in demand has led to challenges around managing new power plants.
"In India, you tend to have more people, because labor costs are low, and it's slightly manual processes that are implemented, whereas internationally, you won't even have a single person at a solar site. Especially a smaller one. So with that, how do you really, keep a tab on handling and manage these assets most efficiently to ensure a long life for all your power plants?" That is the gap, Sankhe said, SenseHawk has set out to fill.
Armed with funds from a recently raised Series A round, the firm looks to expand its presence worldwide. By January 2021, the company plans to complete the setup of an additional subsidiary at Abu Dhabi, making the United Arab Emirates its business hub for news clients across the Middle East and North African region. It may soon consider a plan for a new subsidiary in Europe, co-founder Sankhe said.
It also plans to employ a total of 100 staffers within the next six months, a 67% jump from the current count. "A large portion of this will be based in India… we expect to have between 25 to 30 people in the Abu Dhabi office," Sankhe said.
However, the hiring will be spread across the next four to six months, he added.
"So our philosophy is that we will support customers in all the key solar markets. There are some solar markets in North Africa. Those will also be addressed by our team in the Middle East. So we already have an employee on board, for example, who is from Egypt and understands the solar market in Egypt. He will be based in Abu Dhabi because it has very good connectivity to the North African markets," Sankhe said.
In terms of its investment runway, the startup is not looking to raise capital for the next 18-24 months, Sankhe said. It had raised $2 million in its first tranche of the Series A round, led by SAIF Partners in 2018, apart from $300,000 from the founders and angel investors before that.
With a clientele that includes Adani Power in India and Nextracker in the US, the company tripled in revenues from the calendar year 2019 to 2020. Prior to the Covid-19 impact on its business, it looked to maintain the sales momentum, but now expects revenue growth in the current calendar year to only double.
"There are certain types of projects where we need to go out and collect data… when the entire world shut down for almost eight weeks, so nobody could go anywhere… the second thing is that our ability to sell to our customers depends on being able to meet customers, and effectively pitch to them… so there was complete inability for almost six months to actually go out there and talk to new customers," Sankhe said.
Currently, SenseHawk's platform is used by over 80 customers to analyse over 28 GW of solar assets in 15 countries. Revenue wise, the US is the company's largest market, followed by India.
The machine learning-based application modules in SenseHawk Core support site and terrain management, construction monitoring, operations, thermography, work management, file organisation and inventory mapping.
Its mobile app collates all the functionalities to support onsite navigation and help users navigate across tasks across large-scale solar plants.
While the company initially used different kinds of unmanned aerial vehicles (UAVs), sensors and data processing to create decision-making tools that drive productivity across energy and infrastructure industries, it has since narrowed down its focus to the solar energy segment.
It operated in stealth mode from years between 2016 and 2018.
---