After Amazon Web Services (AWS), Microsoft has taken a leap into the final frontier with Azure Space. What is new in the Redmond, Washington based technology giant's space playbook?
What is Azure Space?
Azure Space is a set of solutions and partnerships that the company hopes will help it attract customers.
In a blog post on Tuesday, Microsoft outlined its partnerships in the space sector. By integrating its cloud computing features with satellite technology, the company expects to launch a bunch of high-end offerings in various use cases.
With Azure Space, Microsoft says it wants to "support customers on their space missions off and on the planet, and to use the power of cloud and space technology to help business across industries re-imagine solutions to some of the world's most challenging problems."
This comes shortly after loud computing platform AWS strengthened its aerospace business capabilities with the introduction of a new unit dedicated to space projects. Amazon has previously said that it is working on Project Kuiper, a venture for global internet access. The project aims to put a network of satellites into low Earth orbit. Separately, Amazon founder Jeff Bezos has a private space venture called Blue Origin.
Last month, Microsoft had announced a preview of Azure Orbital. The new ground station service enables satellite operators to communicate to and control their satellites, process data, and scale operations directly with Microsoft Azure.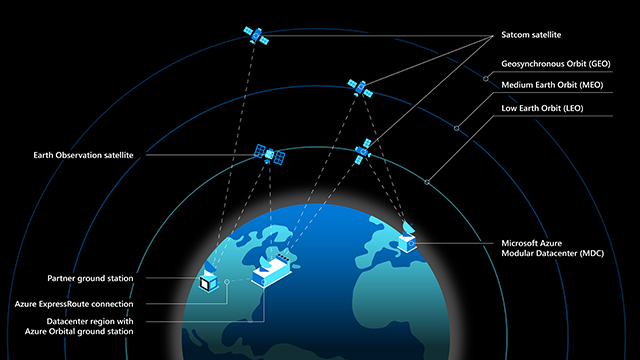 Companies such as Amergint, Kratos, KSAT, Kubos, SES, US Electrodynamics INC, and Viasat had joined the ecosystem of Azure Orbital partners.
Building on its existing Azure Orbital partnership with SES, the Luxembourg based satellite operator and content connectivity solutions provider, Microsoft has said it will support its O3B Medium Earth Orbit (MEO) constellation. This will extend connectivity between cloud data center regions and cloud edge devices.
According to SES, the O3b MEO constellation orbits 8,000 km above the Earth's surface. These satellites help mobile network operators (MNOs), fixed-line service providers and enterprises to expand their footprint into regions that are underserved by terrestrial networks.
Azure Modular Datacenter
One of the highlights of the recent announcement by Microsoft was Azure Modular Datacenter. Azure's partnership with Elon Musk's SpaceX Starlink will provide high-speed, low-latency satellite broadband for the new Azure Modular Datacenter (MDC).
With MDC, customers can deploy a self-contained data center unit with a field transportable solution that provides near-immediate value. According to Microsoft, the unit can operate in a wide range of climates and harsh conditions in a ruggedized, radio frequency (RF) shielded unit. Once deployed it can act as critical infrastructure in areas with severe temperature, humidity, and even level surfaces challenges.
MDC can provide onsite compute and storage capabilities. It can help customers manage and operate high-performance applications in the field, internet of things (IoT) and real-time analytics workloads that require ultra-low latency, and standing up cloud applications to support critical infrastructure recovery.
Azure Orbital Emulator
The company also announced Azure Orbital Emulator, which is an emulation environment that conducts massive satellite constellation simulations with software and hardware in the loop. This allows satellite developers to evaluate and train AI algorithms and satellite networking before ever launching a single satellite.
The team
To build its new offerings, Azure has on boarded a team of space industry veterans to work on the in-house engineering team. Some of the prominent names include William Chappell, formerly of DARPA (Defense Advanced Research Projects Agency); Chirag Parikh, formerly the White House Director of Space Policy on the National Security Council; and Stephen Kitay, who most recently served as the Deputy Assistant Secretary of Defense for Space Policy.
---