Every organization today has a unique set of requirements which drive their strategic IT initiatives. Based on overall business goals, they deploy a set of solutions which work best for them and helps them deliver the desired outcomes. However, increasing agility and decreasing costs are a commonality which remains for businesses across verticals and emerging technologies like AI/ML, IoT, and Edge are empowering businesses to do so.
Interestingly, a study highlights how in the next 5-10 years, there will be a huge change in the way businesses operate, transact and create value with the adoption of new age technologies. This is a testimony to the potential that emerging technologies bring to the table and if swiftly acted upon, can change business dynamics for the better.
Leveraging data for transformation
With data becoming the foundation for everything, the success of a business relies on their ability to transform this data into actionable insights, create new efficiencies and business potential as well as capitalize and leverage new transformations. This process of deriving insights from data can be expedited if an organization embraces digital technologies. In the long run, this will also help in making them resilient in times of disruption. Although, there is no instruction manual for the challenges which businesses might face, the deployment of such new-age technologies can help businesses in navigating disturbances and staying prepared.
For instance, in the current times, organizations have been forced to change their business models and work remotely, overnight. Though this transition was quick, they found themselves struggling to maintain business continuity. But, with the deployment of the right kind of technology strategy, it is possible to be prepared for such unusual circumstances and arrive at quick solutions for better business results.
Moreover, the use of machine learning and artificial intelligence in day to day business activities can help in identifying risks, and making predictions based on historic patterns. Along with this, these technologies have the power of analyzing data in real time which when coupled with historic data can predict future patterns and can help businesses save time and streamline various business processes.
Choose the right solutions to reap maximum benefit
Businesses are struggling to find the right balance between deploying the right technologies to continue to move further in their digital transformation journey and keeping their IT costs in check. Today, they are facing issues in terms of increased costs, storing and analyzing their data. For such organizations, the need of the hour is to deploy edge computing, an open IT infrastructure which processes data close to the source of the data, and lowers latency issues and reduces the need for costly bandwidth to connect workloads across locations. Edge enables a seamless environment for businesses to derive intelligence and act quickly. As it continues to grow, we can expect to see more opportunities to take advantage of other technologies like AI/ML to spot trends and take decisions to optimize business. To have an edge over competitors, an organization must deploy the right set of solutions - as per the need of their business – to reap maximum benefits of their IT investment. Hence, what is important is for businesses to have the right digital partner, a one stop shop, who can help them make the correct decisions and deploy the right technologies.
Over the next decade, emerging technologies will mature and advance in areas ranging from 5G, AI, Edge Computing, Internet of Things, Machine Learning etc. Hence, it will be exciting to see how they will enable large scale transformations across industries and in our economy. As the world finds a balance in this new normal, such technologies will help to shape the future and will lay the foundation for many years to come.
Brand Solutions is a marketing initiative for sponsored posts. No TechCircle journalist was involved in the creation of this content.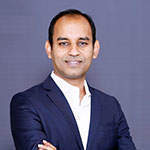 Manish Gupta
---
Sr. Director and General Manager - Data Centre & Compute Solutions, Dell Technologies India.
---