In the first week of this year's festive season sales, Indian ecommerce platforms, led by Amazon India and Flipkart Group, drove $4.1 billion (Rs 29,000 crore) worth of order volumes, market tracker RedSeer Consulting said in a post-sales report.
While the estimates beat RedSeer's pre-sales prediction of $4 billion, they fell short of the Forrester forecast, which expects the country's online retailers to clock about $6.5 billion in sales throughout the festive month, with 75% of that (approximately $4.8 billion) going to the first week.
According to the RedSeer report, in this year's sale, etailers witnessed 55% growth over the same period last year, when the total festive sales touched $2.7 billion. A year before that, the companies generated almost half of the current figure at $2.1 billion.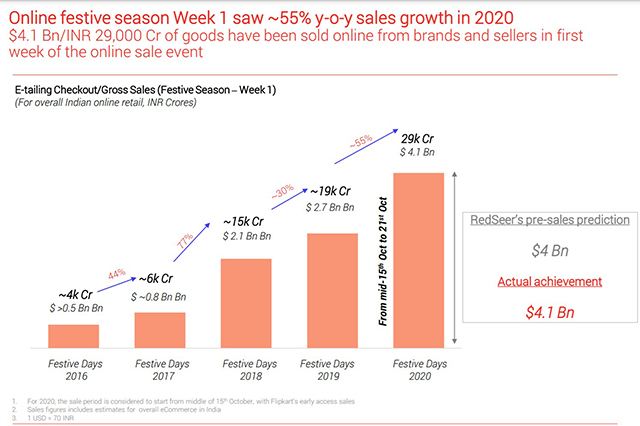 Image Credit: Red Seer
The growth in sales can be largely attributed to enhanced affordability, enabled through bank/brand offers, well-managed stocks, high pre-sale awareness and the rise in the number of shoppers, the report said.
During the festive event of 2019, around 28 million people shopped online. This year, the number surged to 52 million -- a significant 85% increase, believed to have been spurred by the Covid-19 pandemic. Also, more than 55% of these shoppers were from tier-2 cities and beyond, which may be attributed to higher-than-normal migration of people from metros to their hometowns, as work-from-home becomes a commonality. The average order value also dropped year-on-year to Rs 5,500 from Rs 6,800.
"This points to a revival of consumption sentiment amongst Indian shoppers, where they have been shopping online in big numbers driven by massive selection, great prices and the convenience and safety of shopping from home," RedSeer consulting director Mrigank Gutgutia said in a statement.
Flipkart Group clocks 68% GMV, Amazon at 32%
Of the total online sales generated this year, more than 90% was driven by platforms owned by the Flipkart Group -- including Myntra -- and Amazon India, the RedSeer report said. However, among these two, Flipkart Group emerged on top, with a little over double the sales of Amazon.
The Walmart-owned company captured 68% of the gross merchandise value -- the total value of all goods sold -- while Amazon recorded 32%.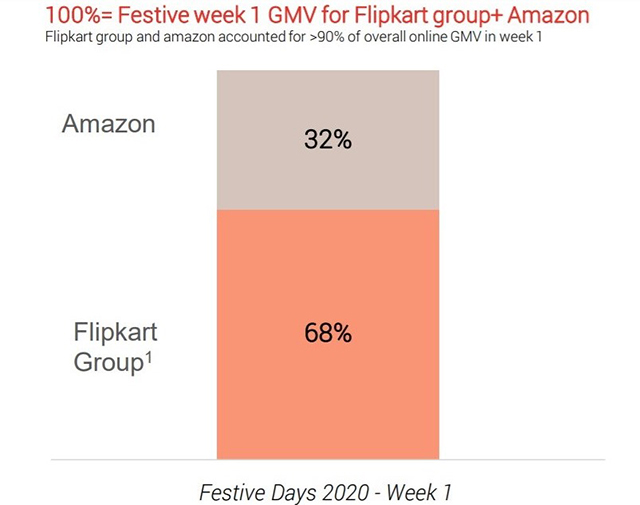 Image Credit: Red Seer
In line with trends in the previous years, smartphones and other electronic appliances were the best-selling categories, making up about 47% and 28% of the total sales generated this year. The report estimates that smartphones worth Rs 1.5 crore were sold every minute across online shopping platforms during the week-long event.
The category of fashion contributed to 14% of total sales across platforms, less than the 17% last year, while long-tail categories such as home furnishings did better than ever with 11% contribution to total sales.
Notably, the categories lagging behind could pick up in the days leading up to Diwali, as both Flipkart and Amazon continue to lure customers with attractive deals and bank discounts. Flipkart plans to launch its Big Diwali Sale on October 29, while Amazon's festive season will run throughout the month.
RedSeer estimates that this year's festive sales will drive the Indian ecommerce market to $38 billion in size.
---