Fedo, Tamasha, Wellversed raise fresh capital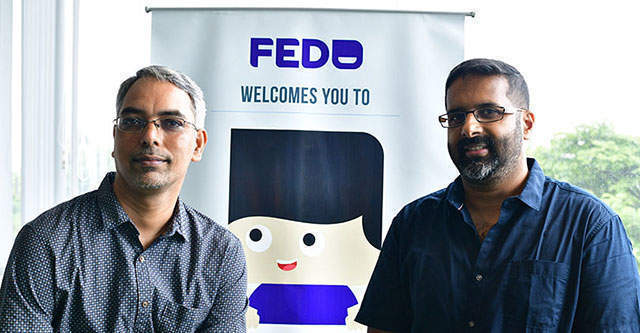 Bengaluru-based Fedo Health Technologies said it has raised $1 million in a fresh funding round, dubbed a pre-Series A round, led by Unicorn India Ventures (UIV).
Participants in the round included former CEO of Max Bupa Ashish Mehrotra and the SEA Fund, a statement said.
The fresh capital, it said, will be used to launch the world's first image-based underwriting platform, which would enable insurance onboarding in less than 60 seconds.

Additionally, Fedo said that it is working to dynamically price retail and group premiums, and looks to launch operations in Southeast Asia and Australia this year.
Founded in 2017 by Prasanth Madavana and Arun Mallavarapu, the startup has built a platform that uses artificial intelligence, machine learning and computer vision to automate the task of underwriting in the health and life insurance sector. This helps insurers improve sales, reduce costs and boost the quality of their portfolio.
"Our vision is to offer AI-backed solutions to insurance providers, which enables early identification of potential health risks by using non-invasive methods thereby reducing out of pocket expenditures of individuals and making insurance accessible, affordable and personalised," Madavana said in the statement.

Fedo also supports population risk predictions in partnership with local governments in India and abroad. The startup achieved breakeven last year and continues to be cash positive and profitable at present.
Read: TCS BaNCS to power Myanmar insurer KBZ MS's core operations
Tamasha raises $336,000 in seed capital

Mumbai-based GamePe Technologies, which runs social gaming platform Tamasha, said it has raised $336,118 (Rs 2.5 crore) in a seed funding round led by 9Unicorns, First Cheque and Titan Capital.
The round also saw participation from PointOne Capital; Maninder Gulati, global CSO of OYO Rooms; Abhishek Hota, vice-president of OYO; Rishabh Kumar, UK and Europe head of OYO; LivSpace co-founder Ramakant Sharma; Gromo co-founder Ankit Khandelwal; and Aakash Kumar, senior vice president of Hotstar.
Founded in 2020 by Saurabh Gupta and Siddharth Swarnkar, Tamasha claims to offer a platform that combines reality TV with the fun of online gaming. It features new-age influencers and content creators who host live games and give players an opportunity to make real money in exchange for a small entry fee.

The early-stage startup plans to use the fresh funds to expand its team across functions and improve its core product to draw more users, Swarnkar said in the statement.
Yuvraj Singh backs nutritional healthcare startup Wellversed
Nutritional healthcare startup Wellversed Health said it has raised an undisclosed amount from cricketer Yuvraj Singh.

The capital has been infused as part of a pre-Series A round through Singh's investment fund YouWeCan Ventures and values the startup at nearly $13.5 million (Rs. 100 crore), a statement said. The firm said it has also signed on Singh as its brand ambassador for the next three years.
Wellversed said it plans to use the fresh capital to expand into newer markets, improve technology and strengthen its supply chain and R&D. The company claims to already have a strong foothold in metro and tier-1 cities, and looks to enter tier-2 and international markets in the future.
Founded in 2018 by Aanan Khurma, Aditya Seth and Ripunjay Chachan, Wellversed offers specialised food products across eight nutrition regimes through its own website and online ecommerce partners.

The company said it fulfils 50,000 product units every month and has witnessed a strong 250% growth last year, having facilitated 12,000+ health transformation plans for weight loss and skincare, among others.
The startup also plans to raise Series A funding early next year, the statement added.
---