An internet stock in the age of Covid-19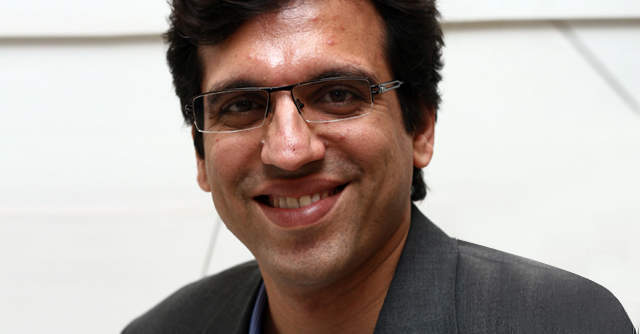 On Wednesday, Info Edge India's managing director and CEO Hitesh Oberoi distilled the numbers of an understandably bad second quarter, even as the Covid-19 recovery is underway for India Inc. Still, the stock of India's marquee internet company held strong, in fact climbing two days later to Rs 3,874.75 on 13 November (a 52-week high).
You wouldn't believe Info Edge, whose flagship business is naukri.com, traded at a 52-week low of Rs 1,580 on 23 March 2020 — a day after the first lockdown began to cope with Covid-19.
What's going on?

Well, Info Edge, whose revenue was Rs 1,269 crore in financial year 2019-2020, knows its way around a down-in-the-dumps crisis.
And there just aren't enough internet companies in India that are publicly listed, with a strong track record of profitable growth — and that have evolved since 2009 to become a strategic investor in two investee companies now vying for an IPO: PolicyBazaar and Zomato.
Info Edge India ticks those boxes.

In contrast, among listed internet companies, Infibeam Avenues has seen a steady climb in the past year, though priced much lower (Rs 85.9). Just Dial Ltd has remained steady over the past year, trading at 624.65 — not enough to whet the risk appetite of shareholders.
"(Info Edge) has a dominant position across core businesses with a potential to gain market share—and its strong balance sheet—justify the premium valuation of the stock," says Sanjeev Hota, head of research at brokerage advisory Sharekhan.
"At the macro level in the market, Covid is being referred to as the 'chief digital transformation officer,' and that's the impact Covid has had on the economy," Oberoi told TechCircle in an interview earlier today. "It will impact the adoption of digital technology, resulting in consumer behaviour changing in many categories."

Let's check out the numbers
Q2 revenues dipped by 8.6% over the previous quarter, and by 19% over the same quarter last year when 'Covid-19' hadn't been coined.
The company's recruitment solutions services which includes primary revenue engine Naukri saw a 19% decline in revenues. "We saw a dip because for revenue, we collect money in advance, which gets recognised over a period of time. This impacted our revenue recognition in Q2 because Q1 was very bad," Oberoi clarifies.

In contrast, billings improved in the second quarter over Q1 FY2021. Naukri billings were 80% of last year's Q2 (at Rs 167.3 crore), 99Acres billings were 77% of Q2 FY2020 billings. Its other classifieds businesses Jeevansaathi (matrimony) and Shiksha (education) actually grew for the same period.
So what?
Info Edge isn't taking its eye off the real estate business, which its management says has seen disruptions since 2016—demonetisation, the Real Estate (Regulation and Development) Act, and now Covid-19 hitting commercial real estate, in particular.

But it is now investing in its matrimony business, Jeevansaathi.com, to bridge the gap with leaders BharatMatrimony (in the south) and Shaadi.com (west). The 'others' actually saw a loss of Rs 34.8 crore.
"We are seeing a lot of competitive activity in the matrimony space," Oberoi told TechCircle. "All the players are spending on customer acquisition. At the same time we are seeing prices being discounted, which is impacting revenue growth for a lot of players. We have also upped our act on Jeevansathi."
Naukri remains a leader

Naukri is on a rebound, as billings from the IT/ITes sector reached pre-Covid levels. The technology sector contributes close to 44% of Info Edge's recruitment revenue. Billings, traffic and recruiter engagement apart from collections are on the mend. "We expect continued recovery in billings in recruitment business during H2," says Hota of Sharekhan. "Customers started resuming operations, higher attrition rates and (there is) pick-up in hiring activities."
Info Edge has also differentiated itself
Its nose for new age internet companies, aggressive approach to M&A and investment in adjacencies, sets it apart in India.
Consider this
In late June the Info Edge board approved raising Rs 1,875 crore through a Qualified Institutional Placement (QIP) offering at a fixed share price of Rs 3,090 per share. The QIP was fully subscribed, despite the low discount given on the shares. The balance of Rs 1,829 crore after adjusting for expenses continues to remain in term deposits for potential M&A and investments.
Sample its 2019 buyout: IIMjobs.com. "That has worked out really well for us," says Oberoi. "In Q2, we were able to grow IIMjobs revenue in a slow market because we were able to take a good product to thousands of customers in Naukri."
The company has also launched a category II AIF, Info Edge Venture Fund (IEVF) earlier this year to spot startup opportunities early on and become the first institutional investor in these companies. All this is under the watchful eye of executive vice-chairman and Info Edge India co-founder Sanjeev Bikhchandani.
Info Edge began its journey as a strategic investor in 2008-09, following the global financial meltdown. Come Coronavirus, it's now got the AIF and capital for M&A to continue investing in early stage startups when ventures are looking for investors.
Which brings us to its horses
Info Edge wrote the first cheque as investor in Zomato (DC Foodiebay Online Services Private Limited) in July 2010 when it was FoodieBay. Zomato is now raising $600 million as part of its growth round, eyeing an IPO in 2021, according to reports. The company recently raised $146 million led by Mirae Asset, Steadview Capital and others.
One of Info Edge India's first strategic investments is also now in the startup unicorn space, PolicyBazaar. It invested in Etechaces Marketing and Consulting Pvt Ltd in September 2008. PolicyBazaar has indicated it will go public by 2021, and has seen multiple rounds of secondary transactions this year.
According to analysts, part of the Info Edge stock's buoyancy is due to its early investments in PolicyBazaar and Zomato. "Info Edge's valuation is also dependent on the valuation of its investee companies," says Sharekhan's Hota.
And after all these years, Info Edge hasn't lost its startup mojo. It's experimenting with a blue-collar job board in the NCR region called JobHai.com. "Early days, but the results are encouraging," Oberoi says.
---