Facebook-owned photo and video sharing platform Instagram has rolled out Live Rooms to allow up to three additional guests on a user's live video share, the social media giant said in a statement on Tuesday.
Prior to the new feature, Instagram's live video option let users go live to connect with one additional guest at a time. Live Room will help creators better engage with and grow their audience, as per the statement. Its early tests were conducted in India.
Apart from India, the feature will be soon rolled out in Indonesia.
Around the third week of March, Instagram Live's viewership in India grew 60% on a week-on-week basis, the statement said. With the ability to go live with up to three guests, creators have more opportunities to have conversations with their communities, and to expand their reach and use cases, the statement added.
Use cases for live videos on Instagram include hosting of talk shows, podcasts, jam sessions, co-creating with other artists -- all of which lead to real-time Q&As with viewers in comments.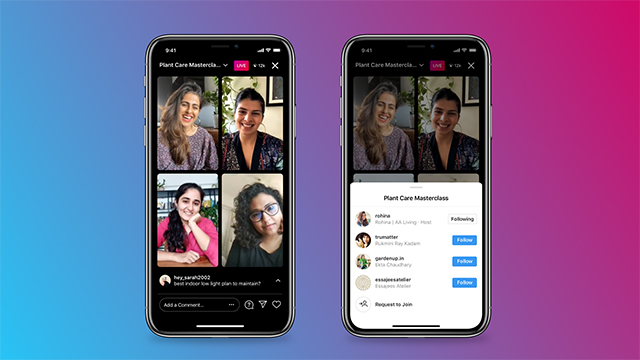 Screenshots of a Live Room hosting a 'Plant Care Masterclass' (Credit: Instagram)
"This year in particular has seen extensive use of Live, and as physical distancing norms continue… From the launch of Reels, to the testing and rollout of Live Rooms, India is playing a crucial role in the way products are being designed for the future," Facebook India head Ajit Mohan said.
Early July, Instagram had extended the testing of its short video format 'Reels' to India. The new feature had the platform's users create and edit 15-second multi-clip videos with audio, effects and creative tools, and share them.
---