In the run-up to the successful initial public offering (IPO) of Happiest Minds Technologies (HMTL) in September this year, three things stood out about the nine-year-old next generation IT firm headquartered in Bengaluru.
One, it clocked Rs 714.2 crore in the 2020 fiscal—falling just short of $100 million annualised run rate. Two, its number of customers had actually declined: 157 active customers from 173 in March 2018. And three, HMTL classified 97% of its revenue as digital.
The three factors would place Happiest Minds in the COVID-19 paradox.
Post pandemic, almost every technology stock on the Bombay Stock Exchange and National Stock Exchange has ascended in a euphoric market rally. So on the one hand, HMTL benefitted with a successful public listing. However, the pandemic would cause enterprises with legacy systems to get off the fence and go on a modernisation binge—operations moved to the cloud to enable work from home—much to the delight of Tier-1 IT services firms like TCS, Infosys and HCL Technologies.
In that context, Happiest Minds—a digital-first service provider—has a small number of customers, many of whom are already beneficiaries of foraying on their digital journey.
Ashok Soota, founder and executive chairman of HMTL, sensed this by September. "Regarding Covid-related timing (of the IPO), we were confident that what we would lose in growth, we would make up in profitability," he told this writer in an email shortly before the IPO.
The mood of the company has since been to grow its profit margins, as it navigates an uncertain time passage, while the larger firms look to renew large deals for digital transformation and gun for growth.
Happiest Minds' operating margins have improved from 19% in 2019-20 to 25.6% for the June 2020 quarter and 26.3% in the September 2020 quarter. "We continue our very strong cash generation and ended the quarter with about Rs 450 crore of cash on our books," Venkatraman Narayanan, managing director and CFO of Happiest Minds, told investor analysts at the end of the September quarter, adding that the figure includes the Rs 100+ crore raised through the IPO.
But for an IT firm with 97% digital revenue (compared to, say, Infosys' 47%), Happiest Minds has to now compete for large scale IT modernisation projects and grow its customer base at a time when enterprises seek to consolidate—meaning, limit—the number of IT service providers.
For a digital-first firm, Happiest Minds has a tough road ahead.
Different mix
"Digital business services are those that are able to create business value through the adoption of powerful digital and disruptive enablers," Soota said in the email, citing mobile, cloud, analytics/big data, automation, and Internet of Things (IoT) "to fuel topline growth, improve customer experiences, and foster a culture of innovation. Internally, we classify all our projects according to this definition to compute digital revenue."
For example, an enterprise in online learning wanted to digitally transform disparate old systems such as learning, content management, content delivery, assessments and grading systems, while adopting new technologies like cloud, mobile and analytics. "As part of its digital transformation, we created a common platform services by consolidating the features and capabilities of multiple learning systems by leveraging modern technologies like micro services and cloud-native as well as adopting a mobile-friendly approach," explained Soota, who turned 78 years in November.
This helped the education enterprise develop modern learning solutions for business units that focused on different industries. "We also helped in improving analytics by creating a common data platform with advanced analytics including reports, predictions and dashboards. This digital transformation led to improved student learning outcomes," Soota added.
Given its digital revenue profile, Soota told the primary markets that it is in a niche and unique segment characterised by global firms like Globant, EPAM and Endava.
An investor analyst raised this point at the end of the September-ending quarter. "I understand the revenue base is small (for) Happiest Minds and you are still scaling up your services, so just wanted to understand growth forward in terms of competitive landscape," asked Jason Soans of Monarch Networth Capital, citing Globant and EPAM.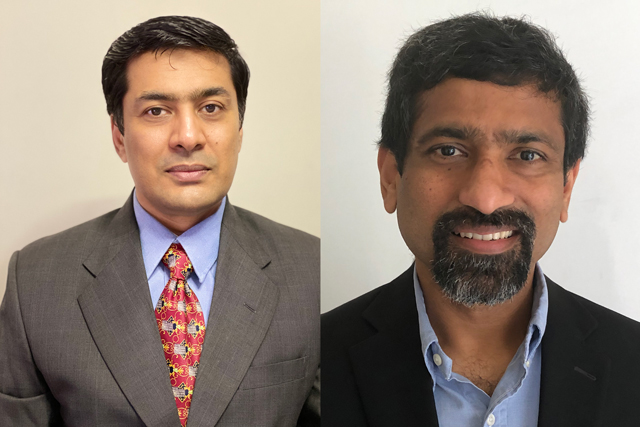 Venkatraman Narayanan, managing director and CFO (L) and vice-chairman Joseph Anantharaju, Happiest Minds | Credit: Happiest Minds
Venkatraman replied that Happiest Minds is ahead on profitability metrics and its revenue growth is organic. 'I have been always mentioning they have a huge element of acquisitions coming in to add to their revenue growth, compared to almost 100% of our growth coming in on an organic basis. As far as profitability metrics are concerned, we are better than almost two out of the three and very close to the third one," he said.
But truth be told, Happiest Minds has actually made two acquisitions in its history. It acquired Cupola in 2018 to strengthen its IoT expertise.
Two of Cupola's 50 leaders today head HMTL's analytics and IoT Centers of Excellence. This was followed by OSS Cube with 225 team members, acquired primarily for specific open-source skills and its client, Pimcore!
The confusion about the company's direction and peer group is evident. Since the IPO, stock brokerages haven't featured Happiest Minds in any analyst report, nor written about the next generation IT firm.
Currently, Happiest Minds derives 51% of revenue from product engineering services (PES) led by vice-chairman Joseph Anantharaju, 25% from digital business services (DBS), and 21% from infrastructure management and security services. In the PES segment, companies like $501 million Persistent Systems in Pune has a roster of 1,000 customers which is also on the road to helping these clients to modernise their infrastructure.
In terms of industries, Happiest Minds' exposure in the September 2020 quarter was to edutech (27%), Hitech (19.5%), TME (telecom, media and entertainment at 13%), and banking, financial services and insurance (16%).
"We had growth in EduTech, industrial manufacturing and media," said Anantharaju. "But at the same time from an opportunity angle, we are also seeing a fair bit of demand in retail from an e-commerce angle and the hi-tech vertical, which continues to do well."
A majority of HMTL's client operations are hosted on the cloud. In EduTech, a lot of its work is around augmenting the remote and online e-learning features of EduTech platforms, helping clients with data collection and analytics to enable students and the faculty to work easily.
In industries like manufacturing, HTML saw clients considering initiatives around digitisation to support their field-support remotely. In retail, client interest has been around e-commerce and analytics to support personalisation and recommendations. "In terms of (our) top 20 customers, all are going through their budgeting process right now, but we do not see any major issues in any of them," Anantharaju reassured analysts. "Instead of committing to very large projects and programmes, they are doing it in a more phased manner."
For a young company, Happiest Minds has a stable management in place. What it needs to do now is win a few large accounts to demonstrate its capability at scale. This is not a position anybody would have expected a digital-first technology services firm to be in in the post-COVID world.
---