Even as a growing number of commuters choose personal vehicles over public transportation amid the pandemic -- people opting for shared mobility dropped from 51% in March to 30% in July, as per a study -- digital-first bus booking service Cityflo raised fresh capital late last month.
The Mumbai-based company, run by Komorebi Tech Solutions, scooped up Rs 57 crore ($7.7 million) in a Series A funding round, led by Lightbox Ventures and India Quotient, with participation from undisclosed angel investors.
The round propelled the valuation of the startup by over 400% to Rs 180 crore, CEO and co-founder Jerin Venad told TechCircle.
Its lead investors, he said, believed in the long-play of the business and expected traffic to return to a sector that witnessed massive pandemic-induced salary and job cuts. Moreover, Lightbox had been in talks with Cityflo for over a year and had committed to the investment before the outbreak, he said.
Venad founded Cityflo back in 2015 with IIT Bombay batchmates Subhash Sundaravadivelu, Rushabh Shah, Advaith Vishwanath, Ankit Agrawal and Sankalp Kelshikar. It has raised a total of $9.39 million so far, as per VCCEdge data.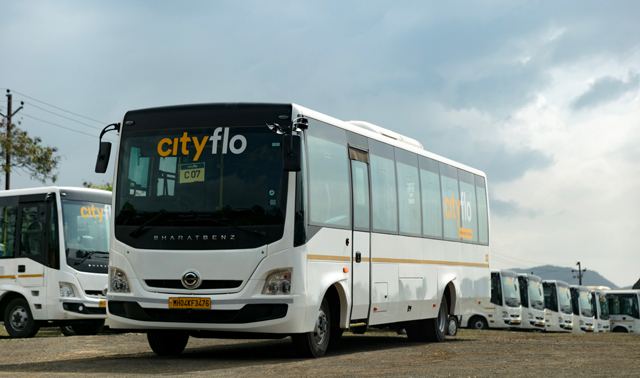 A bus run by Cityflo
The startup's app allows daily commuters in Mumbai, Navi Mumbai and Thane to book Mercedes Benz buses for various routes and charges a fixed price in return through a one-time ticket or subscription pass.
It primarily connects residential complexes with commercial hubs and promises coaches every 15 minutes, and offers services such as live tracking and pre-journey sanitisation.
Venad said they started off looking to solve the problem of public buses with elements such as live-tracking, assured seats and air conditioning. But soon, they realised that the unit economics would be challenging to offer those benefits at public bus rates.
On closer inspection, they found that the people who used their service were actually those who drove to work by car -- they used Cityflo because it was as comfortable as their cars and saved them money.
Driven by this sentiment, the company redirected its focus on white-collar professionals and began building on the element of comfort and convenience, while making Benz runs from residential to commercial hubs and back, with minimal stops. The company brought these buses into operation on a lease of one to five years.
Since then, their business has been sustainable, Venad said. This was in 2017.
"Before March (2020), we were at a Rs 25 crore annualized revenue scale -- we had about Rs 2 crore of revenue in," he said. At the time, the company served around 8,300 customers every day with a fleet of 160 buses running across seven-eight key routes.
As Covid-19 pushed daily commuters to work from home, the company's business halted. "We had two months of practically zero revenue," Venad said, adding that the company did not lay off any employee during the period.
As the country unlocked, so did the startup's business. The safety measures on its buses included sanitisation after every trip, temperature checks, mandatory mask-wearing, independent safety audits and the option to book twin-seats to maintain social distance.
By July, Cityflo was in recovery. The company claims to have attained 60% of pre-Covid revenues, or about Rs 14 crore in annualised revenue so far, serving 2,500 commuters daily.
Growth of corporate business
Pre-pandemic, the startup's revenue driver was its B2C app -- its rentals and corporate businesses formed a small portion of its revenue.
Post-pandemic, however, the demand for corporate leasing grew, with essential services providers, banks and other organisations seeking a safe and well-sanitised employee transfer option.
In fact, corporate clients contributed half of its 60% recovered revenue, while the rest came from the still-recovering B2C unit, he said.
"Until now it (B2B) was not a big part of our business but from here we see there is value in that and we'll be doing more of it. We are in the market and a lot of companies and admins actually know Cityflo as a professional bus service," he said.
Targeted 5x growth
With B2B growth and B2C recovery, well as a vaccine on the horizon, Cityflo looks to open up more offices in the coming months to improve its business prospects.
At the current growth trajectory, the startup should hit Rs 100-120 crore -- a 5x growth from pre-pandemic levels -- in annualized revenue in the next 12 to 18 months, Venad said.
For that, he said, they would invest a part of the latest funding to increase the bus count to 450-500, which would help them cover more routes across the three cities, serving more daily commuters.
The fresh capital will also be used to set up dedicated resting facilities for bus drivers, redesign the interior of the buses and hire senior executives to push marketing, customer experience and design efforts, he said.
"What sets them (Cityflo) apart from all other players is that they're building a different experience -- one that both redefines what commute looks like on a bus and also changes the perception of a bus ride. This is key for a business to be successful in this space, but has mostly been overlooked," Sid Talwar, partner at lead investor Lightbox, said.
No immediate expansion beyond Mumbai
The company, Venad said, will expand its footprint within existing markets and not look beyond Mumbai in the next 18 months. When it does, Delhi and Bengaluru would be its first choices, given the presence of dense commercial and residential areas, he said.
Mumbai alone has 1.7 crore daily commuters, which leaves plenty of room for Cityflo to grow. The co-founder looks to scale up to at least 5 lakh daily commuters in the city.
"Cityflo is one of the few players globally to have demonstrated that buses can operate in micro-markets, with limited stops and high profitability," Lightbox's Talwar said. "Mumbai alone is a $100 million opportunity for such a business, and their model is replicable across cities not just in India, but the world."
---