Indian startup ecosystem added 12 unicorns in 2020 -- the highest in a calendar year -- despite the pandemic, said a report released by software industry body Nasscom and management and strategy consulting firm, Zinnov.
The total number of Indian startup unicorns valued at over $1 billion now stands at 38.
However, deal activity continues to be on the recovery path with over 90% recovery in seed stage deals in 2020 as compared to 2019. Funding beyond Series C is yet to get back to normalcy, according to a statement.
Zinnov found that the total funding in the Indian startup ecosystem for companies established in the last five years was at $3.5 billion, nearly half of the corresponding amount raised by similar set of companies in 2019 at $6.6 billion. The report also said that over 55 startups had raised over $50 million in funding, adding them to the list of potential unicorns.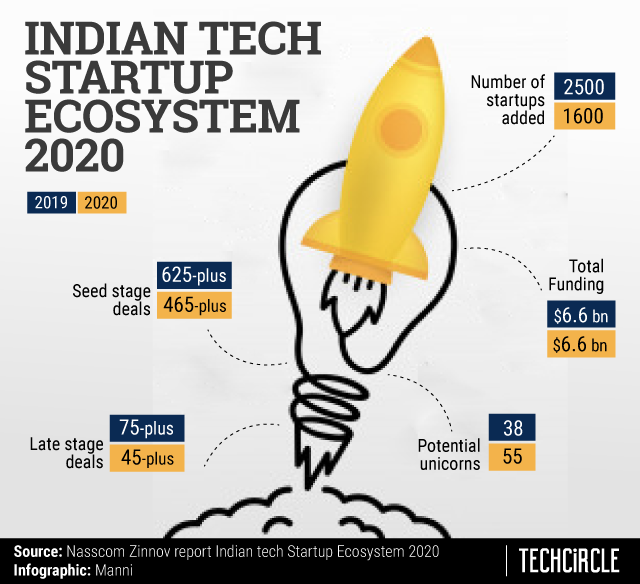 Titled Indian tech start-up ecosystem -- on the march to trillion dollar digital economy, the report stated that the number of startups added during 2020 in India was little over 1600, down from over 2500 companies founded in 2019. The number of tech startups increased at a steady rate of 8 to 10%.
"The Indian tech startup ecosystem's performance in 2020 has demonstrated the resilience and can-do spirit of the Indian entrepreneur. The continued innovation, right decision making and strong investor commitment have positioned the Indian start-up ecosystem as a key contributor in accelerating India's digital economic growth," said Debjani Ghosh, president at Nasscom in the statement.
Read: India to be GCC hub, draw top retail, consumer packaged goods brands: Nasscom
The report, which considers startups from the prototype stage up founded in the last five years, also said that 14% of total investments in 2020 were in deep tech startups, up from 11% in 2019.
"2020 saw start-ups increasingly leveraging and piggybacking on the foundational infrastructure that the government has in place – the India Stack, UPI infrastructure, GST norms, FASTag, etc. – that offers up a unified set of layers with contactless and presence-less digital economy truly coming into its own," Pari Natarajan, CEO of Zinnov said in the statement.
The report also suggested that proactive measures by the government including investment in building infrastructure and strengthening policies, apart from collaboration for market access will be necessary for growth of the startup ecosystem.
---