Rivals Google Pay, Amazon Pay, Paytm, and PhonePe, vie for the same sweet spot of high user stickiness in the digital payments space.
Spoilt for choice, the average end user in India is likely to use multiple payments apps, and hop between apps depending on cashbacks or rewards. The number of user registrations or transactions, whether relating to UPI, utility bills, or digital gold, then fail to prove market share merit among the four.
A promising deciding factor to analyse the four would be to see how each of them manages to pull through in its profit-and-loss statements.
The four players, separately, reported total revenues of Rs 6,927.77 crore, in the financial year ended March 2020. Paytm led the rally with revenues of Rs 3,628.85 crore, followed by Google Pay at Rs 1,501.71 crore, Amazon Pay at Rs 1,370.00 crore, and finally PhonePe at Rs 427.21 crore.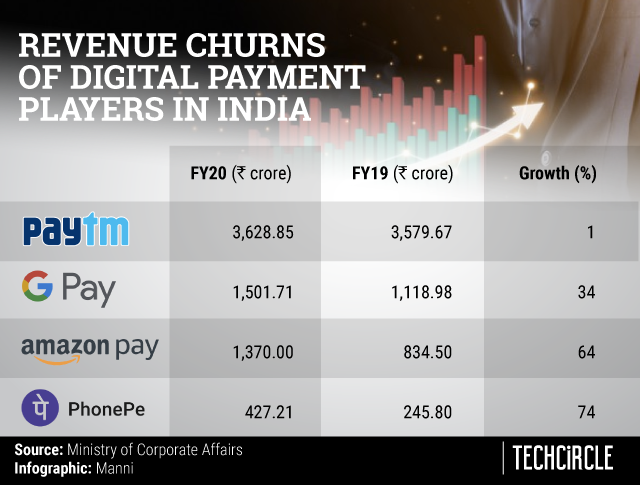 To be fair, Paytm's revenue streams are vast in comparison to the other three and are not limited to digital payments. Apart from lending, wealth management, insurance offerings, it offers merchant commerce solutions and stock trading solutions.
In terms of bottom line recovery, Google Pay was the only profitable business in the quartet, reporting total profit of Rs 32.87 crore, a sizable jump up of 544%.
Meanwhile, Amazon Pay widened its total loss by 61% to Rs 1,868.5o crore. Paytm cut its loss by 30% to Rs 2,942.36 crore, and PhonePe cut its loss by 7% to Rs 1,771.66 crore.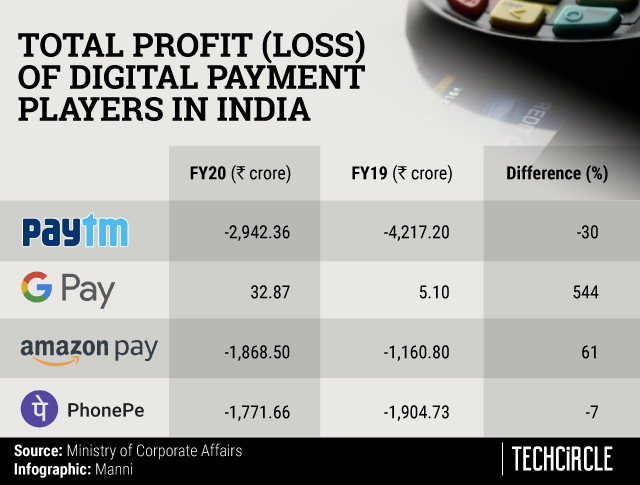 Alibaba, SoftBank, and Berkshire Hathaway backed Paytm spent most of its revenues into payment gateway expenses with Rs 2,259.70 crore. Its next highest cost-head was advertising promotional expenses at Rs 1,482.92 crore, followed by employee costs at Rs 1,119.30 crore.
At Google Pay, the highest cost-head proved to be the expenses of its rewards to users at Rs 1,132.43 crore. The next highest charges were Rs 94.05 crore for contract service charges, and Rs 79.40 crore for legal costs.
For Amazon Pay, the highest expenses were advertising promotional charges at Rs 2,212.70 crore, followed by payment processor charges at Rs 491.30 crore, and legal professional charges at Rs 234.10 crore.
Walmart backed PhonePe spent most of its earnings on advertising promotional charges with Rs 1,016.64 crore. The next highest spendings occurred for employee costs of Rs 479.92 crore, and outside contracted services charges of Rs 208.50 crore.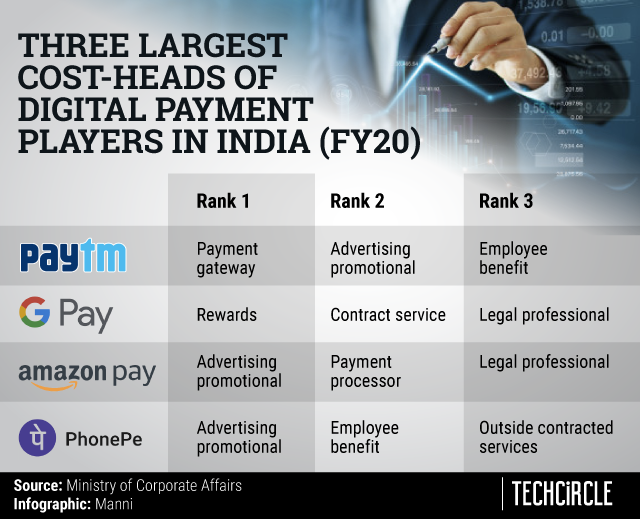 Beyond all the finite numbers, a figure is yet to be tapped on a treasure trove of data that the four non-banks are creating every second of the day. This includes anything from consumer profiling, spending behaviour to their lending needs.
"Instead of spending top dollar on customer acquisition, account aggregators might partner with payment fintechs to tap into their customer base and share data through UPI apps. Popular payment fintechs themselves could acquire account aggregator licenses to build new use cases and support their own financial services bets," S&P Global Market Intelligence said its report titled 2020 India Mobile Payments Market Report.
A game changer is yet to arrive in the department. Letting money be moved like text messages, has in recent years, emerged as Facebook's play with WhatsApp in India.
WhatsApp has a potential to facilitate remittances in India and Mexico, both of which received over $120 billion in aggregate inbound remittances in 2019, the S&P report added, citing World Bank estimates.
WhatsApp Pay is a tale yet to be told, for now.
---