A year on, where does Microsoft stand on its sustainability agenda?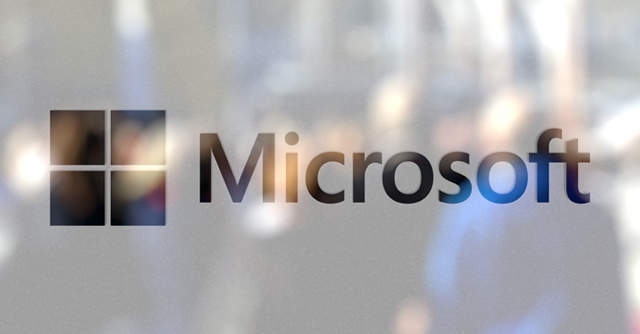 In January 2020, Microsoft swore itself to a new year resolution. The nearly five-decade-old company aimed to be carbon negative by 2030 and remove all the carbon it has ever emitted by 2050.
A year later, while I am nowhere close to fulfilling my 2020 resolution of getting six pack abs, the Redmond, Washington-based company has made some headway towards its goal. Here's a look at the key updates.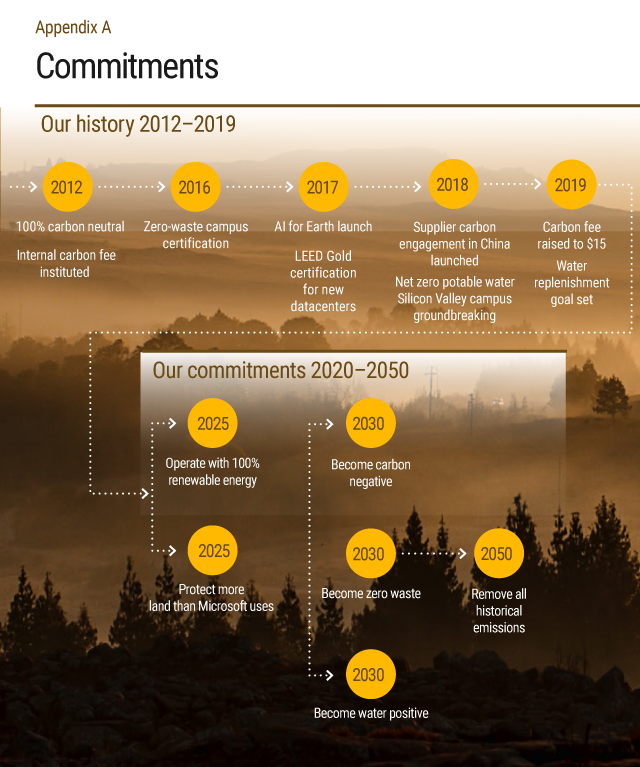 Credit: Microsoft
In 2020, Microsoft said it expected to emit 16 million metric tonnes of carbon through the year.
"Of the total, about 1,00,000 is expected to be scope 1 emissions, about 4 million scope 2 and the rest of the 12 million tonnes scope 3. Given the wide range of scope 3 activities, this higher percentage of the total is probably typical for most organisations," president Brad Smith had said in a January 2020 blog post.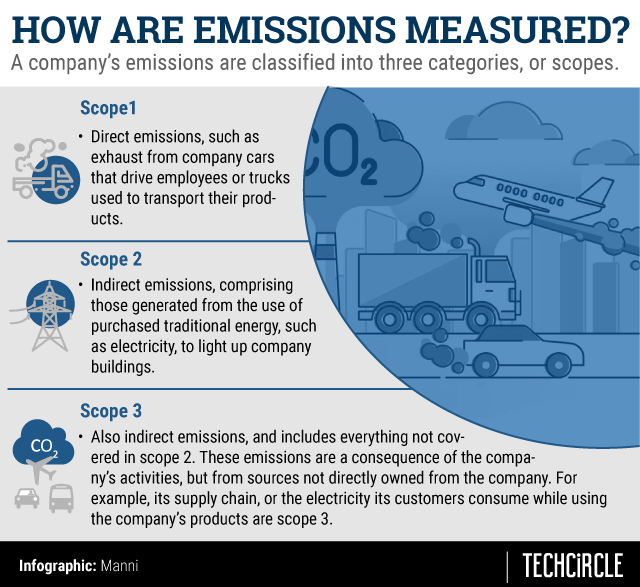 In one year, Microsoft claims to have cut its emissions by 6% -- from 11.6 million metric tonnes to 10.9 million metric tonnes.
"By 2030, our goal is to cut our emissions by more than half. This means that if we sustain and then improve upon these reductions for 10 consecutive years, we will reach and hopefully exceed this goal," Smith said in the one-year update.

So, apart from reduced activity due to the pandemic, what helped the company cut emissions?
1. It expanded its internal carbon tax to include scope 3 emissions.
"For years, we have applied an internal carbon tax to our scope 1 and 2 emissions. This meant that each part of Microsoft paid internally (at a rate of $15 per metric ton) for the carbon emitted for its direct emissions like travel and electricity. At the start of our new fiscal year this past July 1, (Microsoft CFO) Amy Hood expanded our internal carbon tax to include scope 3 emissions, beginning with a lower rate of $5 per ton that will increase each year," Smith said.

2. It changed its supplier code of conduct, requiring a greenhouse gas emission disclosure from suppliers to reduce their emissions.
3. It launched a new offering, Microsoft Sustainability Calculator, to offer its cloud customers transparency into their total carbon emissions – scopes 1, 2 and 3 – resulting from their cloud usage. Using AI and advanced analytics, the Microsoft Sustainability Calculator provides actionable insights on how to reduce emissions, the ability to forecast emissions, and simplifies carbon reporting.
4. In FY20, Microsoft emitted 11,164,000 metric tonnes of greenhouse gases. It purchased the removal of 1.3 million metric tonnes of carbon from 15 suppliers across 26 projects around the world, marking what it claims to be the largest annual carbon removal purchase any company has ever made.

"It's imperative that we move away from paying for carbon avoidance and focus on paying for carbon removal," Smith said.
"What's the difference? Think of it this way. Carbon avoidance may involve paying someone to not emit carbon on your behalf, while carbon removal involves paying someone to remove carbon on your behalf. Of course, the carbon crisis at times requires that we avoid taking new steps that would emit additional carbon. But paying someone not to emit carbon is literally paying someone to do nothing. And we know we won't solve the climate crisis by doing nothing. We need to do something, and it needs to be big," he said.

5. It partnered with Sol Systems, a renewable energy developer and investor, to procure 500 megawatts (MW) of renewable energy. Since its inception, Microsoft has procured a total of 1.9 gigawatts (GW) of renewable energy.
6. It established a $1 billion Climate Innovation Fund to primarily invest in new technologies. It has already backed Swiss company Climeworks, which uses renewable energy to captures carbon dioxide from the air; Congruent Ventures, an early stage venture capital firm focused on decarbonization and climate across energy, mobility, agriculture and industrial sectors; and Southeast Asia Clean Energy Facility (SEACEF) to accelerate deployment of large-scale and scalable clean energy projects and businesses in emerging markets. It has also invested $50 million in venture capital firm Energy Impact Partners' (EIP) global platform to help with the innovation of new technologies to transform the world's energy and transportation systems, two sectors that account for the majority of greenhouse gas emissions.
7. It partnered with eight corporations -- AP Moeller-Maersk, Danone, Mercedes-Benz, Natura, Nike, Starbucks, Unilever and Wipro -- to launch a coalition, called Transform to Net Zero. The coalition aims to accelerate business action toward a net zero carbon economy and create playbooks on how to achieve that goal.
The company has also set micro goals to help it achieve its bigger objectives.
Effective from the financial year starting July 2021, the company will include progress on sustainability goals as a factor to determine executive pay for the senior leadership team, including CEO Satya Nadella.
Additionally, it aims to power all its data centres with renewable energy by the middle of the decade, and eliminate dependency on diesel fuel, which is used in data centre generators, by 2030. Emissions from diesel, however, make up less than 1% of the overall emissions
While carbon seems to be the company's focus area, it has also made some progress in water and waste segments.
It looks to become water positive by 2030, which means the company intends to replenish more water than it uses. "We'll do this by putting back more water in stressed basins than our global water consumption across all basins. The amount returned will be determined by how much water we use and how stressed the basin is," Smith said in a September 2020 update.
In 2020, it claims to have set up an on-site rainwater collection system, waste treatment plant and water-efficient plumbing fixtures in specific India, US and Israel campuses. The new data center region in Arizona, available for use in 2021, will use outside air instead of water for cooling for more than half the year, Smith said.
It also intends to focus on solar energy and move away from traditional electricity, and has partnered with First Solar for the same.
Through its AI for Earth programme, the company runs projects to digitise water data to understand the impact of water availability and accessibility, minimise impact of agricultural practises. The AI for Earth community includes over 700 grantees in more than 100 countries, including 17 strategic partnerships with platforms using Azure to provide conservation and sustainability services.
The Climate Innovation Fund is set to invest $10 million in Emerald Technology Ventures-run $100 million Global Impact Fund. The Temasek-backed fund will partner with early- to expansion-stage companies to drive innovation and adoption in water technologies.
Using technologies such as AI and IoT, Microsoft offers customers solutions, such as Azure IoT Central government app, to monitor, understand risks and conserve water.
With six other companies, Microsoft launched the Water Resilience Coalition earlier this year. An initiative of the United Nations Global Compact CEO Water Mandate, the coalition includes 16 corporations, who will co-invest in availability, accessibility and quality projects in water-stressed basins.
To protect oceans, Microsoft said it will join the World Economic Forum's Center for the Fourth Industrial Revolution Network for ocean innovation and technology in Norway. "It's dedicated to using data, technology and governance frameworks to protect the world's oceans and increase the sustainability of ocean-based industries," Smith's blog post said.
Microsoft has pledged to become a zero waste organisation -- comprising only its direct operations, products and packaging -- by 2030.
The company will reuse and recycle the waste generated by building what it calls Microsoft Circular Centers in its data centers. The 3 million servers in its data centres have an average lifespan of five years. Once decommissioned, the devices will be repurposed or sold. These centres are expected to increase the reuse of Microsoft's servers and components by up to 90% by 2025.
"By 2030, we will divert at least 90% of the solid waste headed to landfills and incineration from our campuses and datacenters, manufacture 100% recyclable surface devices, use 100% recyclable packaging (in Organization for Economic Cooperation and Development, OECD, countries), and achieve, at a minimum, 75% diversion of construction and demolition waste for all projects," Smith said in an August blog post.
The company looks to eliminate single-use plastics in packaging by 2025, digitise waste data to improve collection and allow for reduction.
The Climate Innovation Fund has invested $30 million in Closed Loop Partners' funds to accelerate the infrastructure, innovation and business models for supply chain digitisation, e-waste collection, food waste reduction and recycling industry products.
Microsoft has also onboarded to Azure and made public 10 petabytes of environmental and Earth observation data.
Dear reader, here's a bonus for you for making it to the very end: you can take a look at some key components of Microsoft's sustainability report on Minecraft, in the form of a Sustainability City Map. The offering from Mojang Studios also includes six sustainability lessons for children.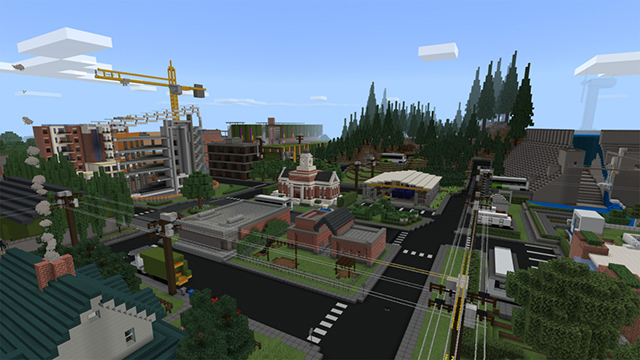 A view of the Sustainable City map on Minecraft | Credit: Xbox
---