Meet the Indian startup building an affordable electric 'flying taxi'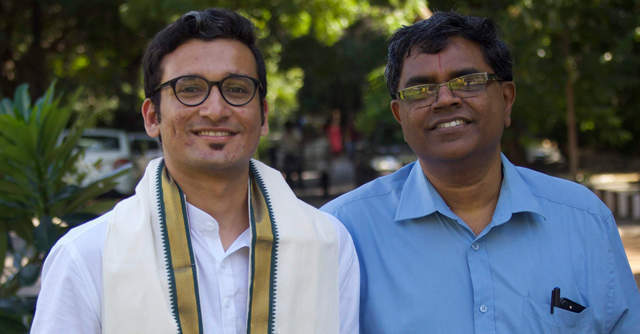 If you live in Bengaluru, you know the pain of commuting, especially to the airport.
The Kempegowda International Airport is nearly 40km away from the city centre, which means commuters have to factor in about an hour and a half extra over the time required for check-in and security to board the plane. And, on a bad traffic day, even that might not be enough.
Now, imagine covering the same distance in about five to ten minutes -- without worrying about traffic or roadblocks. Sounds like one hell of an upgrade, right?

This is exactly what The ePlane Company, which operates under Ubifly Technologies, aims to achieve over the coming years.
The Chennai-based startup building the electric vehicle is the brainchild of aerospace engineering professor Satya Chakravarthy and his student at IIT Madras, Pranjal Mehta. Last month, the company raised an undisclosed amount in a seed funding round led by deep-tech venture capital firm Speciale Invest.
According to Mehta, the planned vehicle, whether operated by the company or by a third party in the future, would cut travel time down by 10 times.

Helicopter taxis have been around for a while now, and typically operate at a price two to four times more than that of an Uber in most geographies.
The vehicle from The ePlane company would be a much cheaper option and may even manage to compete with road taxis in the longer run, Mehta, who is the CEO of the company, told TechCircle.
For the short time, the fare is expected to be 1.5 to 2x of an Uber ride, according to the per hour fixed and variable cost estimates.

As a side note, cab aggregator Uber itself was tinkering with an electric flying taxi service before selling the unit to Joby Aviation in late 2020.
The idea behind electric flying taxis
While the professor-student team incorporated the company back in February 2019, it was working on the idea well before that.

"It all started in 2016 when I saw a Tony Seba video on electrification in the transportation space and thought of applying that in aerospace," co-founder and CTO Chakravarthy said.
Futurist Seba is a lecturer in entrepreneurship, disruption and clean energy at Stanford University, a serial Silicon Valley entrepreneur and an author.
At present, battery technology hasn't evolved enough to allow long-haul commercial electric planes, which is why Chakravarthy considered developing the technology to build flying taxis.

The idea is that these vehicles would be a lot cheaper to make in comparison to conventional planes. They also suit urban aerial mobility requirements, which requires short distance travel at more affordable costs.
Chakravarthy then worked with Mehta -- who came with an idea of using conventional helicopters for the same purpose -- to ideate the project and chalk out a business plan.
In December 2018, the team incubated out of IIT Madras. The seed round last month also saw participation from IIM Ahmedabad's startup incubator CIIE.CO, micro venture capital firm FirstCheque, early-stage investment syndicate Java Capital and Sharechat co-founder Farid Ahsan.

Mehta declined to reveal the amount raised or the post-funding valuation of the company but he did confirm that the round is still expanding and they soon plan to announce investment from a 'super angel' in the US.
What would the ePlane look like?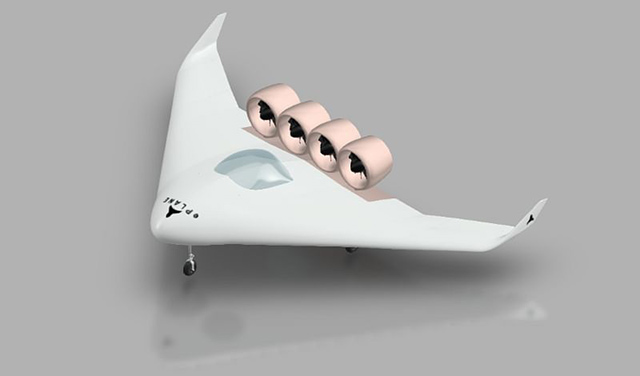 A year-old render of ePlane Company vehicle
According to the co-founders, the ePlane will have seats for two, a payload capacity of 200kg, and operate in a hybrid configuration involving both fixed wings and rotors.
The rotors will help the vehicle take off and land vertically like a drone, while the fixed-wings would work in a way similar to that of a plane and help the vehicle move forward and glide in the air.
Under normal conditions, the rotors, which will be much smaller than those of a helicopter, will work with an integrated aero propulsive technology and enable the fixed wings to perform better -- ensuring that there is no deadweight post take off. However, in the case of an emergency, it could even act as a safety redundancy.
"If something goes wrong with the fixed-wing, the vertical rotors should be in a position to shore up on balancing the weight and come down gently. Similarly, if something goes wrong with the rotor then it should be able to glide to safety," Chakravarthy said, noting that there are multiple ways by which they will have to have redundancies built-in at a level that is greater than a conventional plane.
The entire vehicle would be powered by a battery pack and fly at an altitude of about half a kilometre or 1,500-feet from the ground with a top speed of 150-200km/hr. The range, on the other hand, would be 200 kilometres. Plus, due to its electric nature and small rotor blades, there will be little-to-no noise.
Mehta said that their technology can be modified to suit any altitude but the team is going with half a kilometre due to early regulatory indicators, which suggest 400 feet will be the drone regime and over 1km (3,500-feet) will be civil aviation. Between these two will be the area where these taxis are expected to fly.
Subscale prototypes in development
To get this vehicle ready and off the ground, the 16-people strong ePlane team is in the process of building and testing subscale prototypes with payload capacities of 6kg and 50kg.
Both these demos, Chakravarthy said, use nearly the same shape, form and underlying technology as planned for the final 200kg vehicle. The 6kg version has already been built, while the 50kg variant is expected to be ready in three to four months, with flight tests scheduled for the second half of 2021.
Notably, since these prototypes are too small to carry people, they will be flying autonomously. The final variant would be a manually piloted version until there is clear guidance from the government for such vehicles.
Commenting on their efforts, Vishesh Rajaram, the managing partner at Speciale, told TechCircle, "We believe that $tn regional air transportation market is underserved. Historically innovation and product creation has been driven by either expanding existing drone platforms or downsizing existing large wing plane platforms. The team at The ePlane Co, comes with strong technical insights that allow them to create a product ground-up solving unaddressed inefficiencies on both infrastructure and product use-case aspects."
When will the final variant fly?
If all goes according to the plan in the development, testing, and certification phase, Mehta estimates that the human-rated 200kg version would be ready for sales and ferrying service by 2025.
The vehicle will be put together this year -- as the 50kg version goes through testing -- and is expected to be ready for flight tests by April 2022.
Initially, Chakravarthy said, the team will start with basic hover tests without any humans onboard. The tests will then be expanded to cover longer distances, higher altitudes, and passengers. Simultaneously, the team will put the final vehicle through the certification process for cargo and human transport.
Although the actual availability timeline could vary depending on how the certification process goes, Mehta noted that typically this process takes about two to three years. So, the tentative timeline for human flight-ready ePlane remains 2024-25.
He added that the clearances for cargo transport might come in earlier, which would help them commercialize the cargo use-cases of the vehicle. For instance, it could be procured by the military for transporting supplies to hilly regions or by hospitals for bringing in emergency cases from accident sites. The smaller versions, on the other hand, could even help with organ, blood packet delivery.
"As the trust for these vehicles and these services increases, you will start seeing them coming into cities but that will take time because even though there is a lot of craze for things like drones, there is also a lot of worry around what if something goes wrong. So, regulators and residents themselves are all cautioned about inviting these vehicles into the skies," Mehta said.
Once the vehicle gets approved, the team expects to sell it at a price range of Rs 1-1.5 crore, which is about half the price of a standard helicopter. This would make a lucrative offering for companies looking to procure and operate a fleet of ePlanes for human or cargo transport services.
The price could even come down to Rs 75 lakh in the long run, the CEO said. He also envisions that existing fields or helipads in urban areas could be repurposed for taking off and landing points for these vehicles.
"Globally, firms like Intro-act have reportedly pegged UAM Markets at $90B with growing consumer acceptance and evolving regulatory environment," Speciale's Rajaram said. "From India lens, the cargo/freight opportunity is a very large and lucrative market in addition to the air-taxi and passenger market, which will play out in the years to come. IPO-Edge had reported that Archer Aviation Inc, is likely to IPO-via SPAC at $Bn+ market capitalization, which further supports the depth of the market opportunity."
Edited by Affirunisa Kankudti
---