It has been over a year since digital insurance provider Acko got Vishwanath Ramarao on board to head the Bengaluru-based startup's technology and products segment.
In that period, the former Google engineering executive has seen it all at the company -- scaling of its microinsurance products, an intellectual property theft still under investigation, Covid-19 related layoffs, leadership pay cuts and subsequent reinstatement, and then a growth round fundraise.
Founded in 2016, Acko General Insurance has touted its use of innovative technology to disrupt the insurance ecosystem as its unique selling proposition. This is true to an extent, in a market where risk-based pricing personalisation of insurance products is yet to take off.
So, what has it been like for Ramarao — whose career of over two decades includes stints at technology and IT services majors such as Wipro, Yahoo and Google — at a new-age fintech company?
Currently based in the United States, Ramarao works in the Indian standard time zone, and finds himself keen on helping medium scale Indian startups punch above their weight among the global bigwigs in business.
"And that's just been an area of personal interest to me in terms of how organisations grow, what can we bring from big corporation procedures and processes, and thinking that can help smaller companies break out. I was deeply interested in the Indian ecosystem… I had already tried Hike before. So I knew the challenges for an emerging country like India, how difficult it can be to create unicorns and create these big, impactful corporations. And so I was interested in working for an Indian company and getting a flavor for that," Ramarao told TechCircle in an interview.
Prior to joining Acko, Ramarao worked on Google One, the Mountain View, California headquartered giant's B2C subscription service that offers expanded cloud storage for Google account holders.
Before Google, he held several senior technology and engineering head roles across companies such as messaging platform service startup Hike, internet company AOL, event management and ticketing company Eventbrite, and Yahoo.
Set up by Coverfox co-founder Varun Dua, Acko is purely a digital-native business. With zero paperwork involved in purchase to claims or renewals, it leverages data and analytics to provide personalised insurance products, and brings risk-based pricing for retail covers such as motor and health insurance. Unlike other large insurers in the company, it does not operate a network of brokers or agents.
Acko claims to have sold 80 crore policies, and insured over 6.2 crore unique customers till date. Of the company's total workforce of over 400 employees, its technology and engineering division holds 105 people.
While the company was founded in 2016, it received its license from the Insurance Regulatory and Development Authority of India in 2017, and began offering its products and services pan India in early 2018. Currently, it has a monthly website traffic of 1 million.
Its board of directors consists of global industry heavyweights, thanks to venture capital investments from Swiss Re, Munich Re Ventures, Amazon, Accel, Catamaran Ventures, SAIF Partners and Transamerica Ventures.
As is expected from a startup in its fourth year of operations, Ramarao said Acko too has made a number of technological mistakes, AKA, technical debt. "And so we have a significant amount of that. We've been progressively strengthening our architecture to move from a monolithic application that was built specific for one or two lines of business, to a much more flexible architecture where we can use the components to build multiple lines of business, and product quicker, and reduce the time to market," he said.
The company, Ramarao said, has invested significantly to understand its end consumer, from an analytics standpoint. This helps the firm build the right consumer experiences and simplify the insurance service lifecycle, he said.
Typically, large insurers approach the relationship between insurance collections and technology with the law of averages, according to Ramarao. As a large book of collections are acquired on the insurer's end, is it able to spread the risk among all people in its book, with statistics working in its favour.
But for a new company like Acko that is trying to scale with a new approach in the D2C insurance selling, or in the partnership scaling, such a spread of risk is not the best way out from a mathematical standpoint, he added.
"We have to be able to identify safe drivers, we have to be able to more competitively price for them and ensure that when they look at our product, in this very price sensitive market, they should be able to see value of participating in our platform and providing us that data," Ramarao said.
And to do that, Acko puts to use its algorithmic approach, as a make-or-break fundamental strategy. "Who are the safe drivers? What are their habits? What do they do? How do they look across a wide variety of internet products? And how do we sort of bring them on that path where they start to see our brand, and they start to see our micro insurance products first, and then ladder up as they go to maybe motor insurance, maybe health insurance, a bunch of these other pieces that eventually appear on the product portfolio?"
To find answers, the company claims to have invested a significant amount of its analytics bandwidth in collecting and curating the right data type of data to eventually price within personalised margins.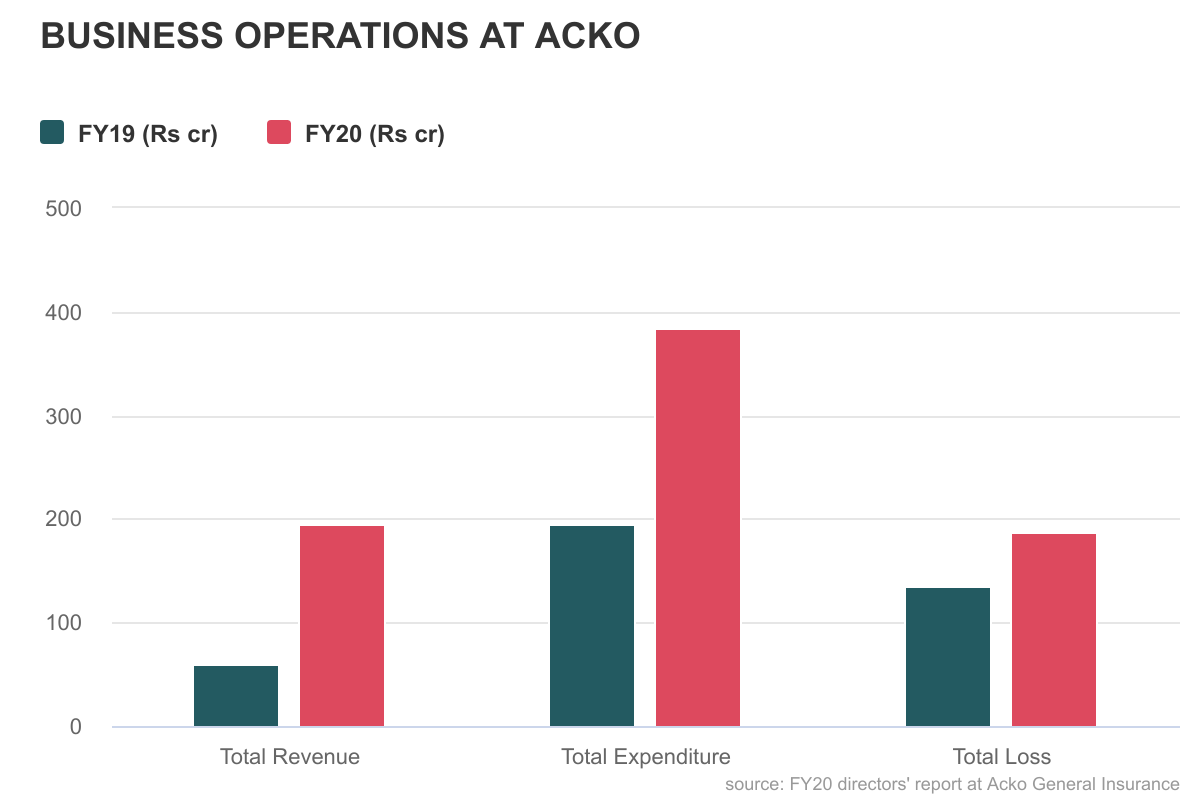 Comparison of earnings in FY19 and FY20
"If you drive a family car, and your work and home locations are really close by, there is no real reason why you should be paying the same price as somebody else who, who lives 60 miles apart from their work location and commutes every day in a red Ferrari, right? It just makes common sense to price those two situations differently," Ramarao said.
Acko's partnership side of business has scaled over the last one year to over 15 players, including Amazon, Ola, Oyo, redBus, Rapido, DriveU, Zomato, HDB Financial Services, and UrbanClap.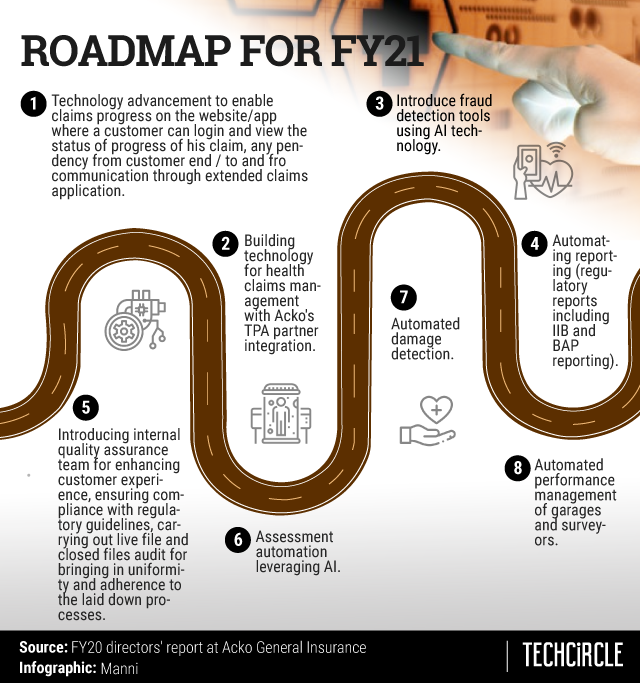 The road ahead for Acko
"Our micro insurance platform where we sachetise insurance, we cover your ride on Ola, we cover your stay at OYO… it's never been done before, and it gives people a chance to experience the product and see what peace of mind really means. And so we're continuing to scale that platform. Last year, we entered the health insurance space, and we have corporate insurance covered health insurance. We have a significant slate of such customers that are on our platform. And we continue to grow that group health product as well. So those two have been sort of big new initiatives in the last year or so," Ramarao said.
Edited by Rashmi Ramesh
---