UV Auto on the road to offer competitive prices on e-bikes, extend EV battery life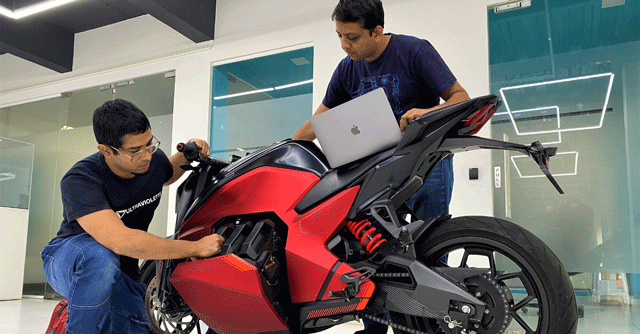 Who here hasn't made late-night plans with our best friends about how we'll one day set up our own company, be our own bosses and change the world? Then life happens, and all these dreams are stored away in a corner somewhere. Sounds familiar?
Not for school buddies Narayan Subramaniam and Niraj Rajmohan, who have been friends for over two decades and together run Bengaluru-based electric vehicle (EV) startup, Ultraviolette Automotive, or UV Auto.
How did their dreams culminate into reality though?

Well, they studied together in Frank Anthony Public School, Bengaluru, to begin with. Later, Subramaniam studied automobile design engineering, and Rajmohan took up electronics engineering in BMS College of Engineering.
Subramaniam also holds two masters in automobile design, one each from National Institute of Design, Ahmedabad and UMEA Institute of Design, Sweden. Rajmohan obtained an MBA from the Asian Institute of Management in The Philippines.
"Niraj and I have known each other for over 20 years. We went to the same school and college before moving on to different studies. While in college, we used to participate in 'innovative engineering' competitions at tech fests conducted by IITs, and have built functional robots, aircrafts, helicopters etc. to win around 40 contests together," Subramaniam told TechCircle.

In 2015, they witnessed the massive growth in the electric vehicles (EVs) sector.
"Seeing the progress of players like Tesla, we quickly moved our attention to EVs. The lithium-ion batteries, which constitute the major part of any electric vehicles, saw a rapid price evolution during these years. From $1000 per kilowatt hour, it had been brought down to $250 by this time. It was a significant development in the space," he said.
A year later, the duo incorporated UV Auto, with an aim to build a high-performance motorcycle. They built F77, a pre-production version of which was revealed in 2019 and set for launch in 2020, but the pandemic threw a spanner in the works.

The flagship product is an EV motorbike running a power equivalent to that of a 250 cc ignition combustion (IC) vehicle. It is completely manufactured in-house, with regions such as Delhi NCR, Pune and Aurangabad offering components for two wheelers, Rajmohan said. However, a few other core components, such as batteries for EV, are sourced from foreign markets including Japan and Korea, he said.
The F77 model is now scheduled to be launched in the second half of 2021. The co-founders plan to work on different variants only after the product is fully commercialised and running a stable production.
The co-founders declined to provide the exact price details for the F77, but said that it will be in the Rs 3 lakh range.

"The EV space is notorious to price its products at a 2x, 3x scale over the ICV alternatives, cashing in on the fact that EVs usually have a much lower subsequent operational cost. UV Auto will play fair and play competitive in the space when it comes to pricing," the co-founders said.
According to Rajmohan, the EV space is seeing a significant shift in the vehicle selling business model.

"The conventional IC vehicle space operates on a rigorous sales and subscription revenue model as it involves subsequent servicing and insurance expenses. An EV original equipment manufacturer (OEM) would most likely run on a one-time sale model, with minor software updates over air and minimal battery switching," he said.
"We have mostly been in the R&D phase. Only recently did we release a few of our units on road for endurance testing. There have also been onboarding suppliers and vendors and our product has also seen some early interests from public in terms of advance registrations. There is a renewed global environment concern that has been catching on and it's good for the EV space," Subramaniam said.
On the local market, Subramaniam said, "India is slowly but surely opening up to the idea of EVs. In the last five years alone, we have seen tremendous improvement in the number of EVs on road, both two and four wheelers. Our target market is the 250 cc and above IC engine market, which caters within 80,000 to one lakh units a month demand. So that's about a good enough size to start with."

"One of the major challenges that EV has faced since inception is range. It refers to how long the vehicle runs before its next dose of juice. That has been significantly low in EVs as they need to be charged everyday. But at UV Auto, we are working on the battery technology and are attempting to improve it enough for a bike to last a week with a single charge," Subramaniam said.
"Covid-19 also brought in operational challenges, as there was so much to fix and facilitate because we work on hardware," Rajmohan added.
UV Auto also develops battery packs -- a single unit that houses the battery cells as well as UV Auto's integration.
The startup also owns the intellectual property (IP) on 'crush zones' within battery packs to ensure that the cells in the pack do not get affected in case of accidents. "The impact force is absorbed by the crush zones, as a consequence of the internal architecture and the choice of materials used," Rajmohan said.
With EV being a nascent industry, finding the right talent -- people who have on comparable problems in other industries -- was tough.
Additionally, raising capital was an uphill task, Rajmohan said.
"It was initially difficult, as the investor community was comfortable with backing software and SaaS companies, but had not seen success in the hardware space, especially in consumer and high-tech products," he said.
The total capital raised by the startup could not be immediately ascertained. As per VCCEdge data and previous TechCircle reports, the number falls in the $6 million range.
It received seed funding within six months of being fully functional. In August 2018, the company received Rs 6 crore (about $860,000 then) from TVS Motor Company in a Series A funding round. TVS Motor Company infused an additional Rs 30 crore ($4 million) in an ongoing Series B funding round, and increased its stake in the startup to 29.48%.
The EV segment has seen competition intensify in the recent past.
Earlier, companies predominantly imported kits, added labels, and rebranded the products to sell them in India. This created a perception that EVs were meant for other markets, geographies and use cases, Subramaniam said.
"But in the past five years or so, many startups are trying to build the technology ground up on Indian cases and it has led to more robust electric vehicles in our market now. We need more and more of such companies as they are not just competition, but more of collaboration in terms of building the confidence," the founders said.
Startups that currently operate in the EV segment include Hero MotoCorp-backed Ather Energy, Ampere Vehicles, Emflux Motors and Tork Motorcycles.
Larger companies such as Volvo, Tata and Ford have also announced going electric in the near future. "Larger companies will have to have dual strategies – focusing on EVs and their existing product lines. But startups here have an advantage, as they have to focus on just one area," Subramaniam said.
---