How WayCool is cracking the food supply chain code with technology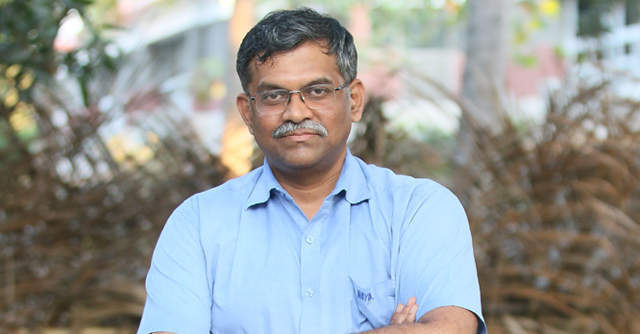 Karthik Jayaraman, co-founder and CEO of WayCool, had an extensive journey in the automotive industry, beginning as an engineer at Tata Motors, then a project manager at Timken and most recently at Ashok Leyland where he ran the MD's office, managed network expansion and dealer development and built out the corporate development strategy and business planning function for the company. He also had a five-year stint at McKinsey where he consulted on the automotive and assembly industries.
During the course of his over two-decade long career, Jayaraman had a close view at how the auto industry perfected a supply chain management and he felt applying these basic principles to less organised sectors could create large efficiency benefits.
He got into the food and agriculture sector with the aim of applying these principals and passing on the resultant benefits to some of the weaker stakeholders in the supply chain.

Testing the waters with SunnyBee
Jayaraman teamed up with Sanjay Dasari to launch SunnyBee, a fruits and vegetables retail chain in Chennai. He said a retail client is the most experimental of all clients, which helped the company to get its supply chain moving and get the engine cranking for future expansion.
The fundamental problem it identified was the fragmentation on both ends of the supply chain that makes it long and inefficient. It requires extensive aggregation given the farm lands are smaller in sizes while on the other hand, the stores have smaller quantities stored and replenish frequently because Indian's typically buy frequently in small quantities. In essence, there are many layers of disaggregation and effectively, the length of the supply chain has more than five steps and it goes up to 11 steps for processed foods.

This fragmentation results in inefficiencies around transport and handling inefficiency; cost of intermediation because there are multiple intermediaries making small margins; and waste/loss in the supply chain.
The retail chain gave it the base volume, which enabled the company to go all the way down to the primary producer which is the farmer. Establishing a trust with farmers was the beginning of WayCool's B2B journey.
Subsequently, the company began to work with HORECA ((hotel/restaurant/café) and soon expanded to modern retail and the kirana network.

"It was always the intent for us to use retail as the starter, but build business on large B2B clients. This is essentially what we have built in the first six years," he said.
In the process of running a retail chain, Jayaraman said, he realized that not farm-to-fork, but a soil-to-sale approach is the way forward. The company thus started at the crop planning so that it can manage the wastage and map the supply with demand better. It also brought up the need to build technology that can improve forecasting, planning and tracking ability. The value of physical automation in the supply chain became a necessity to reduce the human effort, managerial bandwidth, and the errors and leakages.
An integrated technology and connected process

Out of the six years of its existence, over four years went into establishing tech-driven collection centres and warehouse networking because the limiter to scale here is the business where the process or the operation complexities, and not supply or demand.
WayCool Labs, the tech arm of WayCool, has built a single tech infrastructure which it calls "Phy-Gital" supply chain. It houses four tech suites that act as interfaces between information flow and information transparency across all the four stakeholders - farmers, warehouse, distribution members (sales and fulfilment teams) and end customer.
Its farm advisory application MyFarm offers information transparency and decision-making support from forecast, input advisory, quality, transportation, payments, and access to market linkages to farmers. The company runs an agricultural extension program named outgrow wherein it works with farmers to cultivate based on crop plans designed after a soil health test. It helps the farmer a guaranteed purchaser at pre-agreed prices and ensures cash flows while it enables the company to plan and map the farms to its demands. The program covers 3600 acres at present with 1800 farmers.

Once the grading and sorting is done at the collection centres, the scanned products are loaded onto crates with barcodes. At the same time, the material is entered into its system and an advanced shipping note goes out to the respective warehouse for which the crate is headed.
RAPID, an automated supply chain management system, takes over the process from there. The crate arriving at the warehouse is placed on a conveyor which scans the barcode through IoT devices, maps it against the purchase order, weighs it digitally on a checkweigher system, maps the crate against the physical order and a robot arm then scans it again and places it to the outbound gate area against the assigned order.
Jayaraman said 40% of the crates that come into its warehouse are sent straight out to the customer without a human touch. "This is a critical part of the physical automation that we have done in case of fresh produce, because fresh produce is the most sensitive, and it will get damaged if you keep touching them," he said.

He said all of these automations were done in-house because the tech that exists in the West is too expensive and too large scale. "We needed something at our cost structure and that's where the team's background and automotive and heavy engineering is useful. We were able to engineer all of this in house and we control the IP," he added.
This combination of physical automation and the software technology is built into RAPID.
Garuda is its intelligent distribution management system which does a whole lot of functions from mapping the demand across the market geographies to order taking and associated distribution related tasks like collections, order fulfilment and logistics optimization with real time route planning. It also offers relevant analytics-based insights to customers.
Avinash Kasinathan, who heads the tech and WayCool Labs, said the integrated tech solution has improved its forecast accuracy to 80%, improved productivity by about 50%, logistics cost is brought down to one-fourth of its nearest competitor, and wastage is less than 5%, which is more than 10% for its competitors.
The last component is the retail suite which houses the direct application named Pragati which links stores to vendors, provides reports on quality and fulfillment, and helps manage the payment cycles.
Growth plans
WayCool presently has a registered base of 70,000 farmers, it procures from at least 10,000 of them at any given point in time depending on the harvest cycle. These products are picked up from about 35 different districts, and 60 different pickup points. It has 35 distribution centers and a network of 22 processing facilities across South India. It does volumes of about 400 tonnes a day and serves to about 39,000 customers.
It serves 262 of the 790 taluks across the five southern states - Tamil Nadu, Kerala, Karnataka, Andhra Pradesh and Telangana - and Maharashtra as it falls in the same supply chain.
Fresh produce constitutes for about 40% of the products it handles, staples is about 50%, dairy is about 5% and the rest are specific products that it trades in. The revenue split is also in the similar ratio, Jayaraman said.
Its private labels, which is a more of a recent experiment for the company, has seven brands, and accounts for about 15% of its revenue this month.
WayCool operate at a blended value of Rs 50 per kilogram across its perishable and less perishable products. "The blend is very important, it offers us a richer mix and therefore richer rupee gross profits. If you're blending it with product like rice and pulses and even curd, which is chilled and has a decent shelf life, you're better off in terms of managing your losses," he said.
"We continue to improve our margins. In many commodities, we are at a comfortable 20%+, improved by about 6% points in the last one year. We see opportunities for another 6% points in the fresh category and in staples and dry groceries, we see a lot more potentials," he added.
The company is currently beta testing a digital lending platform with select customers and service providers. It will be a platform where partner lenders can lend it to customers based on their transaction history. The company plans expand it to farmers soon.
It is also running pilot with women entrepreneurs for a program called Micro, which intends to establish a chain of home retail stores in tribal regions. WayCool currently operates 30 such units and plans to scale it further in the near future. "We feel this is an opportunity in the long term, it's a way for us to expand our reach into the remote areas. Many of these villages are willing to pay a premium for good quality products, because they don't have access to variety and quality," he said.
It aims to grow B2B operations to every pin code in South India and grow its client base to about 5-6X in the next four years. In addition, the company wants to sell an increasing share of its own brands. The private label business is at about 15% now, it is looking to raise it to about 40-50%.
SunnyBee, has been handed over to a franchisee, now operates as an omnichannel platform currently with six physical outlets in Chennai and an app-based online delivery system. WayCool act as the B2B supplier and plans offer more franchisees of the retail chain.
---