If you own an electric vehicle (EV), you better be good at math. More often than not, the charge in your vehicle will dictate your travel plans for the day. Of course, one small mistake in calculation, you could wind up participating in an unplanned trek on city roads with only your e-bike for company.
Don't believe us? Just ask Shwetabh, who in January 2019 had to push his electric scooter for nearly four hours in Bengaluru to get home. Why? The charge in his battery was down, he was unable to find an EV charging station and no shop would allow him to charge his vehicle's portable battery.
Shwetabh's friend Sameer Ranjan Jaiswal saw a business opportunity in his woes.
At the time, Jaiswal, with his friends Yugraj Shukla and Dheeraj Reddy, ran an EV scooter rental and fleet management startup Fae Bikes. To address the issue that Shwetabh and thousands of other EV owners faced, the trio sought to build a network of low cost and smart EV charging stations through kirana stores.
In February 2020, the startup Charzer was born, with its first product Kirana Charzer.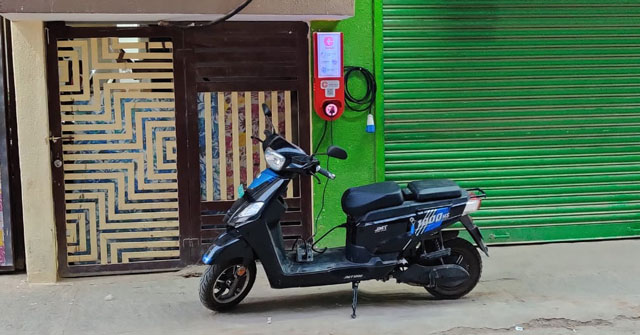 The Kirana Charzer product | Credit: Charzer
Kirana Charzer is a compact, no maintenance, internet of things (IoT) enabled 3.3 KW charging station. Small shops and individuals -- anyone with a basic electric connection -- can install them and have an additional source of income.
"As much as going electric is the need of the hour, the big 'but' in EV adoption has always been the infrastructure," Jaiswal said.
"We had been in the space for a while and had witnessed all sorts of EV use cases, right from an office goer to a home maker, student, food delivery, ecommerce delivery, etc. We knew the issues the public faced while using and trying to adopt an EV. We had worked with fleet owners and were aware of their issues and anxiety. We had also worked with vehicle manufacturers – right from leadership level to dealership, hence knew the issues they were facing to scale up sales. We had also given policy consultations to several state governments. Thus, we had a unique insight to the ecosystem," he said.
The Kirana Charzer, Jaiswal said, has been designed for Indian conditions.
"Who can give a better scale than the kirana and small stores in India? There are 10 million kirana stores and 40 million small stores in the country. Thus, we made something that would be viable for kiranas and small shops, and consequently, making EVs accessible to the masses," Jaiswal said.
The product can also be installed at cafes, gyms, bakeries, restaurants and resorts.
On the Charzer app, users can see a list of outlets around them that have an EV charging station. They can book a time slot for charging and pay through the app. The average price for charging a vehicle is Rs 25/hour and is compatible with all two, three and four-wheeler electric vehicles. While 80% of the payment goes to the outlets that have the charging stations, the rest is taken by the startup.
The EV charging station hosts can set the availability, pricing and get a daily report of power consumed, bookings and earnings through the app. They can also use the 'withdraw money' feature to transfer their earnings to a bank account.
The charging station, which has a one-time installation fee of Rs 15,000, works on single phase electricity connection and can be installed without upgrading existing grid connections.
Charzer outsources the manufacturing of its charging stations to a unit in Chennai.
The company currently has a presence in Bengaluru, Pune, Delhi, Hyderabad, Mangaluru, Thiruvananthapuram and Kochi. Till date, it has installed 110 charging stations, with 10X more in the pipeline.
And then there was Covid
The Bengaluru-based company started operations in February 2020, mere weeks before the country went into a complete shutdown. Not the best scenario for a company that requires its customers to be on the streets, for sure.
But Jaiswal claims the product's name -- Kirana Charzer -- brought in customers. The startup sold its first batch of charging stations within 15 days of setting up operations.
At the time of the launch, Charzer was did not have a functioning manufacturing capacity. By the time it was set up, the country was in lockdown.
"Once the lockdown lifted, we started everything from scratch. So effectively, we could actually go to the market properly only in November 2020," Jaiswal said.
With a team of 15 people, the startup looks to add 10,000 charging stations to the platform. It also aims to expand geographically and onboard dealers for cities such as Ahmedabad, Kanpur, Lucknow and Jaipur, while building a presence in Chennai, Mumbai and Kolkata.
The future
The market around EVs has picked up significantly and India is making an effort to promote EVs, with an aim to lower pollution and reduce oil dependence, Jaiswal said.
With a series of incentives from the government in the recent bills, EVs are slowly gaining into the economy. By 2030, the Indian government looks to turn 80% of all two-wheelers and 30% of all four-wheelers into EVs.
"Such incentives are great, but somewhat misaligned. There isn't a lot of focus on setting up infrastructure. But the government's push in other areas for EVs is still giving good impetus for people to start adopting it," he said.
"If we have to have EVs at any scale, we need to start rapidly scaling up to 100s-1000s charging stations every month. In this year itself, the target should start touching a few thousands charging stations every month. One good initiative is that government is talking about setting up charging stations at all petrol bunks -- that will certainly give confidence to people. But we have a long way to go in terms of workplace charging, residential charging etc.," Jaiswal said.
EVs are inevitable and are the future, Jaiswal said.
"The market size is huge and India would need more than 4.2 million charging stations by 2025. The revenue from charging alone would be around $3 billion annually," he said.
The country, he said, is still at a nascent stage in the sector.
"It is difficult to get EVs charged, repaired, etc. There is a lack of knowledge in the market too. There is a lot of skilling also that needs to be done to start handling EVs. There is also a need for R&D to customize EVs for India's conditions," Jaiswal said.
Funding
The company did not disclose the total capital raised so far.
It is backed by angel investors in India and Europe, including Arjun Ramaraju, global head of energy at Wipro; Sunil Kumar Singhvi, managing partner of South Handlooms and Singhvi Heritage; Rakesh Saraf, serial entrepreneur and angel investor, and managing director of Windsor Specialty Services; Gaston Bilder, impact investor and serial investor based out of Belgium; and Kiran Kamity, Silicon Valley-based serial entrepreneur.
"When I came across Charzer, I was really impressed because they had caught the right nerve. Looking at the current EV landscape in India, the first level of EV adoption will happen in two wheelers and three wheelers. Most of them park at corner shops, tea shops, kirana stores, roadside shops for quick refreshments or for a quick chit chat. Targeting these locations is the right way to go about it. By providing charging infrastructure at these locations, people can charge their vehicles while they carry on with the other activities," angel investor Singhvi said.
"On the other hand, this solution provides an additional source of revenue for the shopkeeper because most of these shops have sufficient parking space for two and three wheelers. Also, the technology developed by Charzer has the capabilities to integrate and onboard other similar infrastructure across 2w, 3w and 4w," Singhvi said.
The founders having prior EV experience was also a plus, he added.
Raising funds for an EV startup, Jaiswal said, is tough because of investor inclination towards software due to its low capex. What helped Charzer's case was that the firm already had a prototype before it pitched to investors.
As the EV charging infrastructure space has no breakout players in the country for now, Charzer stands to tap into the new momentum, Jaiswal said. Charzer's competitors Ather Grid and ChargeGrid were also doing a great job, he added.
---