"Get ultra-fast 100 GB data for Rs 100 only! BUY NOW." "Unlimited data, 150 mbps speed for just Rs 500 per year!"
Amazing -- albeit fictional -- internet plans that allow you attend the marathon work calls while parallelly binge-watching Bridgerton, yes? High download speed and data at relatively low prices is certainly value for money.
What if we told you that the same formula applies to an out-of-the-world situation too? You see, when satellites we send to the space gather large amounts of data (more data = higher monetary value, i.e higher revenue), they need to be able to beam them down to earth, quickly and on budget.
And that 'quickly and on budget' part, dear readers, is what a spacetech startup from the Silicon Valley of India, called Astrogate Labs, helps with.
Read: Making space taxis and paisa vasool satellite launches a reality
The startup is currently developing and qualifying technologies that can beam down data much faster than the conventional methods -- RF (radio frequency) communications -- used on satellites.
"The current RF-based transmitters and antennas integrated with small satellites (that are the size of a backpack), which communicate at a rate of about 100 Mbps at best. This means that the operator needs to have a lot of time to download massive chunks of data, and bear higher costs," Nitish Singh, co-founder and CEO of the startup, told TechCircle.
On the other hand, Astrogate's in-house laser-based optical communication system, which relies on light to transmit data, can downlink at over 10X higher speeds. So theoretically, this can either cut cost 5X, or capture more data, leading to higher revenues.
"Laser technology can go 10 Gbps and beyond. [However,] the product that we are building right now is for small satellites and can communicate at data rate of 1 Gbps over a 1,000 km distance," Singh said.
The startup expects that it will generate about $60-70 million in revenue with this technology in the next four-five years.
It recently raised a funding round, dubbed pre-Series A, from Speciale Invest and others. It claims to have secured a total of $750,000 (about Rs 5.5 crore) so far.
Why did the satellites miss the dinner party? Because they had a big 'launch'.
And that brings us to... Astrogate's launch story.
Singh, an aerospace engineering graduate from IIT Kharagpur, had dabbled with satellite operations during college.
But the limitations associated with RF communications only caught his eye when he joined TeamIndus, which was, at the time, competing in the Google Lunar XPrize, a global challenge to land a rover on the moon and transmit HD video/images back to earth.
As the leader of mission planning and operations at TeamIndus, Singh provisioned communications and ground networks for the firm's spacecraft. That was when he noticed that modern-day satellites, be it earth-observation satellites or those for GPS/internet, could generate a lot of data, but the technology and product could not send all that data down quickly enough.
"This was a growing problem, specifically when you take into account the number of satellites (that are in use). Private sector space companies use small satellites for almost all applications. They require a lot of data to downlink, but sadly, they cannot get all the data down because of the already strained RF communication products and the ground network that's associated with it," Singh said.
To address this, in 2017, he came up with the idea of laser communication with former colleague and IIT Guwahati graduate Aditya Kedlaya, and Astrogate Labs was born.
In 2019, the company prototyped indigenous pointing, acquisition and tracking systems (for accurate pointing and steering of laser beams) and successfully completed terrestrial point-to-point technology demonstration using low altitude UAV platforms. This led them to develop Astro-Link, a fully-integrated space-ready optical communication solution promising small satellite-to-ground downlink at 1 Gbps.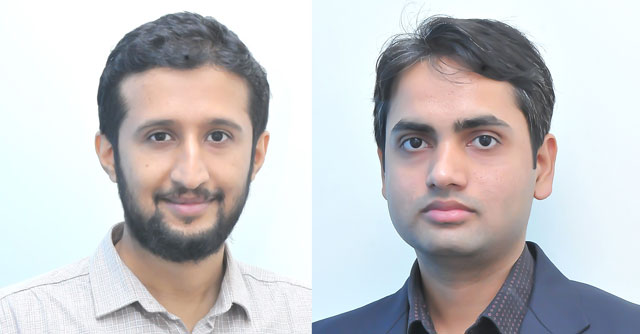 (From left) Co-founders Aditya Kedlaya and Nitish Singh | Credit: Astrogate Labs
Don't space out on us just yet – we'll tell you what that means.
Similar to RF communication, Astrogate's system also works in conjunction with ground stations, which are being developed by the company at certain strategic locations for best high-speed transmission and reception.
The high data transfer rate, however, is just the tip of the iceberg, Singh said.
For one, laser wavelengths are 10,000 times shorter than RF wavelengths. This enables Astrogate's system to deliver data as a very focused, narrow beam of light, as opposed to broad signals of RF systems, which cover multiple ground stations.
"If you are looking at satellites over 800-1,000 km up in orbit, your RF beam spot would cover about 400-500 km. This dissipates energy in a broader area, including regions you don't want to communicate," he said. "In laser communication, however, we are using a very small, fine beam, which inherently per our application will only be covering hardly 100-meter area on the surface of the earth. This reduces power consumption."
Additionally, since the beam is narrow and covers a small area, it makes it hard for potential attackers to snoop on the encoded data and disrupt communication. RF communication also includes high spectrum licensing costs, which is not the case with laser communication, Singh added.
Reaching for the stars
Astrogate is currently gearing up for the validation of Astro-Link in actual space environment. The company has collaborated with Australia's University of Tasmania to procure a site to set up an optical receiving station.
It expects to launch an in-house 3U nanosatellite integrated with the optical downlink terminal in December 2021.
The launch will be carried out on a SpaceX Falcon 9 rocket -- in partnership with space logistics company Momentus -- and demonstrate space-to-ground laser communications capabilities.
"Once it's deployed in a low-earth, sun-synchronous orbit, we would operate the satellite and validate that we are able to receive high-speed data on our optical link," Singh said. The test, he added, would help the company move from R&D to commercialisation stage.
"We are in talks with potential customers. Once we validate this, they're looking forward to use these terminals to download data from their satellites from 2022," he said, declining to disclose the identity of the customers.
These customers -- independent satellite operators -- will pay Astrogate an upfront fee to buy and integrate the laser communication terminal, along with a recurring downlink charge.
"They can easily integrate our optical communication terminal on their satellites, which is built according to the requirements of the satellite. And once they launch the satellite up in orbit, they can communicate with our ground station, paying for the data that they have downloaded," Singh said.
Astrogate plans to meet the potential transmission requirement of customers by setting up six strategically located ground stations -- three in the first phase and three in the next.
It plans to raise funds to establish the infrastructure, although Singh clarified that no plans have been finalised yet.
The company is also developing inter satellite terminals for laser-based communication between satellites operating as part of its network. This project is expected to be completed by early next year.
Commenting on the opportunity from these technologies, Vishesh Rajaram, managing partner at Speciale Invest, which has backed Astrogate, said, "We believe that Astrogate will be a propeller of moving data connectivity from undersea to SPACE in the coming years."
"Global data backbone is moving from undersea to SPACE – a mesh network of satellites can bring undersea fiber like connectivity to all parts of earth. And, the biggest propeller in this movement will be photonics aka lasers...," he said.
---