Cloud business comes to IBM Q1 revenue rescue, up 21%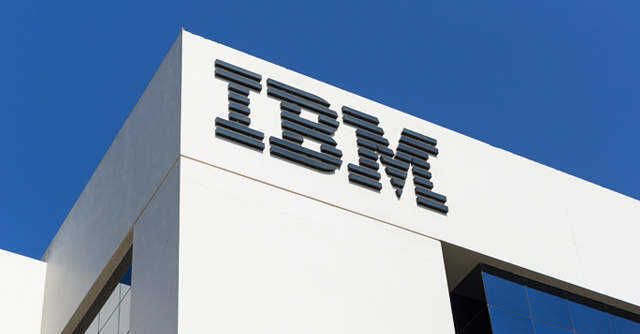 Computer hardware maker IBM on Monday reported about 1% decrease in quarterly revenue, partially offset by a 21% rise in cloud revenue at $6.5 billion.
The Armonk, New York headquartered company said its total revenue fell to $17.73 billion, in the first quarter ended March 2021, from $17.57 billion, a year earlier.
"Strong performance this quarter in cloud, driven by increasing client adoption of our hybrid cloud platform, and growth in software and consulting enabled us to get off to a solid start for the year," Arvind Krishna, IBM chairman and CEO, said.

Total profit for the quarter fell to $955 million, or $1.06 per share, from $1.18 billion, or $1.31 per share, a year earlier. Excluding items, IBM earned $1.77 per share.
In reference to IBM Z's demand in the market in the analysts call, CFO and SVP Jim Kavanaugh said IBM was capitalizing on robust trading-based volumes in its traditional financial services sector side of business.
However, some of the other industries remain impacted, slowing the cycle of adoption, he said.

"But we see now our value proposition of cloud-native applications where we have Red Hat Enterprise Linux, Red Hat OpenShift that runs on our mainframe platform and also pervasive encryption. Security is at the top of every CIO and CTO's priority list and the mainframe by definition is the most secure, most scalable, most reliable platform out there. And I think you're seeing all of that play out," he added.
Cloud and cognitive software business that includes revenues from cloud and data platforms, cognitive applications, and transaction processing platform was up 3.8% to $5.4 billion. Global business services business that includes revenues from consulting, application management and global process services was up 2.4% to $4.2 billion.
Global technology services business that includes infrastructure and cloud services and technology support services was down 1.5% to $6.4 billion. Systems business that includes systems hardware and operating systems software were up 4.3% to $1.4 billion.

Global financing business that includes financing and used equipment sales were down 20% to $240 million, driven by lower financing volumes and sale of receivables.
The nearly 110-year old company in the recent years has increased its investments in hybrid cloud and artificial intelligence capabilities, to try and rise to the ranks of sector leaders such as Amazon Web Services and Microsoft.
To focus on high-margin cloud computing, IBM is set to spin-off its managed infrastructure services unit from the global technology services division to a new publicly listed company, Kyndryl, in a $5 billion estimated exercise.

IBM expects that once Kyndryl starts to function in the end of 2021, it will be twice the scale of its nearest competitor. Kyndryl has already engaged with 4,600 customers and has a backlog of more than $60 billion.
---