Accenture, Amazon, Paytm, Ecom Express mobilise funds, medical aid to help India fight Covid-19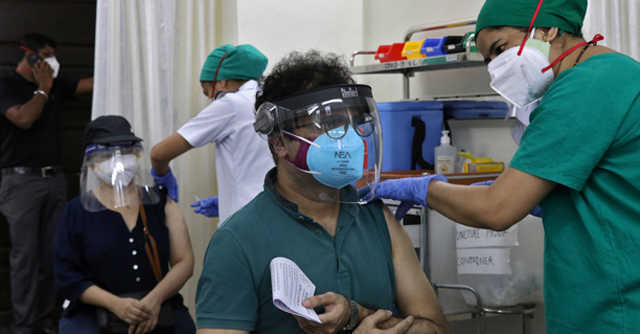 Companies, both in India and abroad, are aiding India's fight against the second wave of the Covid-19.
While global information technology (IT) consulting major Accenture has earmarked $25 million for pandemic relief efforts in India, retail giant Amazon's European business unit has committed $2.5 million to support people in India impacted by the crisis. Digital financial services major Paytm has said it will set up oxygen plants.
Accenture pledges $25 mn for India

"Accenture stands in solidarity with India. We have made a fresh pledge of $25 million for pandemic relief efforts in addition to ongoing investments in our people and communities," Rekha M Menon, chairperson and senior managing director of Accenture in India, said in a statement.
Accenture is also providing ventilators, oxygen concentrators, and medical kits besides offering Covid-19 support kits and PPE kits to frontline healthcare workers and food and at-home care kits to unemployed and poor people, according to a statement.
The company, which has a significant presence in India, has engaged with the government to support vaccination camps and provide local language call-center support. The company said it is also augmenting existing hospitals with beds and ICUs and setting up portable hospitals.

Accenture said it will match 100% of the contributions it receives from employees who are donating funds for Covid-19 relief efforts in India.
It has also built several resources including 24/7 telemedicine, care-at-home services, enhanced insurance coverage, virtual childcare, mental health support, and support for testing and vaccinations for its over 200,000 employees and their families in India.
Amazon steps up efforts

Amazon, in a blog post, said that it will use its global logistics network to purchase, airlift and deliver some of the critical medical equipment identified by the Government of India and local charities.
Amazon will deliver oxygen concentrators from Italy, ventilators from the UK, and nebulisers and inhalation devices from Germany. The products will be provided to Amazon frontline workers and local charities to help those infected with COVID-19 across multiple cities in India.
The new aid is in addition to 100 ventilators worth $3.8 million procured through its global resources last month. Amazon India is working with the Indian Red Cross, under guidance from Niti Aayog and the Ministry of Health and Family Welfare, for the distribution of these ventilators. The company is working with impact organisations like Swasth Digital Health Foundation and ACT Grants to get oxygen concentrators to hospitals in remote locations.

It has committed to crowdfund and support Swasth and ACT with fundraising platform Milaap
Paytm to set up oxygen plants
Digital financial services unicorn Paytm said it will set up oxygen plants in 12-13 cities as hospitals across pan-India face oxygen shortage amid the second wave of Covid-19.

These oxygen plants would be directly installed at hospitals. Paytm Foundation has also sourced over 21,000 oxygen concentrators that would be sent to government hospitals, Covid care facilities, private hospitals, nursing homes as well as resident welfare associations in the mid of May, the company said in a statement.
The Noida-headquartered company has raised Rs 10 crore from people across the country under its corona relief initiative and has mirrored the donation amount to make it a Rs 20 crore fund. The donation garnered under the initiative will be used to purchase oxygen concentrators and oxygen plants, it said.
Paytm is currently in discussion with State Governments and hospitals to set up these oxygen plants.

Ecom Express vaccination drive to include contractual employees
Gurugram headquartered Ecom Express, which provides end-to-end logistics solutions, said it will set up Covid vaccination camps for employees across India.
The camps, as per a statement, will be organised at its offices and warehouses, and the 45,000 beneficiaries will include its contractual workforce as well. The service will be extended to families of employees as well as members of the community, it said.
The company has procured oxygen concentrators for medical emergencies, and established an internal response team to provide information on doctors, ambulance services, lab tests, medical insurance and oxygen supplies.
"We are encouraging and educating our employees, especially the vulnerable ones, for their active participation in this vaccination drive and bringing their family and community to be a part of this programme. We will extend full support to the medical bodies in the logistics and management of this drive. Our employees at these camps will also be helping citizens who cannot register themselves for the Covid vaccination with the registration process," TA Krishnan, CEO and co-founder, Ecom Express, said.
---