Infra.Market founder Aaditya Sharda on the growth roadmap to $1 bn-plus GMV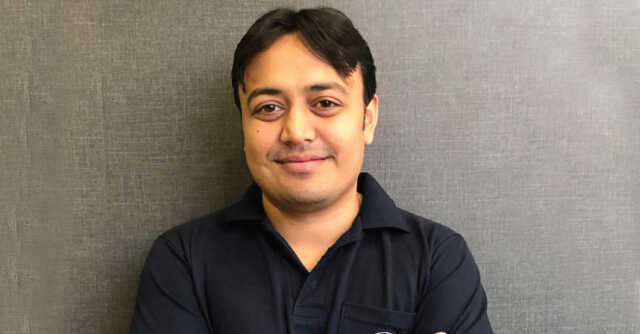 After joining the growing pool of India born unicorns – companies valued privately at $1 billion or more – in February, construction materials procurement marketplace Infra.Market is fast approaching its next big milestone. By the end of the current financial year, it expects to hit a GMV (gross merchandise value) run rate of $1 billion, against $650 million now.
Backed by investors such as alternative investment firm Tiger Global Management and venture capital firm Accel, Infra.Market parent Hella Infra Market has raised about $145 million so far over multiple funding rounds. The company was founded in 2016 by former college buddies Aaditya Sharda and Souvik Sengupta and has quickly emerged as one of the B2B commerce players to watch in this market.
In an interview with TechCircle, Sharda spoke about growth targets for the next couple of years, fundraising and deeper expansion into the Indian market.

Edited excerpts:
Infra.Market is now a unicorn. What kind of pressures does that bring to the table?
The pressure is definitely more because all of a sudden everybody looks at you! When India has around 45-50 unicorns and you are one of them, I think the pressure to perform increases. But it's also exciting at the same time.

What are the next big milestones?
In terms of revenues, we will probably be at a billion-dollar GMV run rate by year-end. Today we are at almost $650 million. And a $3 billion GMV run rate is what we are looking at by the end of financial year 2024-2025. That's the target we have set for ourselves as founders.
What exactly is Infra.Market's business model?

The business model is really quite simple. There is a lot of excess manufacturing capacity out there. Take for instance the cement industry which is typically sitting on 40-50% unutilised capacity at any given time. That where we plug the gap. We try to use the excess capacity available with the vendor.
The platform (Infra.Market) undertakes the sales and marketing, quality assurance, fulfillment and logistic for this excess capacity. If you see... we are adding value to the vendor or manufacturer because anyway they were sitting on fixed cost, i.e unutilised capacity. So, I come with a proposal that you can produce what you want, I'm not going to touch your client base. But I have got a certain client base. So, you produce for me, private label it to Infra.Market and I'll pick up the product and take care of sales, fulfilment and collection. It also improves the vendor's or manufacturer's capacity utilisation. Hence, we are able to source the product at a very competitive price.
For the consumer, Infra.Market becomes a one-stop solution for multiple products sourced from manufacturing units or vendors.

What kind of margins do you get in the private label business?
A private label margin on a contribution level, pre-logistics would be around 25% and post logistics, you could say 14-15%.
Who are your customers? What are some of the projects you've worked on? And what is the average ticket size per project/ customer?

While I can clock in a customer once, the order repeatability is very high. On a monthly basis, if I have to take up a client, I think my average ticket order size could be anywhere between Rs 1 crore and Rs 2 crore on the B2B side. Per product size is smaller, something around Rs 10-15 lakh, but that 15-lakh order can go up to 6-7 times or even 10 times to the same customer in a particular month.
With some of our high-profile clients, such as KEC, Ashoka Buildcon and Godrej the average billing goes up to $1 million (about Rs 7 crore).
Among projects, in Delhi NCR and Kochi, we are doing the metro work. In Mumbai, we did the coastal route and have projects with BMC (municipal corporation) as well. We're supplying our materials to Larsen & Toubro. In lot of cases, we don't bill the customer directly, but bill the contractor.

You raised $100 million in February, a round which valued you at $1 billion. How are you deploying the capital?
Growth and technology, those are the only spends we have. Within that, a major spend will be manpower. The money will largely go into onboarding new talent and starting new product lines. Regionally we are going to start with Kolkata and Odisha. We are also keen on Punjab and the Himachal Pradesh market. In Maharashtra, we are already in Mumbai, Pune and Nasik and now are targeting the entire state starting with Kolhapur and Aurangabad. In terms of products, ee are currently in RMC (ready mx concrete), which is used for construction. Going ahead, we are looking to address the finishing part and we are specifically looking at flooring and electricals.
What kind of a cash runway does this $100 million round offer you?
I think we are good for the next 12 months. We are not a high cash-burn company. Even with expansion plans, we are good for next 12-15 months. Every year we've grown almost 400% and have been PAT (profit after tax) positive from the first year of operations.
As a B2B commerce players, what has been your experience with investors in terms of raising capital?
We have never fretted about onboarding an investor or raising capital. But overall, I think we've always got good responses from investors. After starting up we had three fantastic years (in terms of growth) and in 2019, Accel happened. That was the first round in June 2019. Since then, the response has always been overwhelming for us. December 2019 was Tiger Global and Nexus Venture Partners. Then we got another term sheet during Covid-19 from Evolvence India Fund. Every six months, we have been getting a good interest from the investors.
Moglix, another B2B commerce players, also recently became a unicorn. How is your value proposition different?
Moglix has been around longer time than we have. They also have Accel and Tiger Global as investors. But we are not looking at getting into industrial goods. We are a product company focused on our private labels. Moglix is more of a marketplace and a fulfilment center. They are not looking at private labelling their products.
Any plans yet to expand into global markets?
Not as of now. There is a lot that we can do in the Indian markets for now. We would like to keep expanding the product portfolio. We would like to go deeper into each region. That itself has the potential to give us a 3X-4X growth from here in terms of revenue.
---