Microblogging platform Twitter has withheld four accounts in India, including one belonging to Indo-Canadian singer Jaswinder Singh Bains, popularly known as Jazzy B, based on a request from the Indian government. The request was filed by the government on June 6 with Twitter, according to information on Lumen database which maintains a record of takedown and legal requests submitted to social media platforms.
The accounts indicated that they had been "withheld in India in response to a legal demand."
According to media reports, Jazzy B and the other Twitter accounts had tweeted in support of farmers protesting against the Indian government's new farm laws. The singer confirmed on social media platform Instagram that his account was withheld for viewing in India.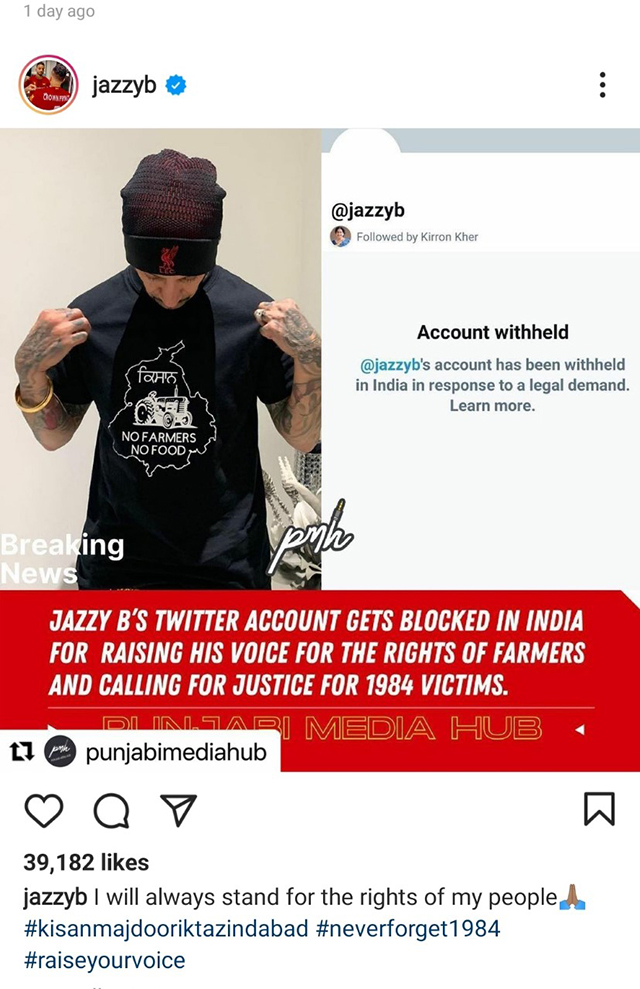 This is the third time that the Indian government has asked the social media platform to take down tweets and accounts supporting the farmers protest which have been in session in Delhi since November 2020.
In January, the Ministry of Electronics and Information Technology (MeitY) had asked Twitter to block 250 accounts which had tweeted in support of the ongoing farmers protest, followed by another 1,117 accounts in February. MeitY had also issued a notice to Twitter threatening penal action for non-compliance with the government's orders when some of the accounts were restored after an initial ban.
In April, Twitter had banned 21 accounts which were critical of the government's handling of the Covid-19 crisis on instructions from MeitY.
The US-headquartered social media platform is in the government's crosshairs since it marked a tweet by the ruling party's spokesperson as "manipulated media" and later, raised concerns over the provisions of the Information technology (Intermediary Guidelines and Digital Ethics Code) Rules 2020 which came into effect in May.
The company has appointed an interim grievance officer in compliance with the new rules and has asked the government for extension to comply with all the provisions, which require all social media platforms to appoint chief compliance officer, grievance officer and nodal officer domiciled in India.
---