Even as smartphone-driven digital news consumption continues to grow, only 38% of news consumers in India trust the content they see most of the time, Reuters Institute for the Study of Journalism (RISJ) said in the 10th edition of its Digital News Report.
According to the study, published on Wednesday, while the average of level trust in news has grown to 44%, markets such as the US and France continue to retain low levels at 29% and 30%, respectively. Finland, Portugal, and Kenya topped the ranking with trust levels of over 60%.
In India, legacy brands and government broadcasters have retained the highest levels of trust. The Times of India topped the list, with a trust score of 74, followed by DD News (73), All India Radio (73), BBC News (73), The Indian Express (72), Economic Times (71), Hindustan Times (71), and The Hindu (70).
Meanwhile, The Wire and Republic TV fared poorly with scores of 55 and 54, respectively.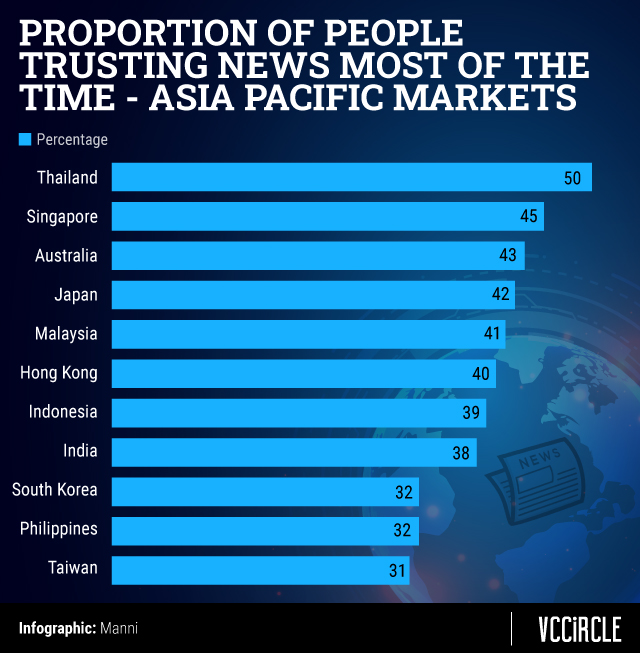 "Print brands, in general, are more trusted than television brands, which are far more polarized and sensational in their coverage," the report said. "Republic TV, despite its popularity as a news source, has lower trust scores than legacy print and television brands – and the highest levels of distrust," it added.
In addition to trust, the report also notes that India has emerged as one of the strongest mobile-focused markets, with 73% of the studied population accessing news through smartphones and just 37% via computers. A total of 82% of the respondents said they consumed news through online sources, including social media.
RISJ worked with Asian College of Journalism (ACJ) to survey the Indian market. However, it must be noted that they interviewed mainly English-speaking, online news users, representing only a small subset of the larger, more diverse market.
India's population stands at over 1.3 billion, of which 54% or more than 600 million are estimated to be active internet users.
In terms of reach of news sources, The Times of India and NDTV retained the top spots across TV, print and digital mediums, while WhatsApp and YouTube dominated the category of social media -- despite the risk of misinformation spreading through them.
Mobile aggregators also appear to be growing in the country, particularly Daily Hunt, which was used by 23% of the surveyed group. This was followed by News Republic and NewsPoint at 19% and 15%, respectively.
"These mobile aggregators have taken off in Asia, partly due to bundling with local phone operators, partly due to the stronger penetration of Android devices, and partly because of a history of early mover advantage," the report said.
---