Eyestem is breaking the cell therapy price barrier and its first target is an incurable eye disease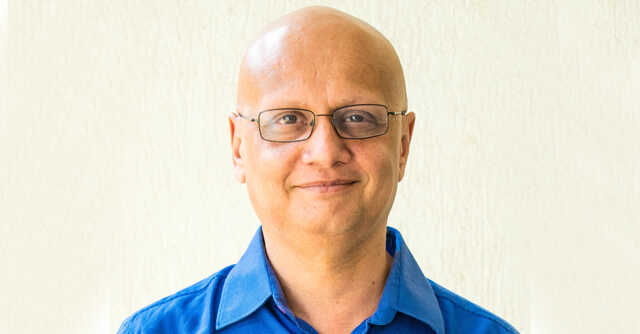 Bengaluru based Eyestem has set its sight on finding an affordable cure for an incurable eye disease – dry age-related macular degeneration (AMD) – the first of many conditions it wants to treat using a unique cell therapy platform.
Founder Dr Jogin Desai believes that cell and gene therapies will transform healthcare in the next 10 to 15 years, helping patients find treatments for previously incurable diseases. However, cell therapy pricing will keep several people, especially in countries like India, from accessing these treatments.
In trying to find a cure for dry AMD, the company plans to break price barrier for cell therapy. Current products in the segment for incurable diseases are estimated to cost $250,000 (about Rs 1.8 crore) per injection.

Eyestem, Dr Desai told TechCircle, is on a mission to democratise access to cell therapy for what he calls the "bottom 99.99% of the masses."
"Whatever pricing we are going to give our product, it cannot be 20% or 30% less than that of global product, it has to be 1/20th or 1/30th of the prices of those products, only then it can be truly lower than anything that is available in West, and be affordable for people in India," Dr Desai said.
Dr Desai's quest for an affordable cell therapy product started when he returned to India after nearly a decade long stint with Cenduit, a joint venture between Quintiles and Thermo Fisher, in the US. Previously, he was part of the founding team that set up Quintiles (now IQVIA) in India. Desai had several brainstorming sessions with scientists and scholars in the field, including Dr S Ramaswamy, former dean of Institute for Stem Cell Science and Regenerative Medicine (inStem) and Dr Mahendra Rao, who set up the National Institutes of Health (NIH), Washington before zeroing in on cell therapy as his next course of action.

Setting up a cell therapy platform
Once the members zeroed in on cell therapy, Dr Desai quickly set up a team through references.
He brought on Dr. Rajani Battu as chief medical officer; Dr Rajarshi Pal as chief scientist and Dr Dhruv Sareen, as science officer. Battu, a retina surgeon and head of ophthalmology at Aster CMI Hospital, has a Ph.D. in retinal dystrophy from University of Maastricht; Pal was an assistant profession and principal investigator at Manipal Institute of Regenerative Medicine; Sareen was the founding director of the stem cell (iPSC) core lab at Cedars-Sinai, Los Angeles.

The team began working on the project 2017 and spent the first two years developing the platform. The company got cell sources, made sure that critical quality assessments and set other key components to establish a solid platform that can act as a base for innovation.
"We spent a lot of time on trying to figure out if there is a unique science that is worthwhile. A lot of time was spent on how much time does it take to go from cell A to cell B? Can it be done repeatedly and dependably? What are the actions we need in the intermediate stages to make sure that things are on the right track? Which is a cell line that we are going to use? Which are the reagents we are going to use? All that sort of stuff took a lot of time," Desai said.
The idea from the very beginning was to create a powerful platform that, after the commercialisation of the first product, can launch a new product for a new incurable disease every 12 months.

Once the platform was established, the team decided that it will only go after diseases that are incurable and diseases that have a huge patient base.
"We wanted to tackle a large enough problem where we can have the potential to scale and create affordable cell therapy while achieving a massive social good," Desai said.
Dry AMD fit the bill on all counts.

Creating a unique protocol for an uncurable disease
Dry AMD, which affects 170 million people globally, is the leading cause of blindness in the industrialised world and the third largest globally. It starts with loss of central vision and ultimately leads to blindness. Wet AMD, a variant of AMD, is treatable and the global market of drugs for wet AMD is expected to reach $ 8.9 billion by 2022. Dry AMD incidence is 9 times that of Wet AMD and there is no current cure for it.

The eye's macula, located near the center of the retina, is responsible for sharp, clear, straight-ahead vision. Dry AMD occurs when macula degenerates with age. It starts with loss of central vision and ultimately leads to blindness.
Eyestem has created a unique protocol through which it nudges the stem cell to become the RPE cell and produce Eyecyte-RPE- an RPE cell suspension to treat macular degeneration

Animal studies were done at the Oregon Health and Science University (OHSU), a center for macular degeneration research. It then collaborated with L V Prasad Eye Institute, Hyderabad, as a manufacturing partner as well as for phase one trials. The company expects to begin the first in-man studies in the next 12 months, which is Phase II.
The Phase II trial involves real patients suffering from AMD who will be given sub-retinal injections as these trials cannot be done on healthy volunteers.

One vial, which consists about a million cells, will be sufficient for six patients and it can be administered as an outpatient procedure via a sub-retinal injection. Current available data suggest an injection can be effective at least for 2-4 years.
After phase II, since these are incurable diseases, it could get a fast-track designation (provided to facilitate development and expedite the review of drugs to treat serious conditions and fill an unmet medical need). In India, such trials get conditional marketing approval after phase II.
"We are fairly certain that they can be commercially available in 2024, because we don't need a larger phase because of the fact is that these are very bad conditions," he said.
Eyestem works with the Centre for Cellular and Molecular Platforms or C-CAMP (an initiative supported by Department of Biotechnology, Govt of India) for incubation, OHSU for animal trials, LV Prasad for manufacturing and Phase II trials and NIH from which it has licensed a clinical-grade stem cell line.

The protocol is GMP ready and is published in the prestigious Methods journal. Good manufacturing practice (GMP) is a system that ensures that products are consistently produced and controlled according to quality standards. It is patented in India, and is in the process for US patent.
Globally, there are about six companies from US, Japan and Israel, working on finding a cure for dry AMD including Lineage Therapeutic; Cellular Dynamics International, which is a unit of Fujifilm and Opsis Therapeutics.
Eyestem is tapping into automation and artificial intelligence capabilities to increase the predictability of the protocols, which can increase the output that can help it achieve the scale needed to drive down the price.
Once when human data is available, Eyestem can either opt for a licensing arrangement with a big pharma or hit the market directly.
"If we are partnering with a big pharma company, the only alignment we need is that the prices should be significantly less than what is available in the US. If you create another therapy which costs $100,000 then there is no point," he said.
Next, Eyestem wants to target retinitis pigmentosa (RP), a rare, inherited retinal degenerative disorder that affects about 1.5 million kids in India and idiopathic pulmonary fibrosis (IPF), a serious chronic lung disease that causes scarring in the tissue surrounding the air sacs in lungs.
According Dr Desai, each disease would require three-to-four year timeline to develop a product and there is a strict cap of $4 million to spend on each asset.
"We have a very strict definition because if you want to create scalable, affordable cell therapy, we have to first figure out how to do it with less money. From the time we start to the time it becomes viable for commercial launches, it should not take more than $4 million. All that we have achieved so far with AMD prdouct, we have done it with $1.5 million," he said.

Funding
Eyestem has raised close to $4 million from Kotak Investment Advisors, the alternative investment arm of Kotak Mahindra Bank; early stage venture capital firm Endiya Partners; and a set of angel investors from healthcare industry. It has also received grants from Biotechnology Industry Research Assistance Council (BIRAC), a Public Sector Enterprise, set up by Department of Biotechnology.
Desai said with the first in-man data, the valuation of the firm is likely to up by 10x. "We are looking forward to that next 12-18 months. That's when we will look to raise upwards to $10-15 million. We have had discussions with a two of the top five pharma companies who have advised us to come back after first in-man data since that's when they typically invest. Typical deal sizes at those points are upwards of $100 million with milestone-based payments," he added.
---