Magenta Group to set up EV charging station with 21 charging units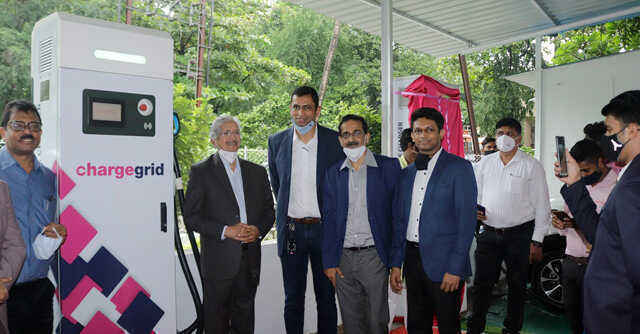 Navi Mumbai based electric mobility solutions provider Magenta Group on Tuesday said it will set up India's largest public electric vehicle (EV) charging station in the city.
Inaugurated by Maharasthra's Minister of Industry and Mining Subhash Desai, the station will be functional 24x7 with 21 AC and DC chargers for two-wheelers, three-wheelers and four-wheelers, as per a statement. Depending on the make, vehicles can be charged in 45 mins.
Touted as India's largest public EV charging station, it has a total of 21 chargers -- 4 DC chargers ranging for 15 to 50 KW capacity and 17 AC chargers of 3.5 to 7.5 KW capacity. An associated R&D lab has the capacity to develop up to 22 KW chargers. The manufacturing centre has the capacity to produce close to 4000 AC chargers per month.

For vehicles which require AC slow charging, a parking bay has been developed which allows for overnight charging as well.
The slow charging bay can be operated through the ChargeGrid App with online remote monitoring which includes an automated payment gateway, thereby eliminating the need of having a station marshal to monitor, maintain and operate the chargers at the location. These chargers are also powered by a combined 40 KW rooftop solar power.
"The setting up of this public EV charging station in Mumbai will be a revolutionary move to support the government initiative of setting up 400,000 charging stations to meet the requirement for two million Electric Vehicles (EV) that could potentially ply on its roads by 2026," the statement said.

As per industry group, Society of Manufacturers of Electric Vehicles, there are 1,800 charging stations in India as of March 2021 for about 16,200 electric cars, including the fleet segment.
Magenta added in the statement that it recently closed a round of Series-A funding of Rs 120 crore from United States based philanthropist Kiran Patel. It intends to deploy Rs 30 crore to build its charger development and manufacturing unit for India and for exports.
The integrated charging plus development plus manufacturing unit will cater to the development and production of the AC chargers along with the streetlamp chargers.

Along with its second research and development centre in the same location, Magenta will employee 170 people in 2022, it added. Magenta expects to become an end-to-end 'socket to software' solution provider for EV charging.
"Under our draft Electric Vehicle (EV) Policy 2021, we aim to bring at least 1,46,000 new battery-operated electric vehicles (BEVs) on state roads by 2025, estimated to comprise about 10% of all new vehicle registrations by that time," cabinet minister Desai said.
Magenta has recently signed an agreement with Telangana State Renewable Energy Development Corporation Limited (TSREDCO) to coordinate the transition of government officer transport from ICE (Internal combustion Engines) vehicles to EVs across the state departments of Telangana.

It also has a signed pact with Mahindra Electric to deploy 100 Mahindra Treo Zor electric 3-wheelers, to be inducted into its delivery fleet of the new e-mobility Electric Vehicle Enabled Transport (EVET) platform.
---