While 85% of leadership executives believe their organisations provide fair and impartial opportunities to technology employees for career growth and promotions, only 19% of women and ethnic minority employees agree with that assessment, according to a report released by Capgemini Research Institute.
The report dubbed 'The key to designing inclusive tech: creating diverse and inclusive tech teams' highlights that organisation which are focussed more on diversity and inclusion in their tech teams will benefit four times more from create inclusive products.
The report also speaks about the gap in career opportunities as it said only 22% of black tech employees feel they have an equal opportunity to grow as compared to their non-diverse colleagues.
The Capgemini Research Institute carried out this research with a focus on the experience of women and persons of ethnic-minority communities.
The company surveyed 500 organisations with one tech employee and one leadership respondent from each. To capture the end-user perspective, 5,000 consumers were also surveyed.
During the pandemic, as enterprise struggled to recruit tech talent from a shrinking pool, the focus on good diversity and inclusion practices, has slipped, the report added.
Out of those surveyed, 75% of leadership executives believe that women and ethnic minorities feel a sense of belonging in their organisations. However, only 24% of those employees in tech functions concur.
While 53% of women and ethnic minority employees feel comfortable sharing personal experiences with other employees and peers, only 9% of them feel the same comfort level with their leadership.
Only 16% of women and ethnic-minority tech employees believe that they are well represented in tech teams. Further, in IT/tech teams, only one in five employees is female, and one in six is from an ethnic-minority community.
Read: A pandemic of gender disparity in India's technology sector
When asked whether women and ethnic minorities have equal access to employee resources, groups, and HR as compared to other employees from non-diverse backgrounds, the perception gap between inclusive organisations and the rest is significant (31% compared to 55%).
Consumers are experiencing discriminatory technologies because of deficient diversity and inclusion practices in the tech teams of global businesses, Capgemini said.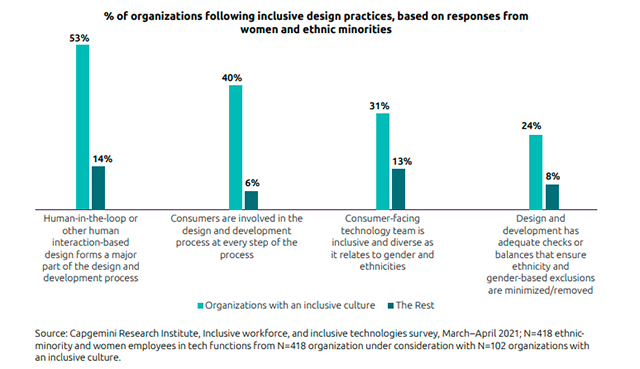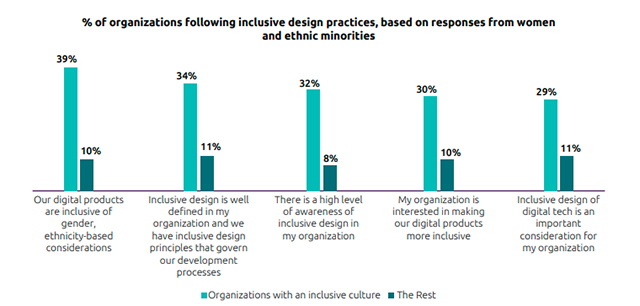 In the financial services sector, 50% of ethnic minorities on average believe they were offered lower credit for certain banking products online, compared to 28% of customers who were not from ethnic minority communities.
Besides, 76% of ethnic-minority consumers expect organisations to develop technologies that can be used by a diverse set of consumers.
Meanwhile in healthcare, 43% of women and consumers from ethnic minority communities believe they were not shown healthcare facilities in high-end locations or those offering specialised services.
As a result, consumers are concerned about discriminatory technology and are increasingly conscious of how their data is used and how it might impact them negatively, the report said.
For example, two thirds (66%) of ethnic minority consumers say they worry that their personal data could be used to negatively impact their employment opportunities.
"In a world of increasing demand for tech-fueled products and services that are free of discrimination and are inclusive by design, the importance of inclusive tech workforces, cultures and practices, is more important than ever.
And yet, we see a wide gap not only in the state of inclusive representation in the tech workforce of organisations, but also in the perceptions of leaders versus women and ethnic minorities on the state of inclusion in tech.
This report draws attention to the urgent need for organisations and leaders to embrace this reality and focus on improving diversity and inclusion in tech teams in a challenging talent environment," Shobha Meera, chief corporate social responsibility officer and group executive committee member at Capgemini, said.
---